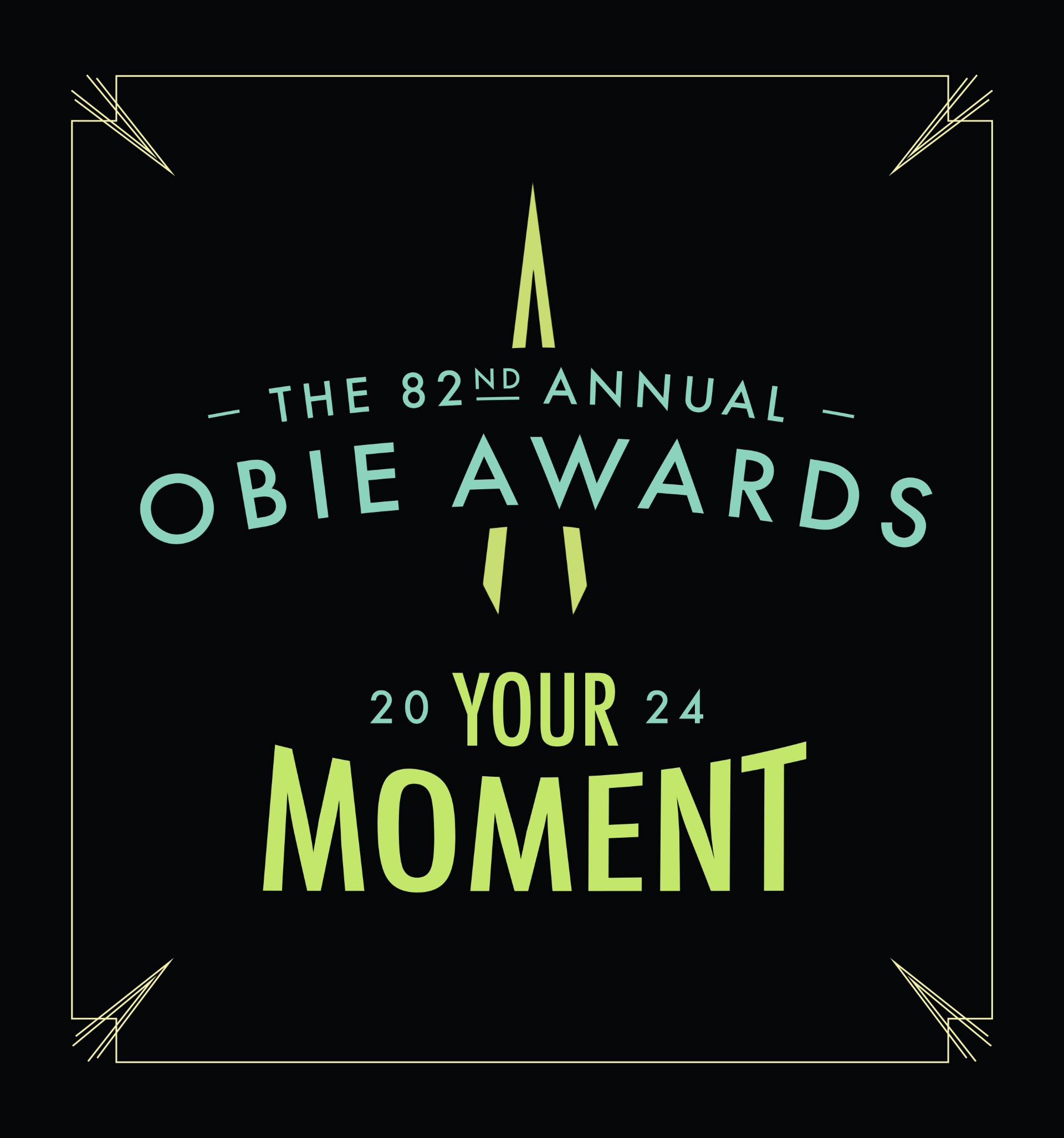 The OBIE Awards are the oldest and most prestigious honors for creative excellence in out of home (OOH) advertising design. OBIE, short for obelisk, refers to the ancient stone pillars that served as the foundation of modern advertising–where posts and pictures informed the masses in town squares across ancient Egypt, and then around the world.
For the last 80 years, the OBIEs have honored the best, most innovative, breath-taking activations in our industry. From spectacular digital screens with addressable video to inventive transit takeovers, from eye-popping billboard campaigns to state-of-the-art augmented reality and experiential programs, OOH grows every day in whole new ways.
The OBIEs bring you the best designs in our industry–whether complex, layered storytelling or simple, reductionist campaigns–meant to stop time for a moment. It's no wonder OOH remains creatives' favorite medium.
NEW THIS YEAR! The Student OBIE Awards, learn more here.
First and foremost, the OBIE Awards honor creative excellence, valuing brilliantly executed ideas and innovative thinking over experiments, data, or technological novelty.
There is no limit to the number of entries allowed by an organization, as long as they meet the entry eligibility guidelines.
Entries must be authorized for submission by agencies, brands, and/or clients.
ELIGIBILITY
Eligibility for the 2024 OBIE Awards competition requires that paid advertising was displayed on an out of home advertising location during the 2023 calendar year (January 1 through December 31).
Identical advertisements entered in any previous OBIE Awards competition are ineligible.
For an advertisement to qualify for an OBIE Award, the advertiser (or its agency) must have paid for unit space directly to an out of home media company owning or operating the advertising assets, the only exception to this rule is public service advertisements.
Illegal installations or entries that do not comply with standard entry guidelines will be declared ineligible.
DEADLINES & FEES
Final Deadline: Friday, January 12, 2024.
Entries received before Friday, December 22 are $300 per entry per category.
Submissions received after Friday, December 22 are $400 per entry.
No refunds will be issued. Fees are non-refundable once entries are submitted. Please pay close attention to all the entry requirements.
Payment must be made by credit card to complete the entry submission online. Organizations paying for online entries by check or another form of payment must contact OAAA ([email protected]) to make alternative payment arrangements.
SPECIALTY CATEGORIES
[NEW] A1: 3D Anamorphic Digital: Campaigns that display visually stunning creative content using anamorphic techniques, appearing three-dimensional when viewed from a specific angle. This creative application produces an illusion of depth on a flat surface, enhancing viewer engagement.
A02. Buzzworthy: Campaign results that can't be ignored, and have gone viral in big, surprising ways. OOH that drove remarkable consumer reaction, press attention, and buzz in the marketplace.
A03. Contextual: Location, location, location. Campaigns using geographic context or targeted placement as part of the creative elements of an OOH execution.
A04. Custom Installation: Campaigns using custom-built embellishments and extensions, or specially fabricated props as part of an installation.
A05. Data Use & Technology: Campaigns using data to inform creative messaging to better resonate with consumers and drive specific results. Digital creative scheduled dynamically (e.g., different creative during the day vs. night) or incorporating dynamic information (e.g., weather triggers, game live scores, traffic pattern updates, etc.).
A06. Experiential (Physical Presence): Campaigns creating real-world, physical, immersive consumer experiences that encourage in-person consumer participation or interaction. This includes pop-ups, special promotional events, brand experiences, and street team intercepts. (Note: Experiential campaigns cannot be entered into any other category.)
[NEW] A7: Holographic & Projection: Campaigns that utilize digital or laser lighting to display products or messages either still or animated. This includes holographic executions, where creative elements appear to float in space, and projection media, where content is projected onto surfaces such as building exteriors or storefronts.
A08. Integrated Multi-Media: Campaigns using a multi-media mix that includes OOH with examples of other media channels included as part of submissions (e.g., social media, online, mobile, TV, radio, and print). Integrated multi-media campaigns will be placed in this category and only this category; however, the OOH media elements alone may be entered into other categories.
A09. Interactive (Online Integration): Campaigns where offline exposure leads to online actions. Where big screens drive people to small screens. Campaigns that drive social interaction and e-commerce. Using proximity technology such as geo-fencing or beacons to engage consumers online either immediately or soon thereafter.
A10. International: Campaigns executed outside of the U.S. (Note: International campaigns cannot be entered into any other category.)
[NEW] A11. Local: Campaigns targeted to a specific geographic market, advertising services, products, brands, and/or businesses, and tailored to resonate with the distinct needs, interests, or habits of its consumers.
INDUSTRY CATEGORIES
B01. Automotive: Any campaign or execution on behalf of a company in the following sectors: automotive, auto accessories/equipment, auto dealers/services, gasoline products, or rental car agencies.
B02. Consumer Products and Goods: Any campaign or execution on behalf of a company in the following sectors: beverages, ingredients, prepared/packaged foods, produce, – restaurants and food services, clothing, shoes, appliances, furniture, household products, office supplies, electronics, real estate, etc. or any other project bought for consumption by the average consumer.
B03. Consumer Services: Any campaign or execution on behalf of a company that offers a service to individuals or households such as retail, education, finance, insurance, technology providers, construction, etc.
B04. Direct to Consumer: Any campaign or execution by or on behalf of brands selling directly to consumers which includes brands selling online and those that may also operate physical retail spaces. DTC work that moved the product needle and helped the business grow.
B05. Fashion & Luxury Goods: Any campaign and execution showcasing high-quality imagery, impactful design and iconic locations for fashion and luxury brand campaigns and activations.
B06. Film & Media: Any campaign and execution by or on behalf of magazines, TV series, streaming services, motion pictures, mobile applications, newspapers, digital media, internet services, out of home companies, radio, television, and websites.
[NEW] B07. Healthcare: Any campaign or execution for a business that provides medical services, manufactures medical equipment or drugs, provides medical insurance, hospitals, clinics, wellness centers, or offers other health-related products or services to patients.
B08. Live Entertainment, Events & Gaming: Any campaign or execution by or on behalf of casinos and other betting, concerts and venues, lotteries, museums, nightclubs and bars, sporting events and teams, theaters and live productions, theme parks, or zoos.
B09. Public Service & Nonprofits: Any campaign or execution created expressly for use by a charitable cause or non-profit organization. (Note: PSA campaigns cannot be entered into any other category.)
B10. Retail: Any campaign and execution by or on behalf of department stores, discount and variety stores, shopping centers and malls, sporting goods, supermarkets, convenience and drug stores, and warehouse (big box) stores.
B11. Transportation, Travel & Tourism: Any campaign or execution for a business that provides transportation or travel such as airlines, bus lines, cruise ships, hotels, motels, national parks, public transportation, resorts, trains, or travel and tourism services.
CRAFT CATEGORIES
C01. Copywriting: Your team brought a brand's story to life using compelling copy that was pivotal to the campaign or execution.
C02. Digital Design: Your team demonstrated an exceptional use of digital integration through skill and production, including filmmaking and animation, that made a campaign or execution shine.
C03. Illustration: Your team demonstrated the most creative and inspiring illustrations in a campaign or execution.
C04. Photography: Your team used original photography that highlighted impressive composition and scale that proved critical to a campaign or execution.
FORMAT CATEGORIES
D01. Billboards: Bulletins, Wallscapes, Spectaculars, Posters, and Junior Posters.
D02. Street Furniture: Bus Shelters, Benches, Kiosks, News Stands, Urban Panels, Bike Share, City Information Panels.
D03. Transit: Airports, Vehicles (e.g., buses, mobile trucks, taxis, rideshares, double deckers), Rail/Subway (e.g. station dominations, in-station media).
D04. Place-Based OOH: Arenas & Stadiums, Cinema (e.g. in-theater), Exterior Place-Based (e.g., golf courses, ski resorts, gas stations), Interior/Retail Place-Based (e.g., shopping malls, elevators, supermarkets, restaurants/bars).
D05. Combined Multi-OOH Formats: Any campaign leveraging two or more OOH formats. 
[NEW] D06: Murals: Any large-scale or eye-catching artwork hand-painted directly onto walls and buildings.
Work will be judged by a panel of experts curated by OAAA, including ad industry luminaries, brand leaders, and influential creatives. 

Finalists will be notified after judging in March, and winners will be announced at the 82nd Annual OBIE Awards ceremony at the

2024 OAAA OOH Media Conference

on April 30 in Carlsbad, CA (near San Diego).
The 2024 OBIE Award jury will be announced shortly. 
Established in 1992, the OBIE Hall of Fame was created to recognize brands that have built an enduring legacy through the consistent use of the OOH advertising medium over many years. Every year, OAAA members play an important role in selecting the next brand to receive this honor, representing the pinnacle of success over a sustained career.
When is the final deadline? 
The final deadline to submit entries is Friday, January 12, 2024.  
Can I submit if I'm outside the U.S.?
International campaigns can only be entered in the International category.
Who judges the OBIE Awards?
The OBIE Awards are chosen by a panel of experts curated by OAAA, including ad industry luminaries, brand leaders, and influential creatives. 
What materials do I need to enter? 
You can see a PDF of the entry form for reference here. You will need to provide the name of the agency or company responsible for the creative execution, a brief description of the work, a list of key members responsible for the campaign, at least one high-resolution image, and certify that you have permission to enter the work. 
I'm having a technical issue. Who do I contact?
If you're having technical issues, please contact [email protected]. 
What forms of payment are accepted? 
All entries must be submitted and paid by credit card online here. Please contact [email protected] if you experience any issues submitting payment.
Can I edit my entry after I submit? 
Unfortunately, once you have submitted and paid for your entry, you will not be able to log in to edit the form in any way. If there is factual information that is incorrect, please contact the awards team to request a change.
When and how will the finalists be announced?
Finalists will be contacted by the OAAA awards team and announced in March. 
When and how are winners announced?
Winners will be revealed at the 82nd Annual OBIE Awards ceremony at the 2024 OAAA OOH Media Conference on April 30 in Carlsbad, CA (near San Diego).
How many finalists and winners will be selected? 
The total number of finalists and winners is up to the judges' discretion. Some categories may not have any finalists or winners if the work doesn't meet OBIE-worthy standards set by the jury. 
What do finalists and winners get? 
Entries that become finalists and winners will be showcased at the 82nd Annual OBIE Awards ceremony on April 30 in Carlsbad, CA (near San Diego). 
Work will also be featured in various ways, including promotion and publication at the sole discretion of OAAA.
The 2024 OBIE book will be available after the winners are announced in April.
You can purchase previous OBIE books here.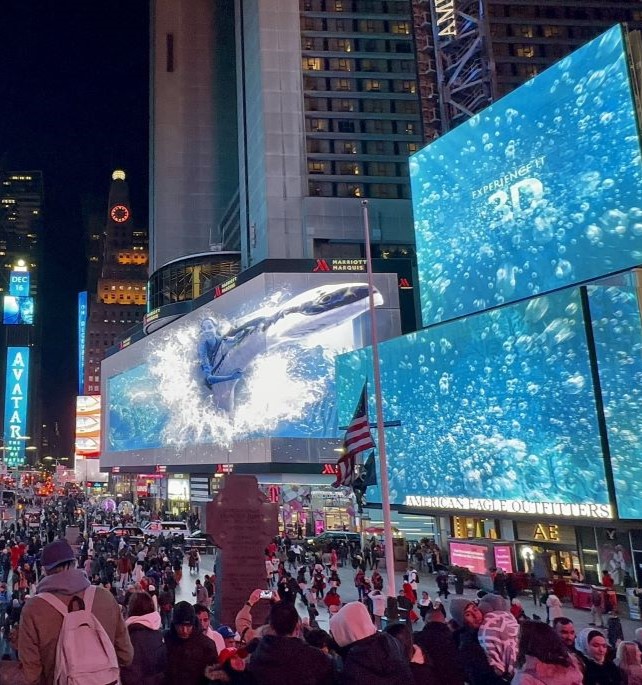 News & Press Releases
News – OBIE Awards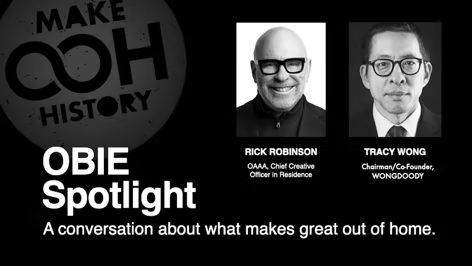 Video Library
Obie Awards Videos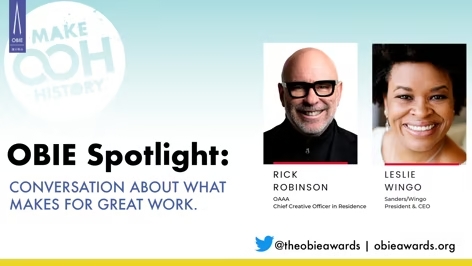 Video Library
Obie Awards Videos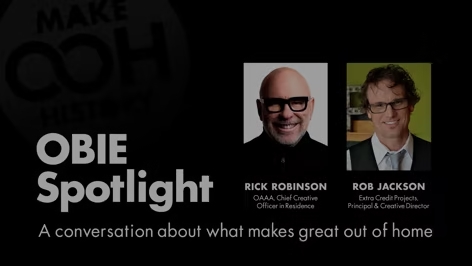 Video Library
Obie Awards Videos