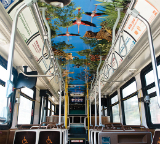 Interior bus cards are positioned in frames above passenger seats. Some markets offer backlit panels. In some systems, a single advertiser can purchase all of the cards on a vehicle to create a 'branded bus'. Often used in conjunction with a fully wrapped exterior or interior. 
Primary Uses
Used to reach bus riders. Longer viewing time allows for more copy than standard posters and regular riders mean high frequency. Suburban portion is effective for reaching upscale audiences.
Availability
Most of top 100 markets.
Research/Market Information
Circulation estimates are made from monthly passenger counts provided by local transit authorities. Other marketing data available from sellers.
Method of Purchase
Interior car cards are purchased in GRP programs reflecting the percent of exposure to total ridership.
PRODUCTION
Printing
Lithography, digital, and screen printing, half-tone and flat-tone as well as full-color. In small quantities, copy may be produced photographically.
Stock
5-ply stock, coated one-side, with horizontal grain.
Mechanicals
Mechanicals should be scaled 1/4" to 1". Digital output resolution 300 dpi.
Sections
Printed in one section only.
Overage
Copy must be replaced every 12 weeks, so a quantity of posters equal to the size of the program plus 25 percent must be provided for every 12 week period.
Delivery
Ten working days prior to posting date.