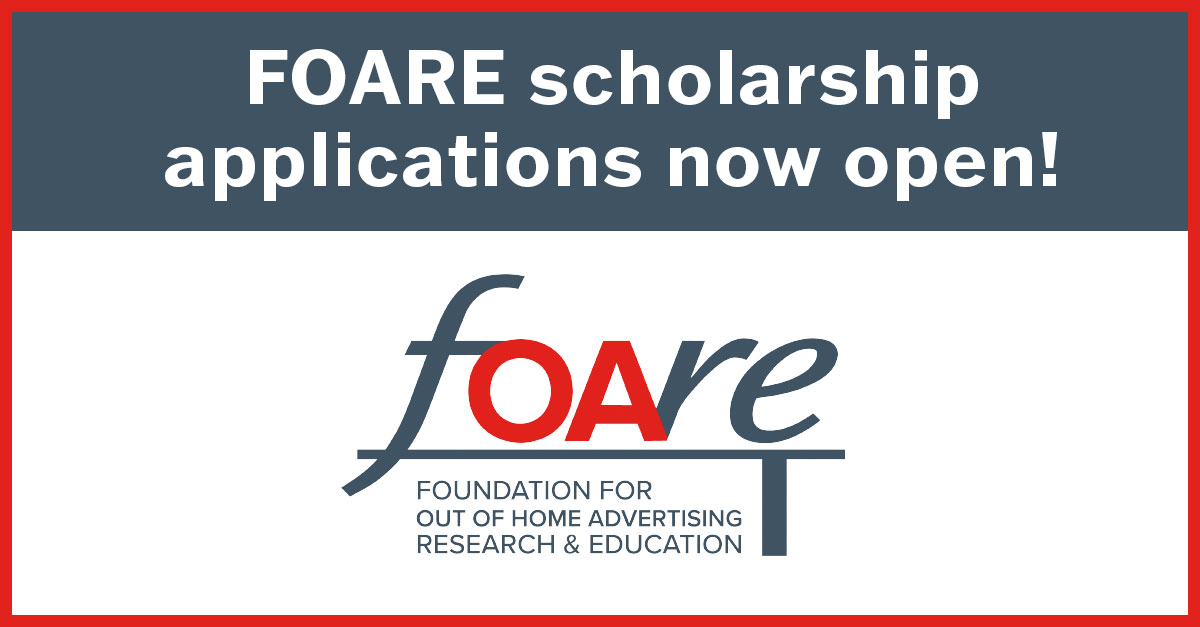 The deadline for applications is June 16, 2023
The OAAA and the Foundation for Out of Home Advertising Research and Education (FOARE) are pleased to announce applications for the annual FOARE Scholarships for the 2023-2024 academic year are now being accepted. Since the scholarship program's inception in 2001, 205 students have received scholarships to pursue a degree in a wide range of fields ranging from business and marketing to the medical sciences. This year, 13 scholarships will be awarded in the amount of $5,000 each.
The Foundation will award five general scholarships; the Allman Family Business Development, Marketing, and Sales Scholarship; the Nancy Fletcher Leader Scholarship; the Vern and Elaine Clark Out of Home Industry Champion Scholarship; the Ruth Segal Scholarship; the Joseph Zukin Jr. Educational Opportunity Scholarship; and the Eric M. Rubin Scholarship.
The deadline for applications is June 16, 2023.
Information about the FOARE Scholarship Program and application materials can be found here. Applications for the scholarship can be found here.
The Foundation will also award two scholarships from the Reagan Family Scholarship Endowment, which has a separate application process. Application materials for the Reagan Family Scholarship can be found here. The deadline for the Reagan Family Scholarship applications is May 10, 2023.
Currently enrolled undergraduate and graduate students and high school seniors accepted to an undergraduate program are eligible to receive a FOARE scholarship. The FOARE Scholarship Program is an important way for the industry to support families associated with outdoor advertising, including industry employees, and those students who may be interested in helping to shape the future of the industry.
Scholarships will be awarded on the basis of academic excellence, career goals, and students' community/extracurricular activities. Some scholarships have additional application and eligibility requirements which are outlined in the scholarship program information materials.