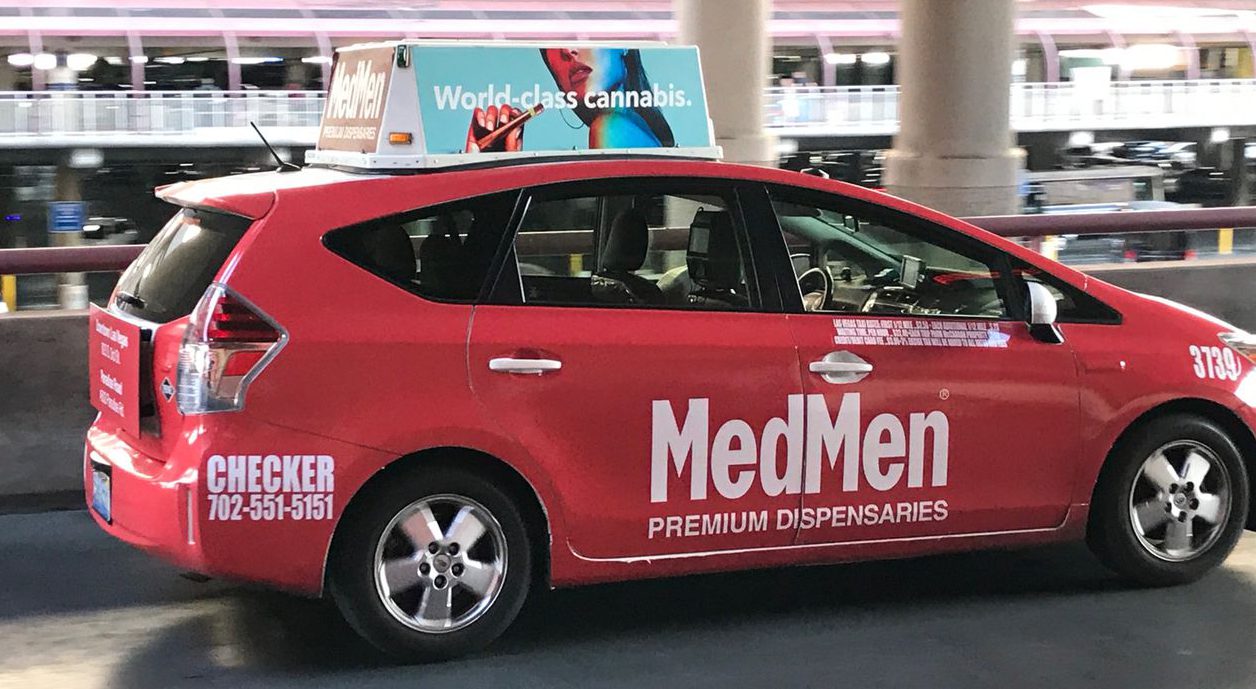 Following the September 18 webinar on cannabis advertising, OAAA received many more questions on the topic.
What about taxi tops?
Yes. Taxi tops carry ads for cannabis businesses. Here are examples of cannabis ads in Las Vegas, Miami, and Los Angeles:

Washington State does not allow cannabis ads on taxi stands or transit.
Buffers… How do they apply to transit?
"As a general matter, the recreational cannabis category is not taken on transit due to the spacing and inability to verify the audience composition," says Pat Smith at OUTFRONT Media's legal shop.
Some states specifically ban transit as a category. Ohio, for example, says: "No dispensary shall place or maintain, or cause to be placed or maintained, an advertisement of medical marijuana or medical marijuana products, including paraphernalia, in any form or through any medium … On or in a public transit vehicle or public transit shelter."
By contract, transit agencies commonly restrict vice advertising. San Francisco's public transit agency ("MUNI") banned cannabis ads; the mayor said the restriction would limit exposure to kids.
Illinois is next. What's up there?
Illinois is the 11th state to legalize recreational marijuana, effective January 1, 2020. Advertising regulations in Illinois are a blend of rules typical in other states:
No false claims
No depiction of consumption or promotion of excess consumption
No unfounded health claims
No appeals to minors
Buffer zone for schools etc. (1,000 feet)
No transit ads
Can you show vaping in an ad?
First, vaping has prompted regulatory sanctions in response to health issues. JUUL suspended its advertising, as more states banned flavored products.
Second, use caution. This billboard ad, from several years ago, is widely cited (published and circulated) by critics of vaping, cannabis, and smoking:

Do some states require prior approval?
Yes, several states that have legalized marijuana require pre-approval of advertising, including:
Minnesota
"A medical cannabis manufacturer must request and receive the commissioner's written approval . . . the commissioner has 30 calendar days to approve marketing and advertising activities . . ."
Nevada
"The submitted artwork will be reviewed by the Advertising Guidelines Workgroup to evaluate compliance with the advertising guidelines."
New York
"Any advertisement for an approved medical marihuana product shall be submitted to the department at least 30 business days prior to the public dissemination of the advertisement."
North Dakota
Marketing/advertising activities are subject to department approval; it has 30 days to approve or deny requests.
Pennsylvania
"Promotional, advertising and marketing materials shall be approved by the Department prior to their use."
Does Michigan require prior approval of ads?
No, Michigan's Marijuana Regulatory Agency (MRA) does not require prior approval of advertisements, says its Enforcement Division.