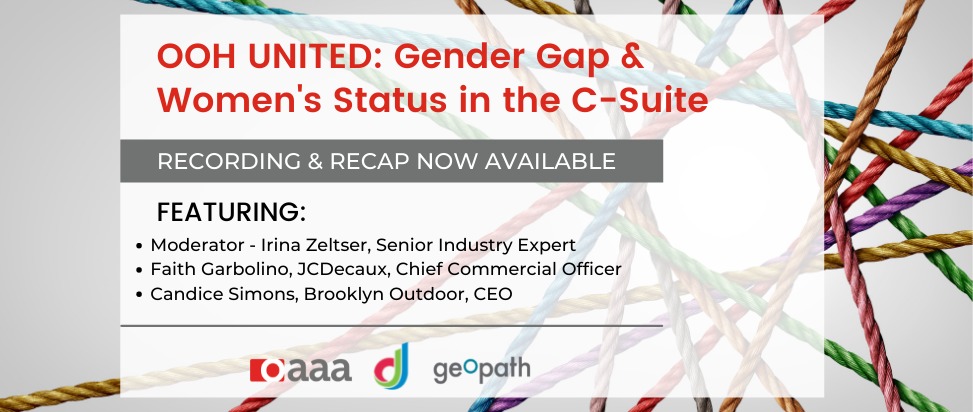 Approximately 85% of corporate executives and board members are white men and only 7% of Fortune 500 CEOs are female. There is also approximately a 5% pay gap between male and female executives. Studies also report that firms led by women have significantly greater number of female executives and that the disparity in pay between men and women executives decreases when the firm is led by a female.
In the third panel of OOH United's Virtual Seminar, Senior Industry Expert, Irina Zeltser was joined by JCDecaux's Chief Commercial Officer, Faith Garbolino, and Brooklyn Outdoor's CEO, Candice Simons, to talk about how OOH companies can bridge the gender gap.  As three incredible females in leadership, the engaging discussion touched upon personal experiences and provided tips for organizations creating true gender equality.
Tip #1: Create empathy by promoting work/life balance within organizations. Stronger work/life balance increases morale, motivation and ultimately, productivity.
Tip #2: Treat others the way you want to be treated. When it comes to females in leadership roles, personal values should be no different than the values within a team or an organization.
Tip# 3: Model the behavior that you want to see and create a space where everyone is welcome and heard.
Tip #4: When hiring, spend significant time with potential candidates. Studies show many will pass judgement on candidates within five minutes. Instead, reserve forming opinion for at least 30-minutes (or longer). In doing so, hiring managers might find the candidate possess all the qualities they are looking for.
Tip #5: Identify blind spots within an organization through anonymous surveys. Use those blind spots as a catalyst for change.
Tip #6: Set goals within an organization on DEI initiatives the same way revenue goals are set.
Tip #7: Dare to be different. Be bold. Take risks. Command respect by "marching to the beat of your own drum."
To watch to the full discussion on Gender Gap and Women's Status in the C-Suite: click here.
About OOH United:
Pillars of Success: OOH UNITED pillars create an inclusive foundation for the out of home community. Each letter of the word UNITED represents a pillar used to build a strong, sound, safe, and harmonious plan for inclusion.
U – Understand:Only by understanding how each individual contributes to a stronger OOH industry, is it possible for a culture of DEI to thrive.
N – Nurture:Nurturing promotes the professional development of future leaders within the OOH industry.
I – Involve:Involving individuals across the OOH industry improves overall understanding about DEI and encourages personal commitment and actions that are more inclusive.
T – Transform:Transformation is the resulting outcome when individuals commit to DEI actions.
E – Engage:Engagement through internal and external communications ensures the ongoing exchange of ideas and encourages collaboration.
D – Develop:Development is accomplished through ongoing training, recruitment, and education.
Click here to access guidelines established by OOH UNITED to assist organizations with developing a diverse college student internship program. 
Interested in additional resources for students? Click here to access the FOARE scholarships available for students entering the OOH industry.

Would you like to get involved? Click here to contact OAAA.