This year — wedged between the presidential and mid-term elections — was packed with newsy developments about out of home advertising:
1. The US Supreme Court heard a billboard case for the first time in four decades (the Metromedia case was decided in 1981). The current Justices, who were vocal and engaged during oral arguments on November 10, will rule before mid-summer 2022 (City of Austin v. Reagan National Advertising).
The City of Austin is defending its sign ordinance and its denial of digital billboards. On behalf of the industry, OAAA submitted a brief to the Supreme Court supporting the safety of digital billboards.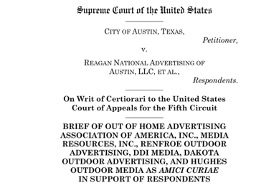 2. Tax cases percolated to highest level
The Ohio Supreme Court, in September, ruled against Cincinnati's targeted tax on billboards as an unconstitutional burden on First Amendment rights.

Earlier, the highest court in Maryland ruled the opposite way in a similar case, in favor of Baltimore's billboard tax. Therefore, the highest courts in Ohio and Maryland are conflicted on the constitutionality of targeted billboard taxation.
Clear Channel Outdoor, which challenged Baltimore's tax enacted in 2013, asked the U.S. Supreme Court to hear the Baltimore case.
3. President Biden, in November, signed a five-year trillion-dollar-plus infrastructure bill which will pump billions into roads, bridges, airports, ports, transit, and more.
When the U.S. House considered this legislation, OAAA blocked two attempts to attach anti-billboard amendments.

Out of home advertisers (truck stops, gas stations, restaurants, and convenience stores) sought to prevent further commercialization of highway rest areas located in the right of way.
"We are thrilled to report that the final bill did not contain any provisions that would undo the ban on rest area commercialization, including allowing states to unfairly compete with the private sector by installing EV charging stations at rest areas," said the truck stop operators (NATSO).
4. Federal regulators re-affirm no-ad policy
Federal regulators started the year issuing a memo re-affirming that commercial advertising is not allowed on government-controlled changeable messages signs on the highway. The federal Manual that regulates traffic signs says that government changeable message signs are not for promotional purposes or messages unrelated to traffic control.

The clearly worded memo dated January 4 from Federal Highway Administration (FHWA) said these uses are not allowed on highway changeable message signs:
Promotional advertising (commercial or non-commercial)
Sponsor acknowledgment 
Video, motion, flashing, or other graphic features
5. The government as OOH customer
The FBI spent $1 million+ on out of home ads (transit, place-based, and billboards) as part of an anti-hate campaign.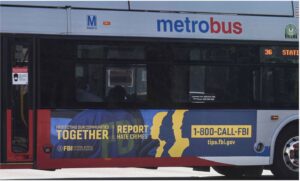 FBI ad, Washington, DC
Homeland Security, the Food and Drug Administration, and other government agencies also relied on paid out of home communications.
Nationwide, (paid) out of home formats continued to deliver localized public-health messages.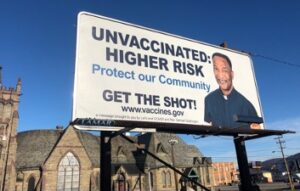 Let's End Covid billboard, Williamsport, PA
6. Four States changed billboards laws
Colorado, Iowa, Kentucky, and Ohio changed their billboard-control laws in response to litigation challenging the on-premise / off-premise distinction in sign regulation (or the anticipation of litigation).

Other states are closely watching the Austin case pending at the U.S. Supreme Court, ready to revise their billboard laws if necessary.
7. More legal cannabis, more blowback about advertising
Governor Andrew Cuomo, in March, signed a bill legalizing adult-use cannabis in New York. New York State currently prohibits cannabis ads on billboards. Other states allow cannabis related advertising within established industry guidelines, which can be found on the OAAA website.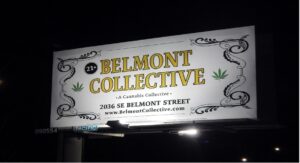 Cannabis advertising permitted in Oregon
8. Privacy restrictions expand at the State level
Colorado, in 2021, joined two other states (California and Virginia) in regulating privacy and data. OAAA Legislative Committee Chair Steve Richards of Mile High Outdoor + Pacific Outdoor Advertising explained what it meant.

9. Political-ad spend continues to grow
Candidates and causes continued to buy out of home media (in between the 2020 presidential election and the 2022 mid-term elections).
Through the first three quarters of 2021, political ad spend on out of home media was up 157 percent compared to the same period four years ago, according to Kantar tracking service.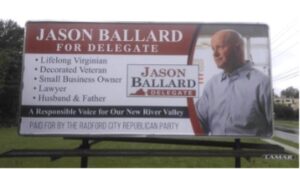 In Virginia, a billboard for a state delegate candidate.
10. Leadership Changes
In September, Mike Hershey joined OAAA as Executive Vice President of Government Affairs, bringing experience at a federal agency, another trade association, and as congressional staff.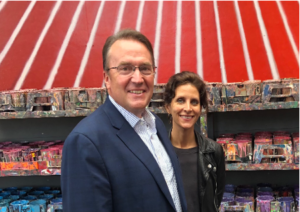 Kelly Peppers (Colossal Media) and Mike Hershey in Brooklyn NY.                 
Hershey crisscrossed the country — and Capitol Hill — with his predecessor Ken Klein, meeting OAAA members, elected officials, and staff. Hershey works closely with OAAA colleague Kerry Yoakum, who was promoted in November to Senior Vice President.
Klein retires at the end of 2021 after 20+ years at OAAA. Members of Congress published tributes in the Congressional Record honoring Klein in November and Robert Campbell of Lamar Advertising Company in May. Campbell, a longtime member of OAAA's Legislative Committee, retired effective June 30. He joined Lamar in 1972.