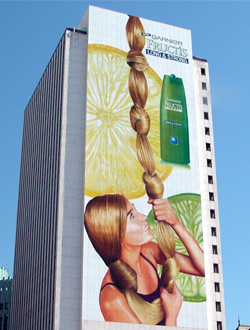 Wall murals are advertisements painted directly on building surfaces or printed on pressure-sensitive vinyl and attached to walls. Not all walls accommodate vinyl. Wall murals accommodate a wide variety of unusual creative sizes and shapes and have high exposure and visibility to vehicular and pedestrian traffic. Located on major freeways and highways, on commuter and tourist routes, and in downtown business districts, wall murals are custom-designed for long-term exposure.
PRIMARY USES
With selected coverage of highway, expressway, and commuter traffic, wall murals often become landmarks in a city.
AVAILABILITY
Murals are available in major markets, such as New York, San Francisco, and other urban areas.
METHOD OF PURCHASE
Murals are purchased with special contracts for long-term leases, usually months and sometime years. These units often require substantial investment in design, construction, and maintenance.
Production
Rendered by skilled artists and painted, this technique is rarely used today. Artwork should be received by plant operator 60 days before the posting date. The artwork scale should be 3/8" or 1/2" = 1'.
Hung
For exterior wall murals where the building is the structure, wind load becomes an issue. To alleviate some of the stress, an open weave of vinyl-coated polyester fiber is the preferred substrate. Not only does it allow the wind and the water to pass through, it also allows light to pass through so the occupants of a wrapped building can see out of the windows.
Adhesive
An adhesive-backed direct application can also be used for "wrapping" a building or any other surface. The substrates, while often vinyl, can also be produced from Mylar and polyester. There is an alternate substrate used for concrete, brick, or primed sheet rock. When applied to glass, the material is perforated. There are adhesives designed for unusually cold, as well as warm, temperatures.