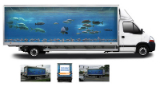 Truckside advertising displays consist of specialized adhesive-backed masking films and/or non-adhesive, stretched vinyl banners affixed to special frames on the sides and/or rear of trucks running regular routes in metropolitan areas and/or tractor trailers running Interstate routes.
Some fleet media companies offer online systems allowing advertisers to pinpoint the location of their mobile fleet ads in real time. Some services can also provide data that can be interfaced with other databases to produce demographics by route, fleet, or time of day.
Primary Uses
Truckside broadens the reach of a national, regional, or local campaign; add variety, frequency, and value to a broadcast campaign, or as a stand alone campaign. Advertisers also turn to truckside advertising to penetrate markets with restricted or limited outdoor advertising, as well as in saturated markets.
Availability
Nationwide. Third party advertising is brokered by sellers who have made arrangements with trucking, production, and installation companies.
Method of Purchase
Available for programs involving from one to as many as 1,000 trucks on established routes, bought in one to 52 week increments. Also available for special events (e.g., trade shows, product sampling programs). Dedicated truck programs are purchased by the week or by the month. The advertiser designates the specific routing of the trucks. Sellers should be contacted for purchase terms.
Specifications
Size of graphics is limited only by size of trucksides, which vary from fleet to fleet. Typical range:
Straight Trucks: 16' to 26' L x 7' to 8' H
Trailer Vans: 28' to 53' L x ~8' H
Many sellers will resize poster and bulletin creative at pre-press to fit full side span of straight trucks and trailer vans. To minimize the number of templates required when various truck sizes are used, allow for maximum bleed.
Production
Stretched vinyl . Up to 16', 14- to 18- oz., seamless, coated vinyl substrate stretched over external framing system on vehicle sides. Super-wide-format, four-color, or digital.
Inks
Solvent-based, UV-formulated outdoor inks/acrylic paints.
Overage
None. Banners can be removed and reused at another time in as little as 30 minutes.
Stock
Changeable or permanent adhesive backed marking films placed directly on the vehicle sides and back. Unlimited size construction.
Imaging Method
Digital (inkjet, electrostatic) screen printing, die/electro cutting pigmented films.