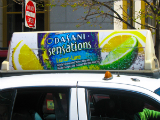 Taxi advertising is a medium with high levels of recall, reaching a local, business, and tourist audience en route to and from airports, hotels, convention centers, sporting events, shopping centers and restaurants.
Displays are printed on panels affixed either to the roof or trunk of taxicabs. Roof units are double-sided and backlit. Trunk units are printed panels set in frames. Interior displays, header panels, and full units on the back of the partition separating the driver from the passengers are also available in some markets.
Fully wrapped taxis are becoming a popular media variation. Wrapped taxis use the same production techniques as fully-wrapped buses. Some taxis offer digital displays on the roof or video screen advertising inside the passenger compartment.
Primary Uses
Used to reach taxi riders, pedestrians, and vehicular traffic in urban areas.
Availability
Available in major metropolitan markets.
Method of Purchase
Can be bought in programs based on the number of taxicabs available in a market.
Production
Printing – Photogelatine preferred for continuous-tone pictorial matter, silk screen, or lithography for flat-line copy. Combinations of both work well.Stock
Taxi Tops
Flexible 4 mil vinyl film with removable acrylic, pressure-sensitive adhesive, 3MControlac film 160-60, or 0.15 mil translucent polystyrene with lamination (printed two sides).
Taxi Trunks
70 lb wet strength paper, mounted on 14-ply waterproof cardboard; 0.040 Styrene; 14-ply waterproof cardboard.
Inks
Weatherproof/waterproof out of home inks.
Overage
Taxi Tops
Copy must be replaced a minimum of every six months.
Taxi Trunks
Cardboard must be replaced every four weeks; Styrene must be replaced every eight weeks.
Delivery
Ten working days prior to posting date.
Other
On trunks, a light coating of waterclear varnish is required.