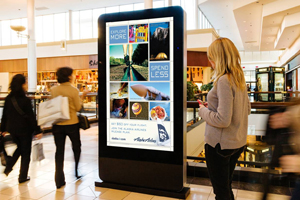 Shopping mall displays are located at entrances, anchor stores, escalators, food courts, and other high traffic areas in a mall as kiosks, wall-mounted, and free-standing displays. Many are two, three, or four-sided units that can contain store directories and are backlit for added visibility. Some copy rotates to provide eye-catching movement. Programmable video and digital displays are available in some markets.

Murals are also available in selected malls.
Primary Uses
Used to reach shoppers to influence purchase intent and for branding. Advertisers include national and regional accounts as well as companies whose products or services are sold in the mall.
Availability
Available in thousands of malls throughout the US, Canada, Puerto Rico, and Mexico.
Research/Market Information
Audience delivery information and other research data available from sellers.
Method of Purchase
Purchased in GRP programs rotated in four-week intervals throughout a market. Some available for sale individually.
Specifications
Size
Free-Standing Units
Overall Size: 50" H x 40" W
Copy Area: 48 3/4" H x 38 3/4" W
Shelter-Sized Units
Overall Size: 69" H x 47" W
Copy Area: 67" H x 46" W
Mall Murals
Consult sellers.
Design
May use full range of colors and photographic reproduction. Where applicable, design should consider vertical format for best visual communications. Important to consider effect of backlighting.
Production
Consult seller for specific requirements.
Printing Stock
Electronic – 2 pieces of paper, laminated. Screen print or lithography: 8.5 point Styrene or Opaline. Photographic
Kodak Duratrans
Inks
Specify fade-proof inks.
Mechanicals
Scaled 1/4" to 1" or full-sized digital output resolution 300 dpi.
Sections
Produced in one section only.
Overage
Ten to 15 percent per month of posting.