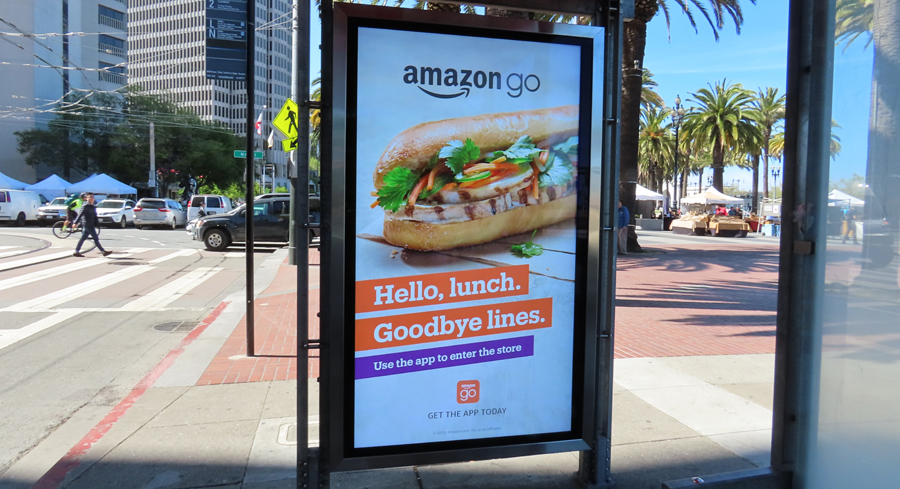 BrandZ has been compiling rankings of the world's most valuable brands since 2006, evaluating company revenues and profitability along with surveys of 3.7 million consumers in over 50 countries for their views about brands. Today, a key challenge for building and sustaining valuable brands is learning how to disrupt and how to survive disruption.
In a year marked by rising consumer expectations, the erosion of category boundaries, and geopolitical disruptions, the 2019 BrandZ™ Top 100 Most Valuable Global Brands increased 7 percent in value. This gain outperformed the global GDP growth rate and added $328 billion to the BrandZ™ Top 100, bringing its total value to $4.7 trillion.
Amazon, a pioneer in creating friction-free customer journeys, become the world's most valuable brand, surpassing Apple and Google for the first time. This triumvirate of disruptive ecosystem brands together total almost $1 trillion in brand value and comprise about 20 percent of the value generated by the BrandZ™ Top 100. They also just happen to be among the top eight OOH advertisers in 2018.
Here's the 2019 top 10 group of most valuable brands, eight of which do business in the US. Of those eight, all invest in OOH and five of them invest more in OOH than OOH's 4 percent share of the ad market in 2018 – Apple, Google, Facebook, McDonald's, and AT&T.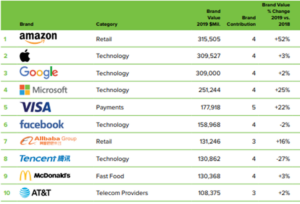 The world's leading technology brands are big believers in OOH because it produces results for them. Below are the five top ten brands which allocate beyond the US OOH average share, and their specific share of budget invested in OOH.

In the BrandZ report, data-driven improvements in customer experience and personalization helped drive the value growth of the three fastest-rising categories: luxury, up 29 percent; retail, up 25 percent, and insurance, up 15 percent. Positive customer experience also fueled the growth of Instagram, which almost doubled in value, rising 95 percent year-on-year to become the fastest rising brand.
Several large valuable brands advanced major initiatives, leveraging their scale and brand power to reinforce market leadership.
McDonald's rolled out a program intended to fundamentally reshape the fast food experience. It gives customers the option of ordering at the counter, at a kiosk, or on an app, and picking the order up at a window or having it delivered to their table.
Walmart pivoted away from its physical footprint to its online presence, leveraging expertise gained from its ownership of Jet in the US and its partnership with JD in China.
With declining carbonated soft drink consumption, both Coca-Cola Co. and PepsiCo Inc. made acquisitions that added new drinking occasions, customer experiences, and direct-to-consumer engagements. Coca-Cola Co. purchased the UK café chain Costa Coffee and PepsiCo. Inc. purchased SodaStream, the countertop appliance for making customized carbonated drinks.
To accelerate its transition away from fossil fuels, Shell acquired several alternative energy companies. It also announced plans for its non-fuel businesses to soon generate half of the company's profits. Major car brands expected to stake their claim in electric vehicles this year in a category hit by changes in attitudes about ownership and mobility.
The personal care category was especially "woke," expanding the notion of inclusivity and introducing new packaging that was less environmentally impactful. Leaders, including Procter & Gamble Co. and Unilever Plc, became partners in a global initiative run by TerraCycle, a recycling company.
Source: BrandZ, Kantar Media