Every advertising channel investment includes several critical components, but creative impact can be the most important according to marketing research. The recent empirical evidence shows up to 75 percent of ad effectiveness can be attributed to the proper creative. This statistic should be an alarm for all OOH users to ensure they are supporting proper strategic development of creative executions.
The Advertising Research Federation's report "How Advertising Works Today" cites an Ipsos study that 75% of advertising impact is determined by creative quality.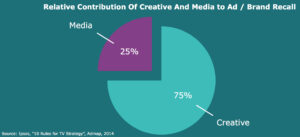 Sequent Partners' report for the Council for Research Excellence on the state of marketing mix models found a consistent appraisal from modelers that creative accounts for 60% – 70% of overall advertising effectiveness.
A Nielsen study of linear and addressable television, online digital and video, mobile, magazines and radio found creative to be the most important advertising element in driving sales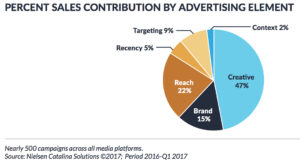 Ask ad agencies and brands about the top attributes of OOH, and creative impact always appears on the short list. OOH's larger-than-life canvas provides a ready-made foundation for impressive impact. It's an established fact that strong OOH creative is much more likely to increase ad campaign effectiveness, assuming key elements such as appropriate media weight and message creation targeted to the audience are in place. Certainly, an advertiser can select the best OOH locations for an ad message to appear, but if the creative misses the mark the campaign effectiveness will suffer mightily.
Another critical consideration for OOH is that many times the OOH viewer may only have a few seconds to interact with the ad, which heightens the need for simplicity of message. OOH format must always be a consideration in creative development because the wide variety of OOH sizes, shapes and locations doesn't support a one-size fits all approach.
The impact of creative in driving OOH effectiveness cannot be overstated. Effective results generate client renewals, while weak creative produces the opposite result. Fortunately, OAAA offers a number of resources to assist your efforts to ensure your clients hit the creative target.
OOH Creative Primer: this essential compendium covers how to create the most effective OOH advertising, reviewing everything from font sizes to color combinations. Ever hear of the three killer B's of OOH? Brevity, branding and borders! Learn about them and much more.
OOH Mockup Generator: allows the user to view billboard, street furniture and transit creative in the environment. Once the proposed creative is uploaded, users can zoom in and out to see the work at a range of distances, electronically share the rendering with colleagues and clients, print a copy for their records, and save renderings in the online library.
OOH Creative Library: contains thousands of executions, searchable by advertiser or product category. A great thought-starter, and the library also offers competitive insights.
OBIE Awards site: the OBIEs are one of the oldest and most prestigious honors for creative excellence in advertising. The website contains all current and past winners showcasing the very best in OOH creative.
OOH Creative Research: a number of reports on the OAAA website review key creative findings covering an array of topics from advertising wearout to color combinations to the importance of multiple executions, and more.
Source: ARF, Nielsen, Sequent Partners