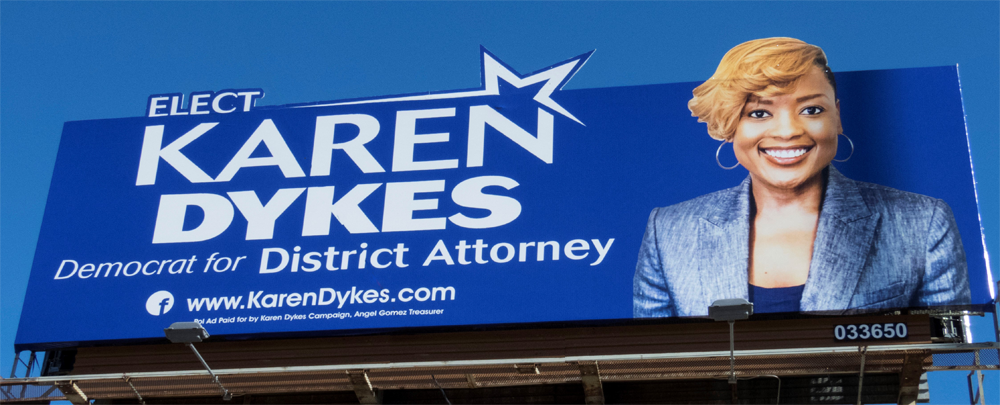 By all measures, 2020 will prove to be yet another record year for political ad spend with projections totaling over $6 billion. The political category has posted impressive growth rising an average of 27 percent annually since 2012. The 2010 Citizens United Supreme Court decision to allow independent political spending by corporations, including nonprofit corporations, labor unions, and other associations has driven much of the growth through political actions committees.
Advertising Analytics research estimates:
• $6B in political media spending in the 2019-2020 cycle.
• $4.4B will come on traditional media (broadcast television, cable, and radio).
• $1.6B will come on digital video (much of which will be on Facebook and Google).
• This represents a projected 57% growth in political spending from 2018 to 2020.
TV has long held the position as the dominant channel in the political arena, but digital video alone should comprise over 26 percent of total spend in 2020. OOH has benefitted from the opening of political spend restrictions also, growing from $14 million in 2010 to $18 million in 2018 – an increase of nearly 30 percent. The chart below shows the cyclical nature of the category, but OOH spend has steadily increased the past decade.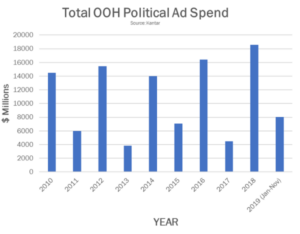 The 2018 OOH political spend of $18 million is an enormous sum, but viewed in the context of total OOH spend in 2018 it only represented two-tenths of a percent. However, that analysis isn't meant to minimize the opportunity the category presents for OOH. First, many trends, innovations and research studies in the OOH space make it a more compelling political channel than ever before. Second, the dynamics created by heavy political spend in competing media channels produces greater OOH opportunity in all non-political categories.
With TV (both broadcast and cable), digital, and radio receiving the majority of the spend, it makes OOH an even more attractive option. TV and radio can only offer limited inventory available on a discrete number of outlets, which translates to even more ad scarcity and much higher ad rates both for political and non-political advertisers. And OOH complements digital media investments by driving consumers from OOH's big screens to digital's small screens.
Historically, OOH's political ad spend strength has come from more local races, ballot measures and referendums, so it's important that campaigns are made aware of the viability of OOH as part of their media strategies.
Here are the top 10 proof points on the value OOH brings to political advertisers:
ALWAYS ON – BREAKS THROUGH CLUTTER
Cannot be delayed, skipped, turned off, or cord-cut, and produces the highest levels of ad recall.
BUILDS AWARENESS & BRANDING/NAME ID
Builds awareness rapidly with BIG larger than life, bold impact. Strong potential to create conversation and controversy leading to additional exposure on social media and other free media, significantly magnifying audience impressions. Offers a high level of brand safety.
AMPLIFICATION & VALUE
Improves all media investments by increasing the reach of all channels, including TV and digital. Pure ad play, no programming or editorial content, so not disrupted by audience fragmentation like other media. Offers some of the lowest CPMs and tied for #1 in consumer ad favorability. OOH reaches 90% of US travelers ages 16+ monthly and 81% weekly.
TARGETING
Targetability by geographic location or by key demographic groups with OOH ratings.
SPEED AND FLEXIBILITY
Digital OOH offers instantaneous updating of message, and ability to make changes as much as needed.
ENHANCES DIGITAL
Increases ROI for search advertising by 40%, and more efficient at driving online activation than all traditional media and banner ads.
MOBILE ENGAGEMENT
66% of adult travelers ages 16+ report OOH ads have prompted them to take an action on their mobile device. 42% stated OOH drove them to search and 32% reported they visited a website on their mobile device after seeing an OOH ad.
REACHES HIGH PROPENSITY VOTERS
Over-indexes with some of the most likely voters – adults 25-54, HHI $100K+, those with advanced degrees.
REACHES DIVERSE VOTERS
OOH reaches voting minority blocs – over-indexes with Blacks and Hispanics.
REACHES YOUNG VOTERS
Adults 18 – 34 are the segment most heavily engaged with OOH media.
These ten key proof points and an in-depth review of OOH political opportunities were presented during this week's OOH and Political Sales webinar. The webinar covered:
How Political is Different from General Market Advertising
Political Ad Spend Opportunities:

PACs/Issue and Advocacy
Campaigns

OOH Proof Points For Political Advertising
OOH Political Case Studies
Appendix:

Sample Kantar Media Political Ad Spend Report
Political Resources
List of Political Agencies and Organizations
Additional OOH Political Ad Examples
In case you missed the webinar, you can review both the OOH Political Primer and webinar recording on the OAAA website.
These materials provide a range of insights on ways to maximize OOH opportunity across the US. In particular, OOH media companies with inventory in the following states will find even greater opportunity as the countdown to the November elections continues.
Toss Up Battleground States – AZ, FL, NC, PA, WI
Super Tuesday States – AL, AR, CA, CO, ME, MA, MI, NC, OK, TN, TX, UT, VT, VA
As the OOH industry works to build greater success in the political category, it's imperative to understand its uniqueness, and to dedicate time and energy to develop ongoing relationships with the decisionmakers. OAAA's Political Primer and additional political resources are insightful tools to help achieve improved results.
SOURCE: Advertising Analytics, Benchmarketing, Kantar, Morning Consult, Nielsen