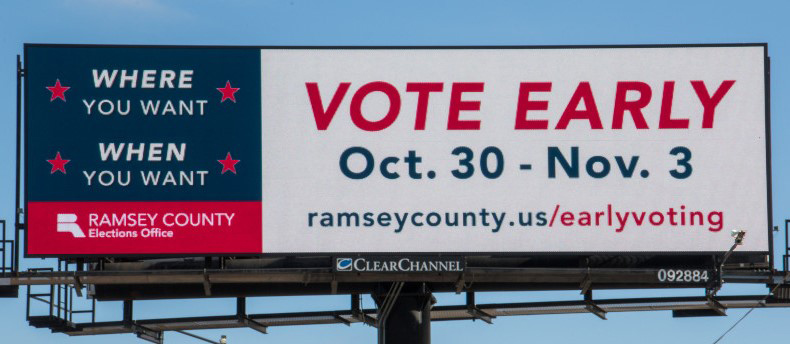 Amid record-breaking ad spend, the 2020 campaign season is approaching its final ten weeks and OOH is playing a larger role than ever. Propelled by improved consumer targeting, the ability to generate earned media, the 24/7 exposure of printed OOH, the flexibility of digital OOH and programmatic options, political ad spend in OOH is up 58 percent over 2016 and 53 percent over 2018 as of the first two quarters of the year.
The number of competitive races across the US appears to be growing by the week, which will place increased inventory and pricing pressure on OOH's traditional local competitors, TV and radio. OOH's attractiveness as a political ad channel is further enhanced by research showing 88 percent of US adults are tired of hearing negative ads on TV and radio. Digital online political ad spend is now second only to TV, and OOH drives online engagement better than all its traditional competitor and banner ads.
The pandemic-related challenges to voting are a red-flag issue every local jurisdiction must address. OOH can play a vital role in helping local and state governments, and campaigns, communicate critical messaging about revisions to traditional voting methods and the implementation of new voting options.
A highly relevant case study is the 2018 Vote.org OOH campaign which included 3,000 billboards in 29 metro areas using US Census data to target 35 million mid-to-low propensity voters. At the time, it was considered the largest GOTV campaign in America.
To assist your sales efforts, use the OOH political advertising Infographic below, and access the OAAA political sales resources on the website, including this excellent political case study that was a winner in the 2020 OAAA/Geopath Local Case Study Contest.