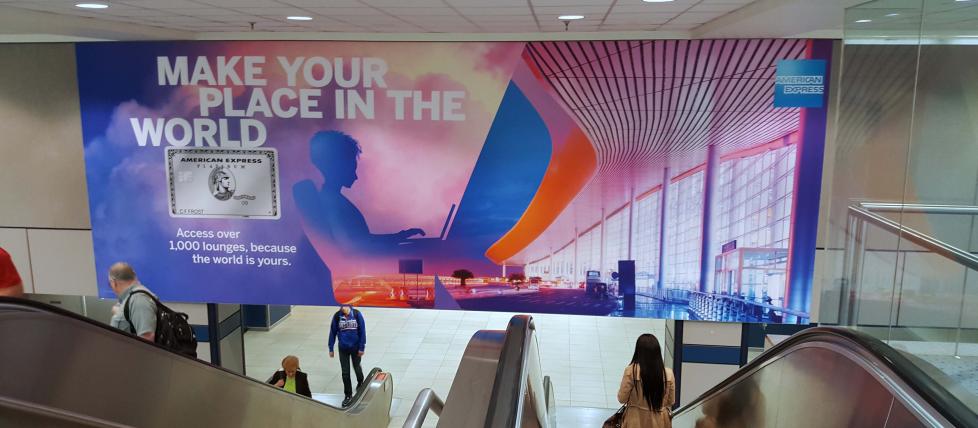 A new global report from MAGNA and Rapport finds that OOH outperforms other traditional media formats and is the only segment that has experienced consistent growth in global advertising sales over the last ten years, particularly due to digital innovation.
According to the report, global OOH advertising revenues grew annually over the last nine years (2010-2018), with an average growth of 4.1 percent per year over the period, to reach $31 billion in 2018. Retail is the largest contributor to OOH advertising revenues in most markets.
The US is the largest OOH market, projected at $8 billion in 2018 including cinema, and represents about a quarter of global OOH ad revenues.
While US OOH captures less share than the global OOH average, this is due to the competitive local ad market it faces. In Europe, for example, OOH operates almost unopposed as there is no local television, and limited opportunities for local radio.
The report forecasts US OOH ad sales to grow by 2.7 percent in 2019, and by 2.4 percent from 2020-2023, while traditional media ad sales will decrease.
MAGNA also predicts the US share of DOOH, excluding cinema, to grow to 28 percent by 2023.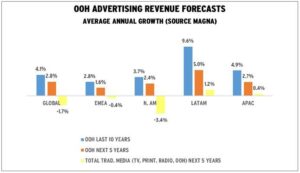 The report points out that while other traditional media sectors are struggling to reach consumers in the digital age, OOH advertising is leveraging technology to remain relevant and attract new advertisers. Digital OOH continues to expand in new urban niches, and better audience measurement allows use of data to optimize cross-media campaigns in real time.
In addition, consumers are increasingly mobile and OOH does not suffer from the erosion of reach and audience that affects editorial media, or the brand safety issues that affect digital media. As a result, OOH is the only traditional media segment that has experienced consistent global advertising sales growth the past decade.
The growing utilization of OOH campaigns by digital media giants is both a testimony to the efficiency of OOH and a factor of future growth, as marketing spend in the sector is bound to grow further. Tech companies, such as, Amazon, Apple, Hulu, Netflix, and Spotify, have dramatically increased their spending in OOH advertising, across almost every world market in 2018.
Vincent Letang, EVP, global market intelligence at MAGNA, said, "OOH is the last advertising format that consumers can't skip or block, and still reaching the young urban active. Combined with huge progress in campaign management, audience measurement and attribution, this explains why OOH has grown steadily in the last ten years and will continue to grow, by 3 percent per year globally, in the next five years."
As data and technology play an increasing role in OOH media, there will be a continued shift from buying location to buying impressions. OOH audience measurement also offers the opportunity to move from buying 'opportunity to see' to 'actual views and engagements', which will offer advertisers more accountability.
MAGNA EVP Vincent Letang will provide an in-depth review of the report and share additional insights at the OAAA/Geopath OOH Media Conference + Expo in Las Vegas, May 20 – 22.
—
Source: MAGNA, Rapport, marketing-interactive.com