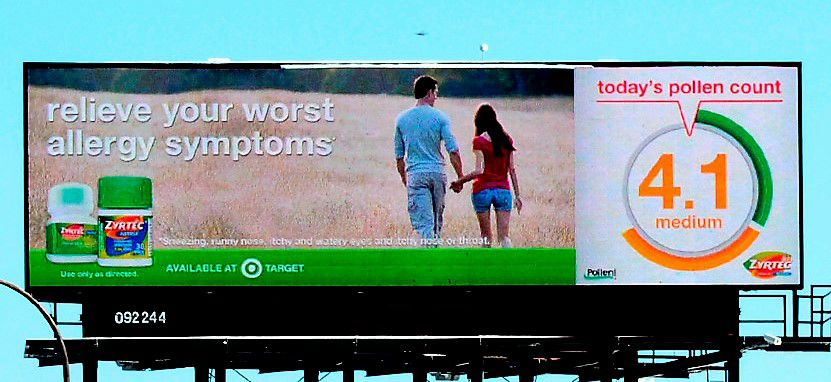 Programmatic digital out of home is the automation of sales transactions with the use of computer programs. It has become easier to buy ads programmatically for digital billboards and other out-of-home ads over the past year, thanks to more widely available programmatically enabled digital screens.
The introduction of mobile location data has accelerated the adoption of programmatic technology in OOH thanks to its ability to provide buyers and advertisers with enhanced audience insights. Mobile location has propelled DOOH into the omni-channel mix, as it allows DOOH to be measured alongside other media channels instead of in a separate silo. This direct comparative analysis means OOH can compete for additional dollars, and potentially lead to increased OOH investment.
The fact that programmatic DOOH is automated makes it powerful beyond just a time savings potential. By using external data feeds, it's possible to trigger programmatic sales in response to market conditions or to deliver customized content relevant to specific places. This maximizes campaign effectiveness by improving targeting and increasing relevance to the audience served.
A food delivery company recently ran a campaign to promote its pickup option, relying on a number of external data signals to ensure its message remained highly relevant. The campaign used weather data as one trigger, with sunny weather triggering creative that encouraged audiences to pick up food at a nearby restaurant. When it rained, they were prompted to order delivery instead. Additionally, the campaign would make suggestions for different partner restaurants depending on the geographic location of the screen displaying the campaign. The campaign was a great example of how effectively targeted data-driven programmatic DOOH can be.
The variety of triggers that can be used in programmatic DOOH is virtually infinite. Time of day, stock trends, updates and the outcomes of sports events, and just about anything else that produces data could trigger a DOOH campaign. For brands and media buyers, this means programmatic can be the key to much more creative and targeted DOOH campaigns than were ever possible before.
Though programmatic DOOH shares an overall premise with online programmatic advertising, there is one crucial distinction. Where each ad delivered programmatically online results in a single targeted impression, DOOH is a one-to-many form of communication, reaching many people at once. Hence, the cost per thousand impressions (CPM) for DOOH tends to be relatively low.
The potential for OOH programmatic campaigns to have enhanced targeting can expand OOH's ability to compete for new ad dollars and market share that have been solidly allocated to digital media in the past. This is precisely why Geopath's new Insights Suite will be a game-changer for the OOH industry. Their Insights Suite currently has some 8,000 unique audience profiles available, with additional segments being added on a regular basis. These audience profiles are built on demographics from Claritas (which layers audience targeting information on top of impressions), GFK MRI, US Census, Scarborough, and U.S. Government data, as well as visibility from eye tracking studies and speed data from connected cars.
However, when it comes to tactical application, programmatic OOH should never be a replacement for the traditional site selection process, nor should programmatic be used for all digital site selection. OOH adjacent to or nearby a retail store has a high value for the retailer that programmatic OOH can never replace. Instead, programmatic DOOH can complement traditional site selection by allowing buyers to look at consumers' movement patterns. By analyzing how consumers shopping at competitor locations move and behave, buyers can select DOOH screens in the right places and times to bring consumers to their store location.
Programmatic OOH is generating clients who have never bought OOH before. These new clients are data-driven advertisers who are now able to apply their existing data tools to understand the ROI of OOH. They know they can now leverage consumer insights to reach their audience as they move throughout their day with digital out-of-home and mobile media, engaging at exactly the right place and time to make the greatest impact.
OAAA just concluded its three-part webinar series on Programmatic OOH, and you can review the presentation decks and recordings on the website: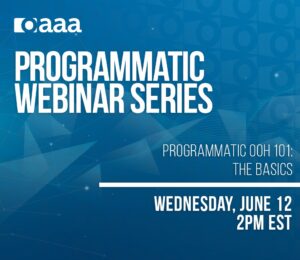 Programmatic OOH 101: The Basics
An overview of what "programmatic" means, how it works best for OOH, benefits of adoption, and why it matters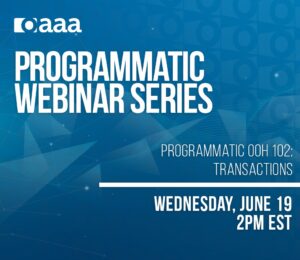 Programmatic OOH 102: Transactions
A look at programmatic transactions and how they work, including open auction, private marketplace deals, and guaranteed deals.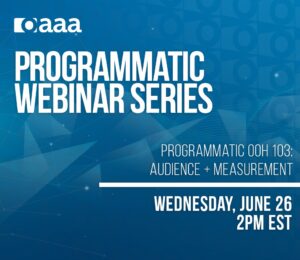 Programmatic OOH 103: Audience & Measurement
An examination of audiences and measurement covering behavioral targeting online and with OOH location data.