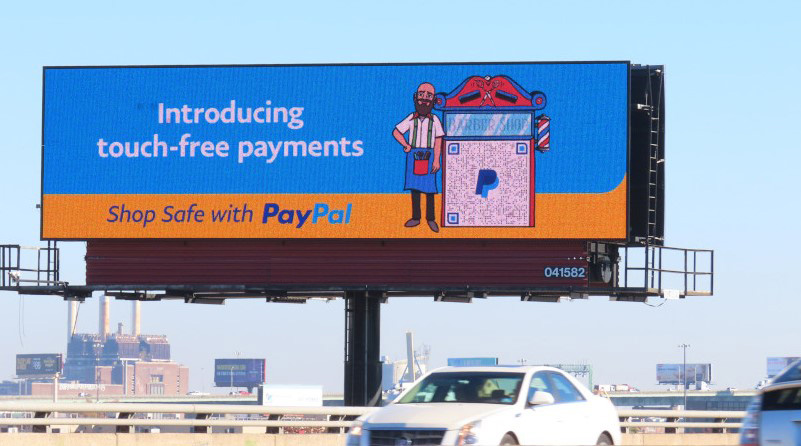 This latest OAAA/Harris Poll survey finds that out OOH advertising continues to gain traction with consumers at a critical time during the pandemic. Even during the winter months consumers are noticing OOH even more, especially younger consumers. Since September, there has been a five-point increase among the total sample (adults 18+) who say they notice OOH "much more." Additionally, 60 percent of Gen Z say they are noticing OOH more, along with 58 percent of Millennials and 42 percent of Gen X.
To assist you in marketing the numerous valuable OOH proof points in the study, click here to access the full report, executive summary, or Infographics.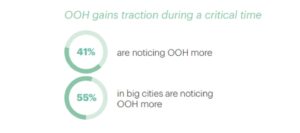 Q1 Mobility & the Opportunity for Out of Home
Looking ahead to the next few months, over 70 percent of US adults will be commuting at least part-time, while almost half (45%) will commute every day, and 67 percent plan on commuting by car post-pandemic. In fact, highways and routes to grocery and retail stores are most optimal for OOH to intercept and engage consumers; 86 percent are visiting the grocery store and 70 percent are driving on the highway once a week or more, which is 30 percentage points higher than most other activities, and half (50%) are visiting retail stores.


Impact & Influence of OOH Amid COVID-19
OOH is leading consumers to discover new brands and influencing their path to purchase, especially urbanites in population centers of one million and more with about one-quarter reporting OOH informed them of a new business or brand this past year. In these larger urban areas, 34 percent say OOH influenced their decision to buy a product and 33 percent say OOH helped them discover a new brand. Consumers are relying on OOH to stay informed on public safety and COVID: Just over half (51%) of consumers say they are noticing OOH about public safety, especially consumers living in the large urban (64%), and over 7 in 10 of all consumers say it makes them feel informed and safe. There's an opportunity for OOH to play a bigger role in addressing COVID. Harris Poll data shows a strong majority of consumers want brands to address COVID in their advertisements, and with the vaccine roll out, many of these messages are using OOH platforms.

Digital Transformation Implications for OOH
Consumers are embracing new contactless commerce technology, such as tap to pay (45%) and QR codes (41%) and over 40 percent are interested in special sales or deals available through these technologies.. At the same time, digital device burn out is rising (+7 pts increase since September) with 75 percent reporting they often tune out digital device ads. In addition, most consumers are increasingly seeking outdoor activities, especially Gen Z (82%) of whom say they wish there were more outdoor dining offerings and Millennials (78%) of whom say they are trying to find safe outdoor activities to spend their time. While consumers are shifting towards a no contact lifestyle to minimize risks to their health, they're also seeking human connection; meaning marketers should be "touchless" ready across all channels but able to balance digital burnout with sense of human touch.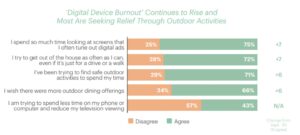 Source: The Harris Poll