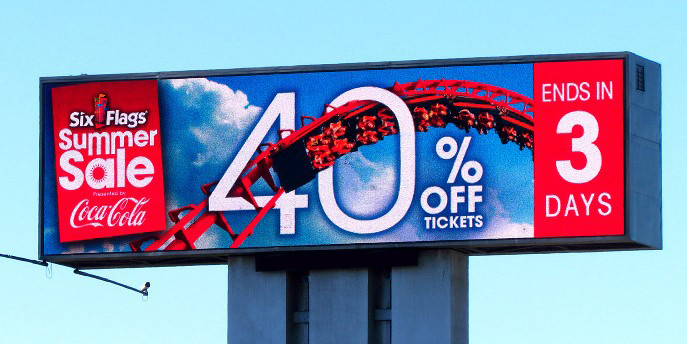 A major challenge for many brands is achieving the best balance between marketing efforts focused on brand building and sales activation. This is especially true in today's US economy where the focus is on short-term results. Respected marketing researchers Binet & Field in their studies on advertising effectiveness promote the proper average marketing allocation for brands at 60 percent brand building and 40 percent for sales activation.
Last fall, results of an international survey by Work Research predicted the continued digitization of the traditional brand building powerhouses of OOH and TV offers a new era for these channels by delivering a balance of branding and activation to advertisers. In the report, 'The Brand Gap', media agencies identified those channels perceived to be of growing importance as: digital OOH (74%) the highest of all, online video (52%), video on demand (46%), and social media (43%).
David McEvoy, Marketing Director of JCDecaux said, "'The Brand Gap' report finds that DOOH and VOD, are the 'media on the up', delivering addressable and broadcast communications. Reaching 63 percent of the population every week, DOOH already combines scale and reach with new digital flexibility. As the Brand Gap makes clear, big reach media that offer brand building and activation could deliver a new future for brands."
Justin Gibbons of Work Research said, "The Brand Gap' shows that while social, online and mobile have provided a new era of highly targeted, highly measurable media that take over half of the media spend, there is a resultant 'Brand Gap'. However, the digitization of the traditional broadcast brand-building media, OOH and TV, heralds a new era of disruption and 'The Brand Gap' shows that the media channels that will do best in the future are those that can adapt the most effectively and potentially close this 'Brand Gap'."
Additional key findings include:
The Brand Gap asks, "How well-developed for your needs are the digital offers of the following media?" – OOH is top (80%) followed by TV (74%), news brands (71%), radio (50%), cinema (49%) and magazines (39%).
Work Research finds that marketing theory is well known and understood, specifically the work of Binet and Field. Despite this wish to achieve an allocation funding balance between brand and response, activation channels continue to take more and more of the investment.
Clients and agencies speak candidly about the problems of over-investing in response media at the expense of brand. Advertiser verbatims include: "I can't think of a single brand that has grown via paid-for online display."; and "We went too far too fast."
The Brand Gap asks why practitioners are not doing what they say they want to do. It finds the culture of short-termism is strong and pulls money out of brand and into response. "We know the rules, but it's just not like that day to day." and "60 percent brand and 40 percent activation is an ideal but the culture of short-termism is too strong."
The Brand Gap suggests that behavioral economics can partly explain this apparently, irrational behavior. A subjective approach creates a mental shortcut between sales response and online channels. A 'herding' instinct makes certain channels more accepted as the norm. Confirmation bias leads people to ignore facts that don't suit their existing views.
The Brand Gap finds that the recent issues relating to brand safety and transparency have made only a small difference to spend. Only 19 percent of those polled said their online spend had been permanently affected, while 67 percent said spend had already returned to normal levels and the remaining 14 percent said spend would return. Advertisers said: "The issues are being addressed", while agencies said: "The brand safety thing has cleansed the digital ecosystem."
The Work Research study findings parallel OAAA funded-research with Omnicom's data analytics division, Benchmarketing, which found both digital and printed OOH, has impact throughout the consumer purchase funnel. The study, OOH ROI and Media Mix Optimization, examined seven key product categories in the US, and found OOH to be significantly under-allocated in media plans in every category. The study provides detailed recommendations on media mix allocations by product category, budget size, and phase of the consumer journey the advertiser is attempting to influence.
"The Brand Gap" was commissioned by JCDecaux and done by Work Research through interviewing 10 leading advertisers, 10 media agency heads, conducting four focus groups with media planners, and surveying 123 media agency practitioners.
—
Source: Work Research, JCDecaux, Benchmarketing