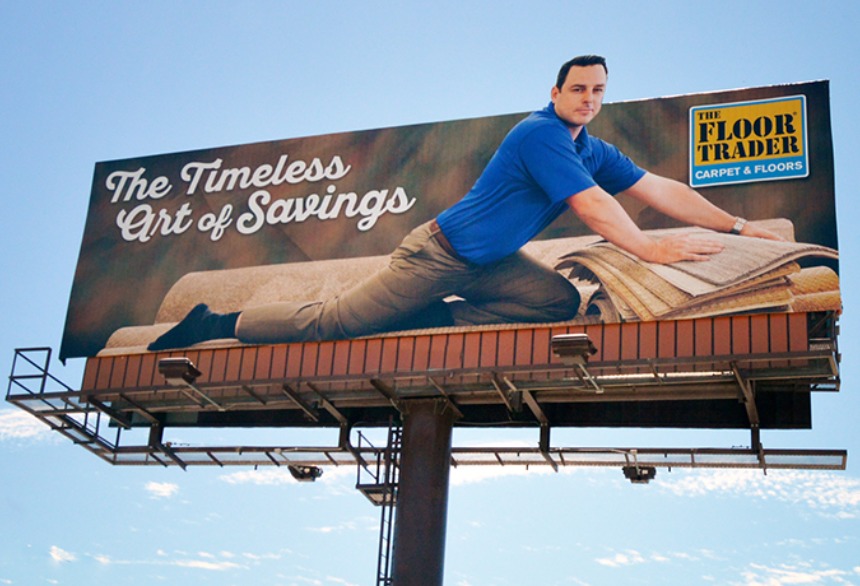 With an exceptional second quarter in 2019, OOH is pacing at an increase of seven percent year to date or almost triple MAGNA's initial 2019 projection for OOH. To help you close 2019 in a strong manner, and begin building business for 2020, OAAA offers a variety of useful resources.
It is important to know what local advertisers' value in media sales executives. Borrell & Associates does an annual survey of over 3,000 local advertisers across the US, and their feedback is noted in the chart below.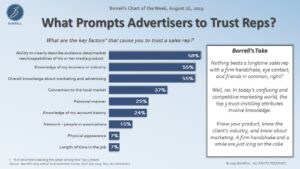 The top three points are all about knowledge. Knowledge about OOH, about the advertiser's business, and about marketing and advertising in general. OAAA's resources help you build your acumen across all three sectors.
Sales Training
An excellent resource on client relationships is the OAAA webinar video by Lamar Advertising Company CMO Tommy Teepell, "Keeping Customers and Getting New Ones". Tommy's video offers excellent insights and tips for sales professionals with all of levels of experience.
OAAA and Geopath produced a nine-module sellers' training program that covers a variety of topics including understanding client objectives, crafting client proposals, and making presentations more compelling.
Research on OOH Proof Points
There have never been more compelling proof points on the value of OOH than what are available today. You can find the latest studies about OOH in the marketing research section of the OAAA website covering consumer behavior, creative, and effectiveness and ROI.
Here are some of the most compelling proof points:
OOH delivers mass reach and has maintained audience while all other traditional channels have been beset with audience loss and fragmentation. OOH reaches 90% of US travelers in a month, and 80% in a week (Nielsen).
Because of its massive reach, and lower CPMs, OOH provides more exposure for ad dollars spent (PJ Solomon).
OOH's intersects with and engages consumers in the real world where they live, work and play – and where they're prone to action. 83% of OOH ad viewers report looking at the ads at least part of the time. 20% of OOH viewers report they've immediately visited a business after seeing an OOH ad, and 75% of those visitors report making a purchase. (Nielsen)
OOH is more effective at generating retail foot traffic than mobile or mobile + desktop (Cuebiq).
OOH drives online activation more efficiently than banner ads, TV, radio and print (Nielsen).
OOH increases the ROI of search by 40% when added to a media plan (Benchmarketing).66 percent of US travelers report taking an action on their smartphone after exposure to an OOH ad (Nielsen).
OOH viewers are younger and more affluent than the US population, making them an attractive audience for advertisers (Nielsen).
OOH ties for #1 in favorability in comparison to other ad channels (Morning Consult).
OOH generates the highest levels of ad recall among major media (PJ Solomon).
Customized research reports are also available. Simply use the form on the OAAA website, define your research needs, hit submit, and you'll typically receive your requested information in less than 24 hours.
The available resources include:
Ad spend data by advertiser or product category, and media for the top 102 DMAs across the US.
OOH-only ad spend date by advertiser or product category for the top 202 DMAs across the US
Demographic analysis reports covering population by select geography (US, state, county, DMA, CBSA, zip) on a number of factors including age, gender, race/ethnicity, HHI, education, marital status, population density, and more
DMA- level demographic reports with product category analysis, and DMA maps by state
Product Category Research
To continue the strong momentum OOH has generated, it's important to continue to identify opportunities for increasing market share. Once you've identified your new prospects, you can directly access Dun & Bradstreet's/Hoover's product category reports that highlight trends, opportunities and challenges, along with sales call preparation questions by category.
Testimonial Case Studies
The OAAA website contains over 400 advertiser case studies demonstrating OOH effectiveness across 16 product categories.
There's also a section dedicated entirely to local case studies that includes over 190 studies generated through the annual OAAA/Geopath Local Case Contest.
The library was expanded this summer to include OOH attribution case studies that profile another 30 examples of successful OOH campaigns. These cases were analyzed using location-measurement and mobile device technology, and provide compelling metrics on the effectiveness of OOH.