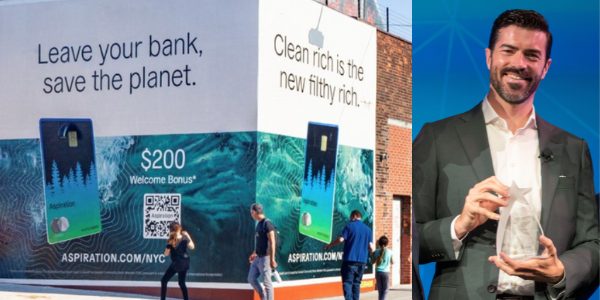 Advertisers are always interested in learning about marketing success, especially within their own product category. Every OOH account executive knows the OOH medium works, and they also know the power of an advertiser testimonial that offers quantifiable proof of the value of OOH in local markets. Just ask last year's OAAA/Geopath Local Case Study Awards grand prize winner, Jim Fitzgerald of Colossal Media (pictured above), for his work on behalf of Aspiration NY.
The OAAA local case study library contains over 300 advertiser success stories and the annual OAAA/Geopath Local Case Study Awards contest adds more every year.
There's a strong likelihood 2022 may be OOH's best revenue year ever, so take advantage of this opportunity to spotlight the impressive results you've created with your advertising clients. Your 2022 local successes not only created results for your clients and generated renewals, they also give you a chance to earn extra cash or a free trip to the OAAA/Geopath OOH Media Conference in Nashville, March 27–29, 2023.
Here are the contest guidelines:
Campaigns can be entered by any account executive or sales manager of an OAAA or Geopath member media company.
Eligible campaigns must have been posted between January 1, 2022, and December 31, 2022.
The campaign must have featured a purely local advertiser – no national or regional campaigns are eligible unless they were contracted locally and appeared in a single market.
The campaign must have quantifiable results (e.g., increased sales by X%, generated X number of consumer responses to the promotion, produced X% increase in traffic to the advertiser's website, generated X number of social media postings, etc.).
All submissions must be received no later than 6:00 pm ET on January 13, 2023.
All submissions meeting the criteria above will be judged, then OAAA and Geopath will award to the top six entries:
Five individual $250 finalist prizes
One grand prize trip to the OAAA/Geopath OOH Media Conference in Nashville, March 27 – 29, 2023 (including registration, airfare, hotel and $500).
To submit your entry today, click the button below for your chance to win cash or a fantastic trip to Nashville!
OAAA will post all qualifying submissions to the local case studies section of the OAAA website for use by members.