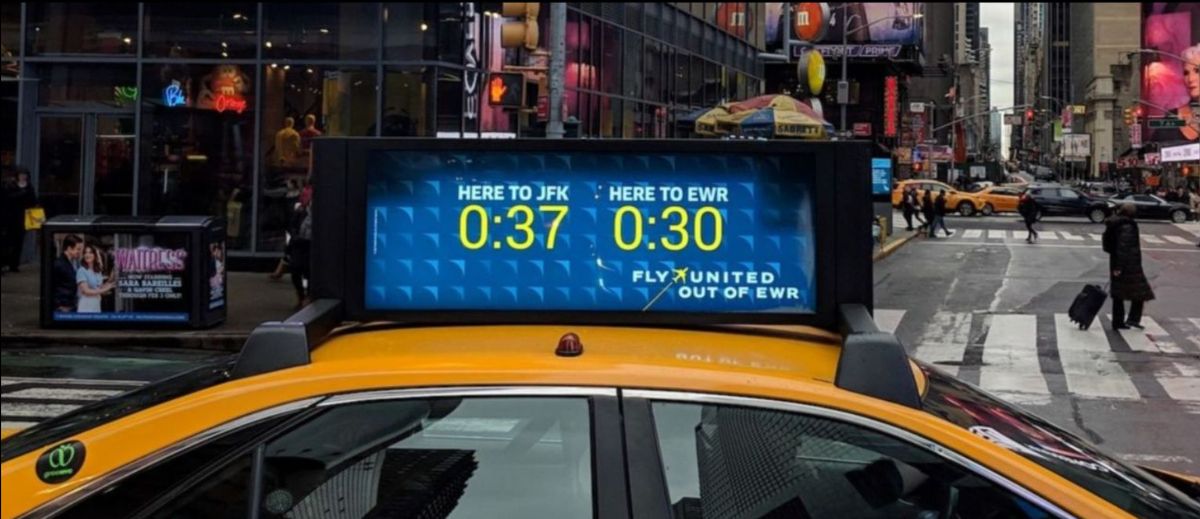 Among serious competition highlighting the breadth of innovation in OOH, Posterscope's "Win NY" campaign for United Airlines was selected for the OOH Media Plan of the Year. United and additional winners noted below were announced in New York at The AD Club of New York's 12th annual OOH: NOW Conference.
To combat the notion that JFK and LaGuardia airports are the obvious choice for New York travelers, Posterscope engineered and executed a hyper-local digital OOH campaign for United Airlines to post real-time drive times to Newark Liberty International Airport (United's hub) versus JFK or LaGuardia. Using consumer data and a synced traffic feed, high-frequency messaging was delivered to more than 500 digital OOH screens across New York, including LinkNYC kiosks, digital bus shelters, digital newsstands, and digital taxi tops.
Each digital OOH screen pulled specific data pertinent to its exact location to present accurate drive times to Newark airport based on current traffic. If at any point the travel time was not in favor of Newark, the creative at that location switched to a more general Fly United brand message. The campaign used data to inform the exact ad location and creative, ensuring the campaign reached its target audience with relevant information, and earned it the top award.
The OOH Ratings-Driven Media Plan Award, given to the campaign that best utilized Geopath OOH Ratings, was presented to Publicis Media for Allstate Insurance. To promote Allstate's Milewise program, which allows insurance policy holders to pay based on miles driven, Publicis Media crafted a multi-format OOH campaign to budget-conscious consumers in New Jersey who drive less than 10,000 miles per year. Planning data determined profiles of train and ferry riders who best fit the target audience. The campaign kicked off with high-impact station dominations at four of the most frequented train stations in New Jersey and with ferry wraps on waterways to New York. The fully immersive plan also included bus shelters, bike shares, and billboards, as well as paid search, display, social, and streaming radio. Following the campaign, program awareness rose 7 percent.
Gold Media Plan Awards were presented to:
• Posterscope for United Airlines – Win NY
• Publicis Media for Allstate Insurance
• Posterscope for Jack in the Box
Silver Media Plan Awards were presented to:
• Rapport for New Balance
• Outdoor Media Group for Pepsi
• OUTFRONT Media for The Citadel
The OOH Media Plan Awards generated almost sixty entries and all of the case studies are posted on the OAAA website.