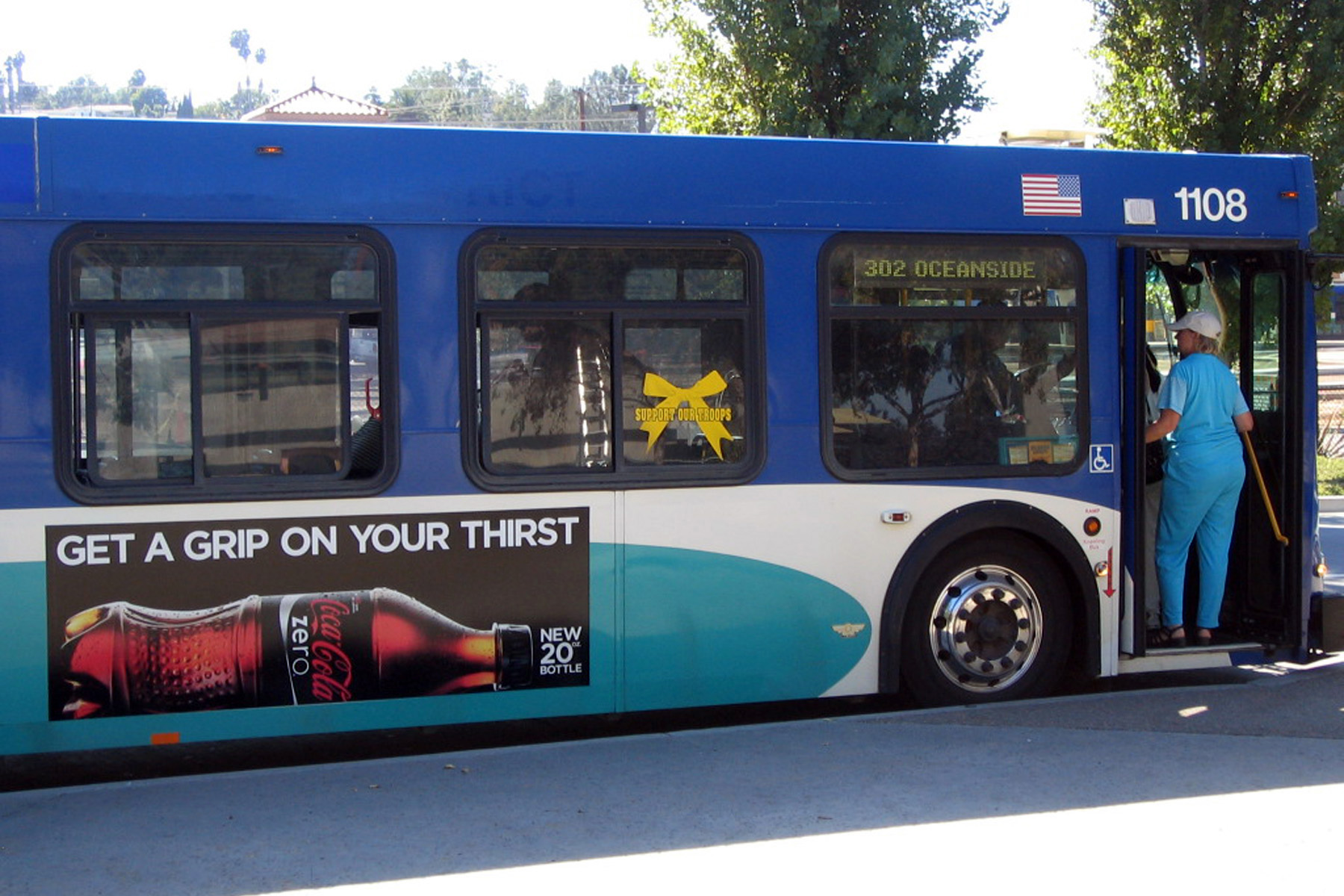 The queen size bus poster is an exterior display which usually appears on the curb side of the bus. Copy is inserted in an aluminum frame attached to the side of the bus, or may be printed on self-adhesive, pressure-sensitive vinyl which is affixed directly to the side of the bus, or in San Francisco, on the historic cable cars.
Specifications

Overall Size (Vinyl): 30" H x 88" W
Overall Size (Paper): 29" H x 88" W
Copy Area: 27" H x 85" W
Production
Printing – Lithography or screen printed or digital. Copy bleeds on all sides. Sheets are overlapped 1/2", left on right and overlap areas must be unprinted and unvarnished. Stock
For buses requiring direct application vinyl, Fasson Transit Vinyl or Fasson Transit Vinyl II, FLEXcon BUSmark, or 3M Controltac film must be used. For framed buses, vinyl is preferred but a minimum 70 lb wet strength paper is also acceptable. For exposure periods of 60 days or longer, vinyl must be used.
Inks
Weatherproof/waterproof vinyl inks, including UV inks. When printing on paper, a primer coat of white should be applied overall to avoid bleed-through.
Mechanicals
Mechanicals should be scaled 1/8" to 1". Digital output resolution 300 dpi.
Sections
Copy may be produced in either one or two pieces. If produced in two sheets, sheets are overlapped left on right: 1" for paper and 1/2" for vinyl. The printed area of each section is generally 44". However, to avoid splitting copy or illustration, uneven widths are also acceptable.
Overage
Fifteen percent over the number of posters indicated for the program is required for every 16 week period. Copy printed on paper must be replaced every four weeks.
Delivery
Ten working days prior to posting date.
Other
For maximum durability, conventional or UV clear top-coating should be applied to poster surface.