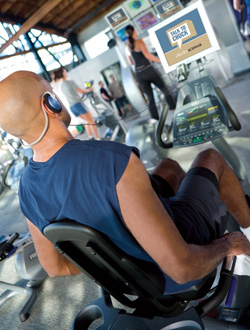 A broad category, this section provides information on some common formats. These indoor and some OOH video screens are often internet-enabled, seen in major markets throughout the United States as well as internationally, and provide entertainment, news, weather, sports, and targeted advertising to consumers — while they wait in line or in elevators, check-out counters, coffee shops, lobby shops, convenience stores, supermarkets, gas pumps, and transit hubs.
The screens can often be updated instantly and targeted precisely to desired demographic audiences.
Primary Uses
National and regional advertisers use digital place-based screens to build brand awareness and reinforce existing advertising campaigns to targeted and mass audiences.
Availability
Located in major markets.
Method of Purchase
Targeted advertising packages are available.
Specifications
Overall Size
High resolution screens come in variable sizes.
Design
Full motion video, animated graphics, and still frame formats are used.
Production
Creative may be sent digitally.