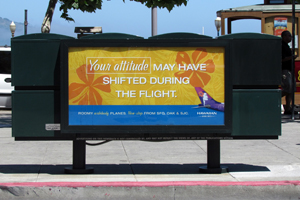 Displays are affixed to permanent newsstand and newsrack structures. These structures are often a component within a broader street furniture package.
Primary Uses
Used to reach pedestrians and vehicular traffic in densely populated center city or campus areas.
Availability
Available in major US markets.
Research/Market Information
TAB OOH Ratings are the official measurement system. Reach and frequency can be calculated using several accepted media software programs.
Method of Purchase
Purchased in GRP programs rotated in four week intervals throughout a market. Some available for sale individually.
Specifications
Sizes vary.

Production
Printing
Lithography, screen printing, or digitally produced on translucent material. Copy bleeds four sides.
Stock
0.015 Styrene. For lithography, print both sides. Inks
Weatherproof/waterproof out of home inks.
Mechanicals
Scaled 1/2" to 1" digital output, resolution 300 dpi.
Overage
Ten percent per each four weeks of posting.
Delivery
Ten working days prior to posting date.
Other
Finishing: trim to size, pack flat or soft-roll