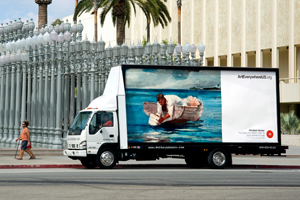 Mobile billboard (truck-mounted) displays are poster panels affixed to aerodynamically-designed vehicles (generally poster size). Specifically outfitted mobile units with electronic or video screen displays are available. Routes can be set by advertisers.
Primary Uses
Used to reach motorists and pedestrians in virtually any locale in metropolitan markets. Mobility enables exposure at any time or place the advertiser may choose. Used as part of a major media mix for national exposure, event marketing (conventions, concerts, sports, special sales/introductions), and as vehicles for sample distribution at stores or other locales.
Availability
Nationwide. Some sellers offer privately-owned fleets and control over posting, routing, and reporting.
Method of Purchase
Usually bought by the week or by the day. As few as one truck can be purchased. Sellers should be contacted for purchase terms.
Specifications
Approximate size of a poster display with live copy area 10' H x 22' W on 30' long trucks. Displays can be stretched vinyl attached by Velcro fasteners, adhesive-backed masking film or standard paper and paste.