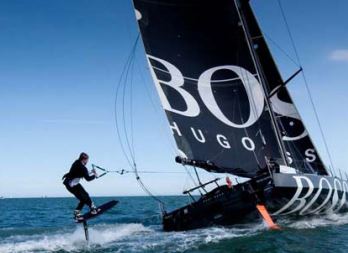 Enormous sails or spinnakers, both working and ornamental, attached to marine vessels of various sizes and dimensions.
PRIMARY USES
Vessels equipped with advertising sails follow nautical courses close to shore and in close proximity to areas of mass congregation by people. These places include beaches, piers, harbors, or city waterfronts.
AVAILABILITY
Oceanside or lakeside communities and along large rivers. These "sailing billboards" are available upon request and are generally offered to advertisers based on specific campaign objectives and are subject to local regulatory ordinances.
RESEARCH/MARKET INFORMATION
Contact Sellers for circulation figures.
COMMON SPECIFICATIONS
The size of sails will vary depending on the specific dimensions of a vessel.
PRODUCTION
For working on sails or spinnakers, standard marine fabrics are used with designs hand painted or screen printed directly onto the sail fabric. Ornamental sails are produced using opaque PVC or vinyl material that can be hand painted, screen printed, or computer printed in the same manner as a permanent bulletin.