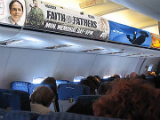 In-flight advertising is available in a variety of formats. Common formats include clings, decals and in-flight video.
Selected Formats
In-flight video
Tray tables
Overhead bins
Bulkheads
Primary Uses
Delivers the elusive and highly desirable audience of business and leisure travelers. Campaigns are designed to attract attention and brand companies, products, or services.
Research/Market Information
The Airports Council International, as well as the Bureau of Transportation Statistics, provide monthly and annual passenger statistics.
Method of Purchase
Targeted advertising packages are available.
SPECIFICATIONS
Overall Size
Most screens are nine inch LCDs. Clings or decals are available for other formats and will vary by airline.

PRODUCTION
General Requirements
Contact sellers for specific production details, as they may vary from seller to seller and market to market for similar formats.

In-Flight Video
The standard creative spot is 30 seconds. Production lead time for in-flight video is usually 18 days. Creative should be provided in MPEG format.

Tray Tables/Overhead bins/Bulkheads
Airlines should be contacted for requirements.