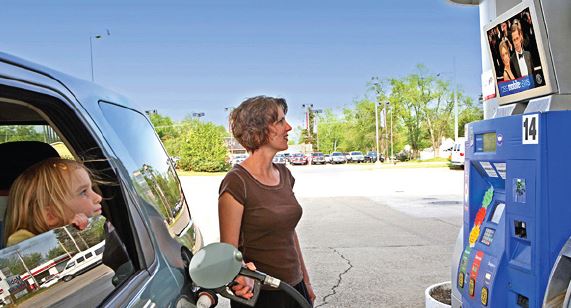 Digital screens on gas pumps are sometimes available in select markets. Digital screens positioned on the top of gas pumps are also available in some markets.
PRIMARY USES
Used to reach a captive audience of drivers composed of all ages, genders, income levels, races, and ethnicity during a three to five minute fueling process.
Advertises products sold at convenience stores, supermarkets, mass merchandisers, as well as nonstore products and services, such as credit cards, websites, motels, automobiles, insurance, etc.
AVAILABILITY
Locations nationwide, wherever gas is sold: gas stations, convenience stores, supermarkets, and mass merchandiser locations.
RESEARCH/MARKET INFORMATION
Contact sellers for circulation figures.
METHOD OF PURCHASE
May be purchased nationally, regionally, by state, or in selected DMAs or by specific purchase in four-week cycle chains.