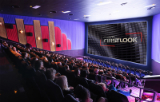 Cinema delivers advertisers a targeted marketing opportunity in a unique environment with an attentive audience, with multiple consumer touchpoints, and the flexibility for entertaining pre-shows or lobby displays.
Primary Uses
The cinema audience is unique in that it is attentive, engaged, and comprised of young, affluent, and well educated consumers who aren't distracted by telephones, remote-control devices, electronic media, or many other daily tasks. Cinema viewers are a captive audience.Availability
Cinema is available in all markets. It is often purchased through a regional or national placement service.
Research/Market Information
Reallocation/Emotional Attachment Study
Sellers provide audience and marketing information.
Method of Purchase
Cinema is usually bought as a network of theatres for multiple weeks.

Specifications
Many lobby display options are available. Cinema advertising content delivery systems, which determine how the ads are displayed on screen, continue to evolve. Theatres have any number of options available to them including: 35mm slides, film (rolling stock), Standard Digital, and HD.

Production
Lobby and other on-premise advertising vary by location. Discuss options with sellers. Some theatres offer pre-show advertising using standard 35mm slides or video.

Digital Delivery
The growth in cinema advertising is attributed in part to the introduction of digital platforms. The digital pre-show format uniquely enables cinema advertising providers to offer programs that seamlessly screen advertising and entertainment content. Digital content offers:
lower production and shipping fees
flexible flighting practices
a high-quality on-screen presentation
accurate delivery reporting