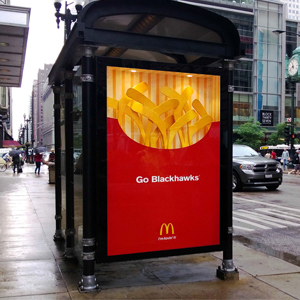 Bus shelter panels offer uncluttered showcases for advertising, mounted (usually two per shelter) in glass, backlit frames. They provide 24 hour visibility to vehicular and pedestrian traffic at high-circulation locations, usually along main roadways of metropolitan markets.
Primary Uses
Used to reach metropolitan audiences for both national and local advertisers. Can be purchased and rotated throughout markets or by selective locations to reach specific target groups. Magazine-quality production makes them effective for multiple uses, including point-of-purchase, directional, residential coverage, ethnic, or micro-marketing. Often bought in conjunction with other forms of OOH advertising.

Availability
In most major markets throughout the United States
Research/Market Information
TAB OOH Ratings are the official measurement system. Reach and frequency can be calculated using several accepted media software programs.
Method of Purchase
Purchased in GRP programs rotated in four week intervals throughout a market. Some available for sale individually.

Specifications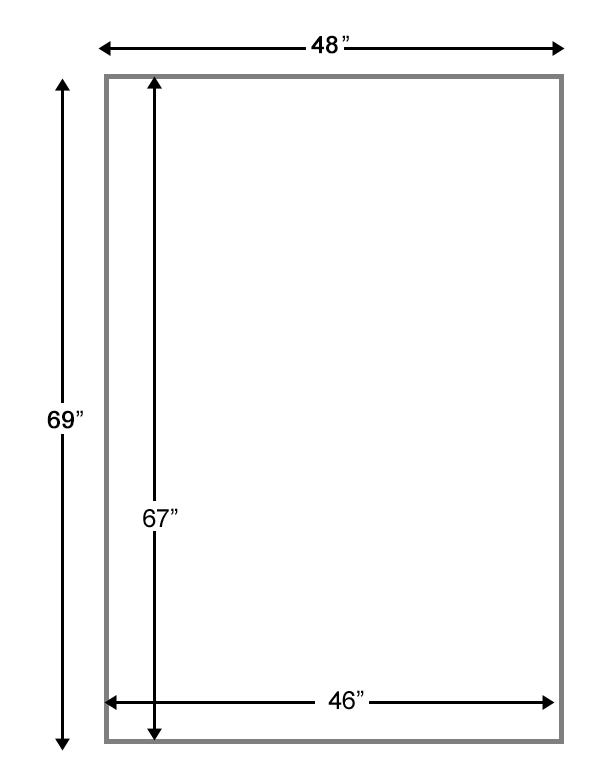 Overall Size: 48" H x 69" WCopy Area: 67" H x 46" W
PRODUCTION
Printing
Small Quantities
Digital UV Inkjet/Solvent on UV backlit paper with UV Mat-Lamination on the front face. Poster should be encapsulated with lamination to prevent moisture infusion. The finished product should total 10-12 mil density.
Large Quantities
Screen printed, or offset lithography. Reverse printing on the back is preferred for optimum illumination of backlit displays.
Stock
Screen Print or Lithography

Photographically
Digital UV Inkjet/Solvent on UV backlit paper

Inks
Weatherproof/waterproof with UV coating.

Mechanicals
Scaled 1/4" to 1'. Digital output resolution 300 dpi.

Sections
Production in one section only.

Overage
Ten to 15 percent per four weeks of posting.

Delivery
Ten working days prior to posting.

Other
Finishing: trim to size, pack flat or soft-roll.