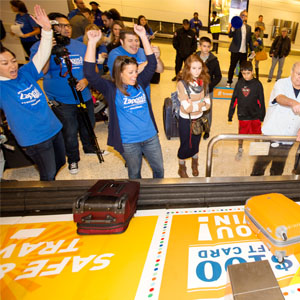 Airport advertising is available in a variety of formats. Interior displays can be freestanding or affixed to terminal walls, windows, columns, ceilings, or floors.
They are located throughout terminals in arrival and departure areas, ticketing areas, baggage claim, gate-hold rooms, concourses, retail shops, and VIP lounges. The majority of interior airport displays are backlit. Exterior displays are available along airport/terminal roadways as billboards, spectaculars, or overhead signs.
FORMATS
Kiosks
Three or four-sided freestanding units located throughout the airport's terminals and concourses.
Showcases
Highly visible units that allow advertisers to display their products and/or services to the airport audience.
Exhibition/Promotion Areas
Areas located throughout airport terminals that allow advertisers to communicate directly with the airport audience. These tactical spaces allow advertisers and marketers to educate and inform passengers about products and services.
Courtesy Phone Centers
Located in arrivals near baggage claim areas, these units allow passengers to dial direct the accommodation of their choice. It consists of a unit backdrop with color advertisements and special direct-line telephones located on the front of each unit. Sold in packages.
Digital Screens
Full-coverage networks of LCD/LED screens or television monitors providing advertising and information in the airport at high-traffic passenger cluster areas. Programming content is often included.
Baggage Cart Sponsorships
Panels located on baggage carts located throughout the airport delivering total audience coverage with message frequency.
Dioramas (Standard & King-Size)
Back-illuminated units distributed throughout the terminals in arrivals, departures, and baggage claim areas. Full coverage packages deliver higher reach and frequency. National, regional, and local media programs are available. Fixed locations may require an additional charge.
Spectaculars (Various Sizes)
Larger-size, back-illuminated units designed to break through environmental clutter delivering greater passenger reach and impact. Strategic locations are available in main passenger arteries—concourse heads, VIP lounges, above walkways, and baggage claim carousels.
Wraps (Various Sizes)
A pre-printed adhesive material applied to flat surfaces (walls, windows, and floors) giving passengers the illusion that they are part of the existing terminal structure. Wraps are sold in singular locations or full airport sponsorships. Jetbridge packages are also available.
Posters
Non-illuminated units distributed throughout terminals in arrivals, departures, and baggage claim areas.
Baggage Carousel Units
Advertising panels that replace the existing panels on baggage claim carousels. These units target arriving passengers.
Airport Bus Shelters
Back-illuminated units attached to airport bus shelters. Sold in packages, these highly visible displays are seen by the total airport audience.
Exterior Sponsorships/Landmark Spectaculars
One-of-a-kind spectacular exterior units that deliver the entire airport audience. These highly visible displays act as airport ambassadors, welcoming passengers to the airport or to their destination.
Primary Uses
Delivers the elusive and highly desirable audience of business and leisure travelers. Campaigns are designed to attract attention, brand companies, products, or services, elicit direct response, or encourage point-of-sale.
Availability
Almost every airport in the US and worldwide.
Research/Market Information
The Airports Council International, as well as individual airport authorities, provide monthly and annual passenger statistics. Audience demographics are available in certain markets where studies have been conducted.
Method of Purchase
Airport advertising is usually bought and sold in multi-market campaigns. The number of locations contracted determines coverage and cost. Space is purchased in four week cycles, on either a long or short-term basis.
SPECIFICATIONS
Following are specifications for three of the more commonly available formats. These may vary from seller to seller and within markets. Contact sellers to confirm these specifications and for specifications of other available formats.
Standard Diorama
Overall Size: 43" H x 62" W
Copy Area: 41" H x 60" W
Double Diorama Spectacular
Overall Size: 43" H x 126" W
Copy Area: 41" H x 121 3/4" W
7' x 11' Spectacular
Overall Size: 83" H x 135" W
Copy Area: 80" H x 132" W
PRODUCTION
General Requirements
Contact sellers for specific production details, as they may vary from seller to seller and market to market for similar formats. For example, some units may require specific substrates or grommets.

Printing
The visible image should be centered on overall dimension, and must bleed out to each edge of copy.

Small Quantities
Photographically.

Large Quantities
Screen-printed, printparency, Duratrans or Ciba-chrome transparency, or offset lithography.

Stock
Screen Print or Lithography
0.010 clear cellulose or vinyl. If lithographed, print two sides.

Photographically
Varicolor or Duratrans.

Inks
Weatherproof/waterproof with UV coating.

Mechanicals
Standard Diorama – 9" H x 13" W
Double Diorama Spectacular – 9" H x 27" W
7' x 11' Spectacular – 20" H x 34" W

Sections
Standard dioramas and double diorama spectaculars are one piece. 83" H x 135" W spectaculars are two sections and seamed.

Overage
Twenty percent per four weeks of posting.

Delivery
Ten working days prior to posting date.

Other
Trim to size, pack flat or soft-roll.