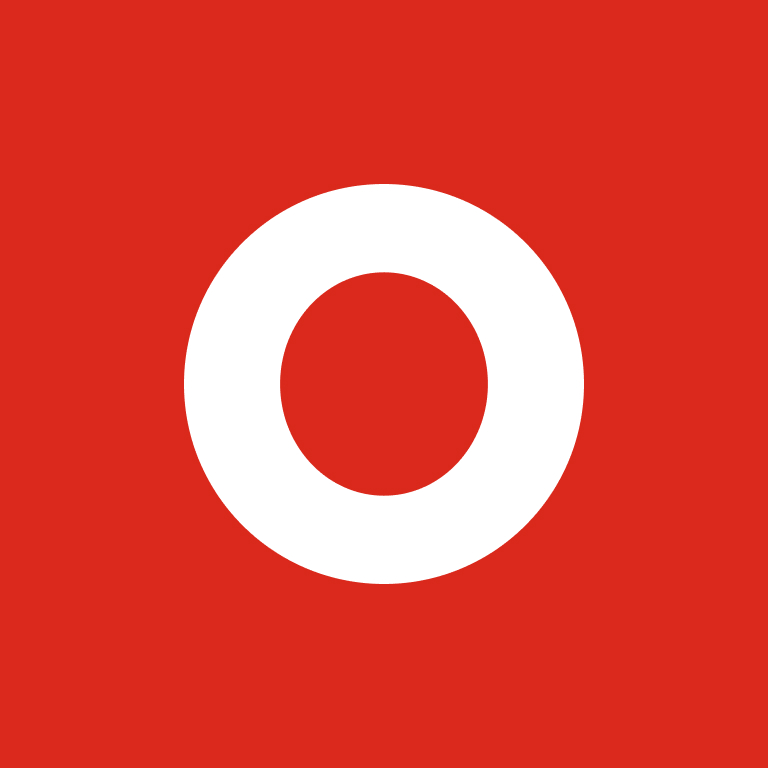 OOH Ad Recall Tops Live/Streaming TV, Podcasts, Radio, Print & Online Executions
Jan. 4, 2023 (WASHINGTON & NEW YORK) – The Out of Home Advertising Association of America (OAAA), the national trade association for the entire out of home (OOH) media ecosystem, has partnered with leading financial advisory firm Solomon Partners to release findings from the Solomon Partners' 2023 U.S. Major Media Advertising Effectiveness Analysis.
The analysis, which represents an aggregation of publicly available studies on advertising recall from 2017 to 2022, shows that out of home advertisements produce significantly higher ad recall with consumers versus live and streaming television, podcasts and radio, print, and online executions. This holds true across printed and digital OOH formats.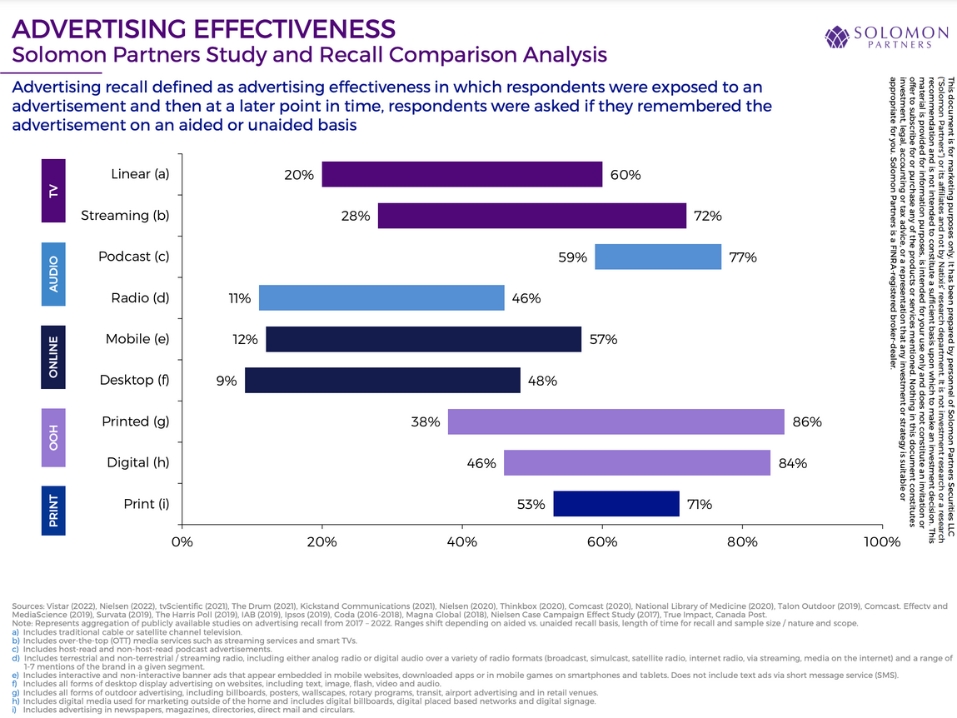 Confirming the importance of OOH in the media mix, Solomon Partners' analysis parallels recent findings from OAAA-Harris Poll research showing that almost half (49%) of adult consumers are noticing OOH ads more than one year ago as Americans return to normal lifestyles post-pandemic.
"This analysis affirms out of home's critical role in the media mix," said Anna Bager, President and CEO, OAAA. "As the fastest growing media channel in 2022, this analysis from Solomon Partners is yet another proof point of the value that out of home brings to marketers at a time when people are fully re-engaging in their pre-pandemic lifestyles. Ad spend forecasts for 2023 reveal out of home will continue to outpace total media growth overall."
"These benchmarking numbers demonstrate OOH's ability to engage consumers in a manner that typically outperforms competing media, and marketers should consider that effectiveness in their media plans," said Mark Boidman, Partner and Head of the Media & Entertainment Investment Banking Group, Solomon Partners. "Generating higher levels of ad effectiveness is just one of the reasons OOH is generating greater growth than the overall ad market. The medium's digital flexibility and impressive increases in programmatic spend are driving the growth because OOH is delivering on the needs of today's brands."
Download Solomon Partners 2023 U.S. Major Media Advertising Effectiveness chart here.
About the OAAA
The Out of Home Advertising Association of America (OAAA) is the national trade association for the entire out of home (OOH) advertising industry. OAAA represents over 800 members, including leading media companies, advertisers, agencies, ad-tech providers, and suppliers, which comprise over 90 percent of the industry. OOH media includes billboards, street furniture, transit, place-based media, and digital formats (DOOH) across every sector of the channel. OAAA is the unifying voice for the industry, the authoritative thought leader, and the passionate advocate for advancing OOH advertising in the United States. The legislative unit of OAAA advocates for the responsible growth of OOH with federal, state, and local governments. OAAA-member media companies donate over $500 million annually in public service advertising. Founded in 1891, OAAA is headquartered in Washington, DC, with offices in New York City.
About Solomon Partners
Founded in 1989, Solomon Partners is a leading financial advisory firm with a legacy as one of the first independent investment banks. Our difference is unmatched industry knowledge in the sectors we cover, creating superior value with unrivaled wisdom for our clients. We advise clients on mergers, acquisitions, divestitures, restructurings, recapitalizations, capital markets solutions and activism defense across a range of industries. Previously known as PJ SOLOMON, Solomon Partners is an independently operated affiliate of Natixis, part of Groupe BPCE. For further information, visit solomonpartners.com.
Media Contacts:
Laura Goldberg
LBG Public Relations for OAAA
+1-347-683-1859
Kalen Holliday
Solomon Partners
+212-508-1649