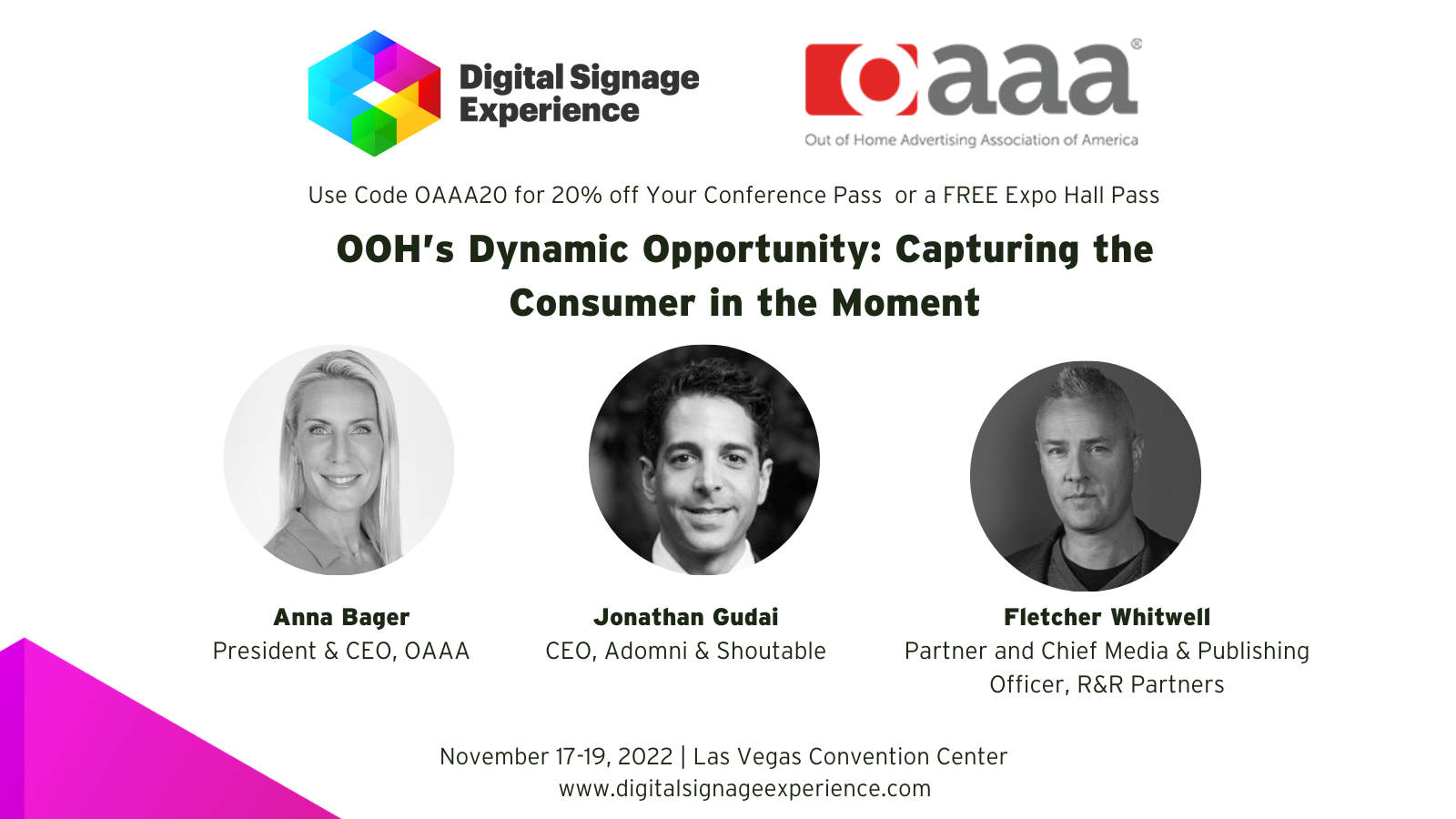 Thought Leadership Sessions to Help Industry Prepare for Accelerated Growth Post-Pandemic
WASHINGTON D.C. (November 7, 2022) – The Out of Home Advertising Association of America (OAAA), the national trade association for the entire OOH and DOOH media ecosystem, announced today a series of stellar panel sessions slated for Digital Signage Experience (DSE) 2022, featuring the industry's top thought leaders, who are primed to examine and discuss the latest OOH trends, technologies, and drivers of growth. DSE 2022, which explores every aspect of digital and interactive display technology, from concept to content and analytics, will be held November 17-19 in Las Vegas at the Las Vegas Convention Center.
"Consumers are appreciating their surroundings more than ever and paying greater attention to out of home ads, setting the stage for rapid growth in the out of home sector," said Anna Bager, President and CEO, OAAA. "We are thrilled to present our industry partners with the most up-to-date information and tools to prepare their businesses for accelerated growth."
Panels include:
OOH's Dynamic Opportunity: Capturing the Consumer in the Moment, moderated by Anna Bager, OAAA's President and CEO, will examine how dynamic targeting tools and new technology enables advertisers to reach consumers everywhere on their daily journey and extend a campaign's impact through social amplification as eight in 10 social media users report seeing OOH ads online, of which 75% engage in some way. Industry experts Fletcher Whitwell, Partner and Chief Media & Publishing Officer, R&R Partners; and Jonathan Gudai, CEO, Admoni and Shoutable, will be featured. Held on Thursday, November 17 at 9 am Pacific.
How Cities Can Use Digital Billboards to Create Economic Development and Improve Public Spaces looks at the rising affinity between people, cities and large-format digital out-of-home media, focusing specifically on the City of Hollywood where billboards along the Sunset Strip have made the area famous. Transitioning to digital is serving an opportunity to create public benefit and provide a baseline for long-term economic development. Rick Robinson, Chief Strategy Officer, Project X Media will moderate with panelists, John Leonard, Director of Economic Development, City of West Hollywood; Pete Scantland, Founder/CEO, Orange Barrel Media; and Jeremy Kolieb, Principal, Consumer Experience Group. Held on Thursday, November 17 at 9 am Pacific.
Stephanie Gutnik, Global Head of DOOH, Yahoo, moderates the In-Flight Sales Analysis DOOH: A New Way of Measuring Effectiveness panel with Tiffany Southwell, Vice President, Out of Home Media, Catalina USA; and Ian Dallimore, Vice President of Digital Growth, Lamar, who will explain how ISA works and why advertisers are using it, what information it brings to buyers and why it is useful in an omnichannel campaign. Held on Thursday, November 17 at 4 pm Pacific.
For more info or to register for these sessions, visit https://www.digitalsignageexperience.com.
About the OAAA
The Out of Home Advertising Association of America (OAAA) is the national trade association for the entire out of home (OOH) advertising industry. OAAA represents over 800 members, including leading media companies, advertisers, agencies, ad-tech providers, and suppliers, which comprise over 90 percent of the industry. OOH media includes billboards, street furniture, transit, place-based media, and digital formats (DOOH) across every sector of the channel. OAAA is the unifying voice for the industry, the authoritative thought leader, and the passionate advocate for advancing OOH advertising in the United States. The legislative unit of OAAA advocates for the responsible growth of OOH with federal, state, and local governments. OAAA-member media companies donate over $500 million annually in public service advertising. Founded in 1891, OAAA is headquartered in Washington, DC, with offices in New York City.
About Digital Signage Experience (DSE)
Digital Signage Experience (DSE) is the preeminent event and digital platform for the digital signage industry, showcasing innovations in technology, market applications and creative educational content. With an increased focus on reaching key end-user markets for digital solutions and experiences, DSE will harness other audiences and platforms in hotels, hospitality, travel, healthcare, entertainment, education, sensors and communications technology and more.
About Questex
Questex helps people live better and longer. Questex brings people together in the markets that help people live better: travel, hospitality and wellness; the industries that help people live longer: life science and healthcare; and the technologies that enable and fuel these new experiences. We live in the experience economy – connecting our ecosystem through live events, surrounded by data insights and digital communities. We deliver experience and real results.