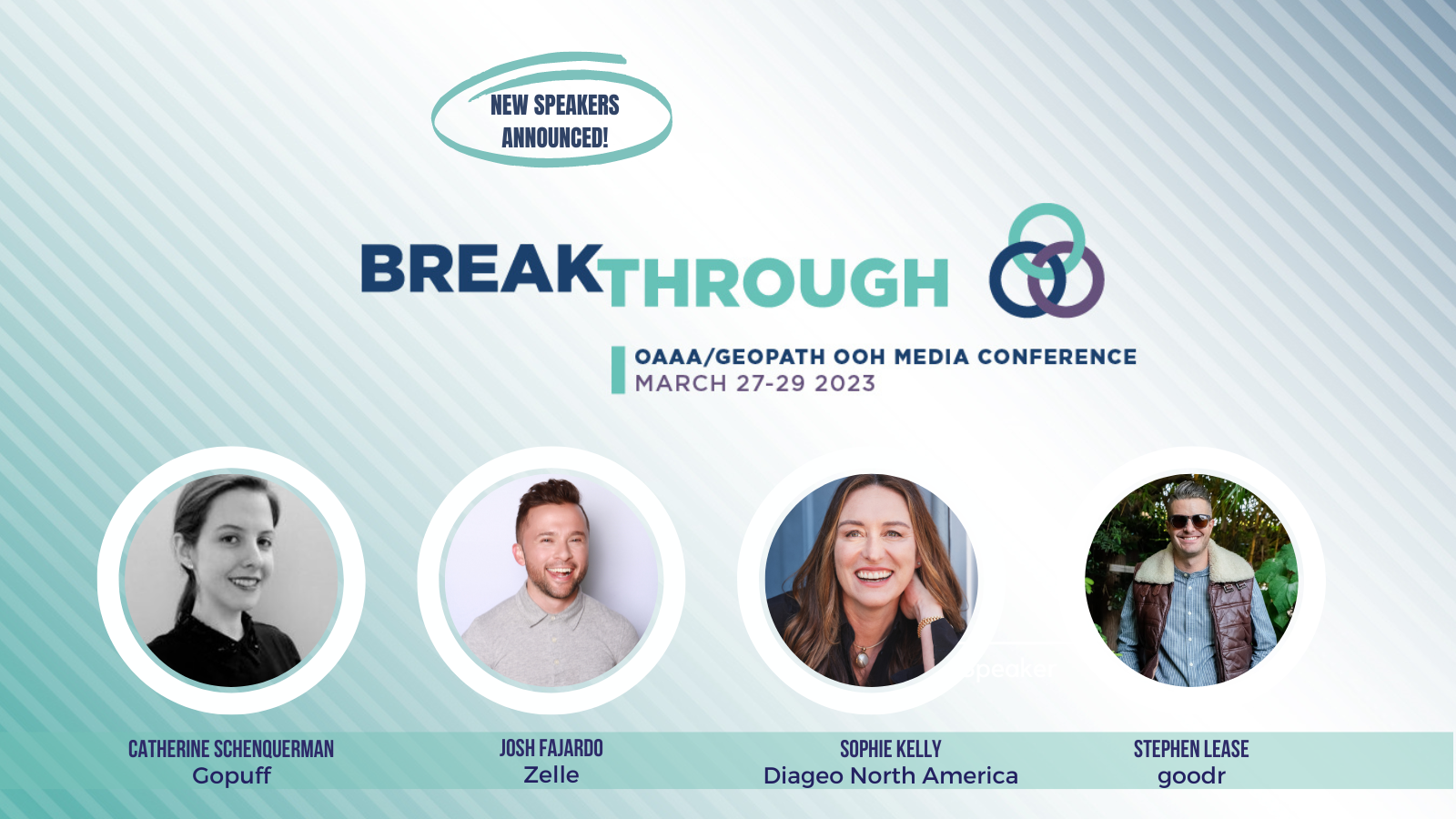 From Gopuff and Diageo to goodr and Zelle, we've assembled an impressive roster of heavy hitters for the 2023 OAAA/Geopath OOH Media Conference.
Ad industry luminaries, brand leaders and OOH experts include:
Andy Sriubas, Chief Commercial Officer at OUTFRONT Media
Brittany Deems, Brand Marketing Director at Coterie
Catherine Schenquerman, Sr Director Integrated Brand Marketing at Gopuff
David Sable, Co-Founder & Partner at DoAble
Jeff Cole, Director, Center for the Digital Future, USC Annenberg School for Communication and Journalism at USC Annenberg School of Media
Jeff Marshall, Chief Diversity Officer, Head of Diversity, Equity & Belonging at UM Worldwide
Josh Fajardo, Sr. Director, Brand Marketing at Zelle
Natrian Maxwell, GM, Emerging Channels at The TradeDesk
Sophie Kelly, SVP of Whiskies at Diageo North America
Stephen Lease, CEO at goodr
Tom Goddard, President at World Out of Home Organisation & Chairman at the Out of Home Capital
Wayne Partello, Co-Founder & CEO at Cuento
The industry's best and brightest will examine the theme "OOH's BreakThrough" through three lenses:
The Consumer Lens: How OOH's big, beautiful canvases breakthrough into consumer's consciousness, changing hearts and minds
The Marketer Lens: How OOH can break through the noise, break through the barrier between digital and physical worlds
The Industry Lens: How we breakthrough the obstacles or misconceptions holding the industry back
You won't want to miss this OOH all-star event, taking place in Nashville, March 27-29. Register today to take advantage of early bird pricing!