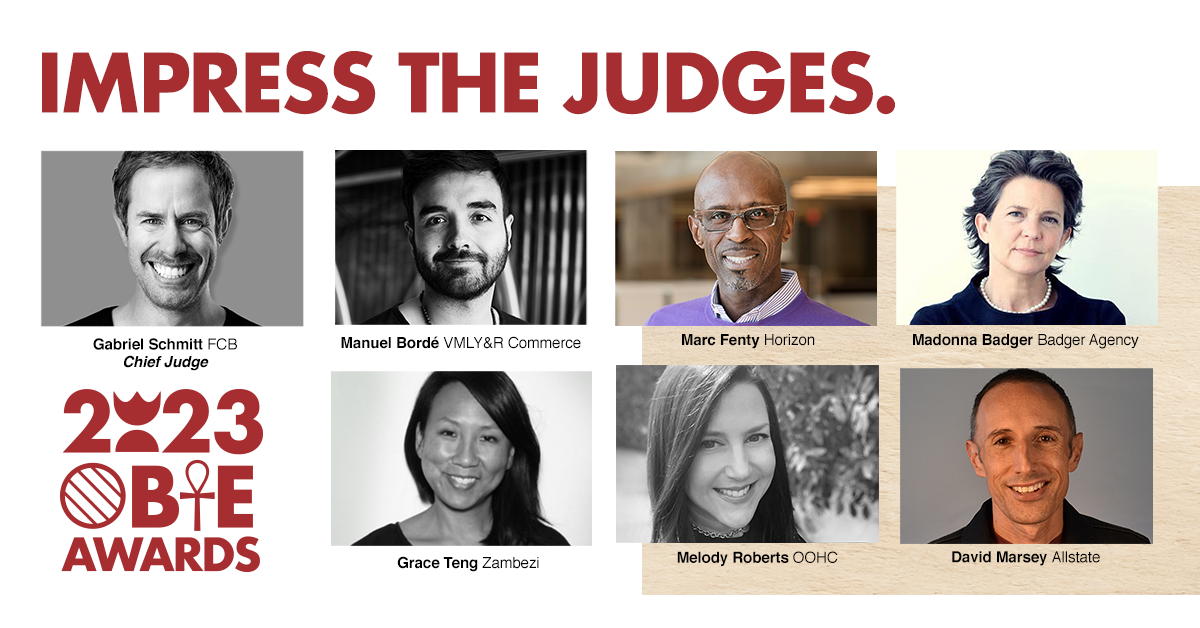 Judging Panel Includes The Badger Agency's Madonna Badger, VMLY&R's Manuel Bordé, Horizon's Marc Fenty, Allstate's David Marsey, Out of Home Creative's Melody Roberts & Zambezi's Grace Teng
WASHINGTON, D.C. — December 6, 2022 – The Out of Home Advertising Association of America (OAAA), the national trade association for the entire OOH and digital OOH media ecosystem today announced the distinguished panel of jurors for its 2023 OBIE Awards, the oldest and most prestigious honors for creative excellence in out of home advertising design. Gabriel Schmitt, Co-Chief Creative Officer for FCB New York, will serve as Chair for this year's judging process.
Ad industry luminaries, brand leaders and influential creatives on the jury for the 81st OBIE Awards include:
Madonna Badger, Founder and Chief Creative Officer, The Badger Agency
Manuel Bordé, Global Chief Creative Officer, VMLY&R Commerce
Marc Fenty, Senior Vice President, Director of OOH, Horizon
David Marsey, Senior Vice President, Media and Commerce, Allstate
Melody Roberts, Founder and Chief Creative Officer, Out of Home Creative
Grace Teng, Partner and Chief Media Officer, Zambezi
OBIE, short for obelisk, refers to the ancient stone pillars that served as the foundation of modern advertising—where posts and pictures informed the masses in town squares across ancient Egypt. Today, out of home marketing has taken up that role, serving as a critical source for consumers to get information and messages from brands, causes, and civic organizations, whether delivered through spectacular digital signage with addressable video or inventive transit takeovers or eye-popping billboard campaigns or state-of-the-art AR and experiential programs.
"With the growth trajectory of OOH ad revenue in the U.S. projected to outpace all major media this year, it's exciting to see the industry come alive with a renewed sense of innovation and imagination," said Anna Bager, President and CEO, OAAA. "We've assembled an industry panel of heavy hitters who will use their collective insights to select those extraordinary campaigns that disrupted the industry with creativity and originality. These OBIEs judges will be reviewing the best of the best – ingenious creative that cuts through the mounting clutter to reach and resonate with consumers."
"I am proud for the opportunity to work with some of the best and brightest in our industry to judge this year's OBIEs and select groundbreaking out of home advertising that surrounded, surprised and delighted consumers," said Jury Chair Gabriel Schmitt, co-CCO at FCB NY and previous OBIE Awards Platinum winner.
Eligibility for the 2023 OBIE Awards competition requires that paid advertising was displayed on an out of home advertising location during the 2022 calendar year (January 1 through December 31). Advertising awards program specialty categories range from Contextual OOH to Experiential to Integrated Multimedia, Buzzworthy and Data Use & Technology. Craft awards will be given in categories that include Copywriting, Digital Design, Photography, and more. The OBIEs also feature sector-specific awards in brand categories such as Film & Media, Food & Beverage, Public Service & Nonprofits, Direct to Consumer, and Fashion & Luxury Goods. Format categories also include Billboards, Street Furniture, Transit, Place-Based OOH, and Combined Multi-OOH Formats.
Nominations will be accepted through December 30, 2022. To learn more about the OBIE Awards and submissions, please go to obieawards.org.
About the OAAA
The Out of Home Advertising Association of America (OAAA) is the national trade association for the entire out of home (OOH) advertising industry. OAAA represents over 800 members, including leading media companies, advertisers, agencies, ad-tech providers, and suppliers, which comprise over 90 percent of the industry. OOH media includes billboards, street furniture, transit, place-based media, and digital formats (DOOH) across every sector of the channel. OAAA is the unifying voice for the industry, the authoritative thought leader, and the passionate advocate for advancing OOH advertising in the United States. The legislative unit of OAAA advocates for the responsible growth of OOH with federal, state, and local governments. OAAA-member media companies donate over $500 million annually in public service advertising. Founded in 1891, OAAA is headquartered in Washington, DC, with offices in New York City.
Media Contact
Laura Goldberg
LBG Public Relations for OAAA
+1-347-683-1859