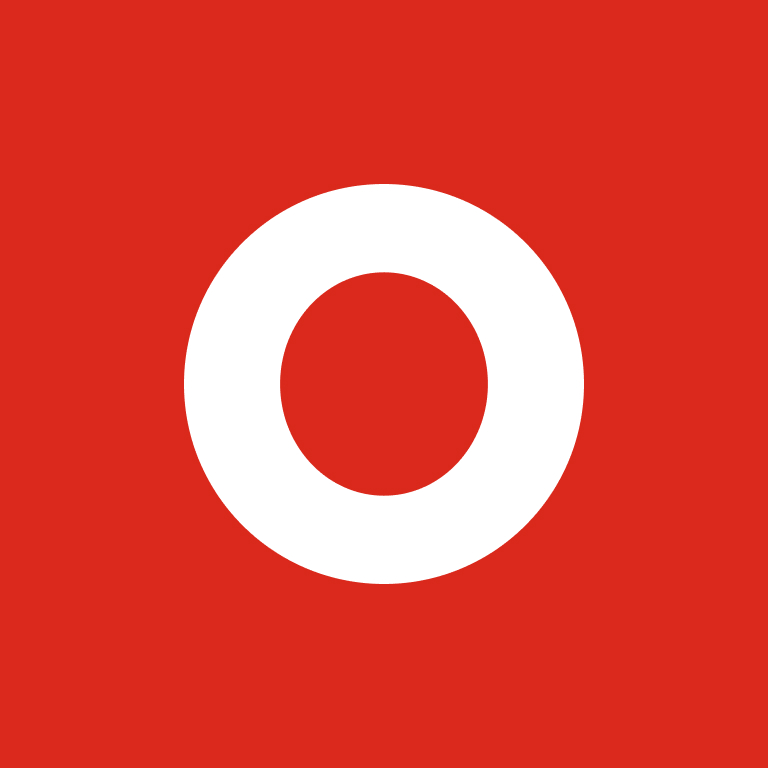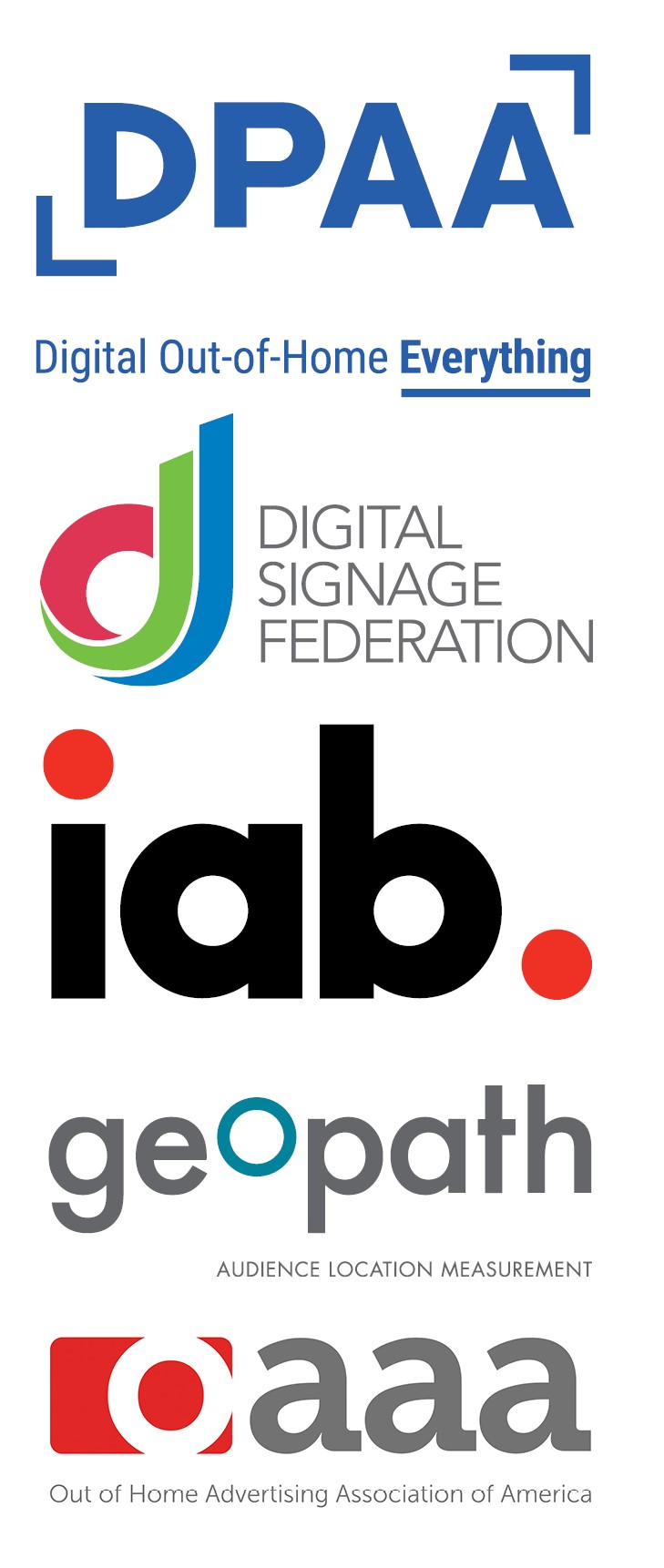 March 26, 2019 (Washington, DC) — A comprehensive compilation of best practices for digital out of home (DOOH) media has been published by five leading industry trade groups. DOOH Best Practices is a collaborative joint venture between the Digital Place Based Advertising Association (DPAA), Digital Signage Federation (DSF), Interactive Advertising Bureau (IAB), Geopath, and Out of Home Advertising Association of America (OAAA). Half of the project funding was provided by the Foundation for Outdoor Advertising Research and Education (FOARE).
The organizations collaborated for over a year to produce a definitive set of best practices to serve as a guide and reference for the advertising community. Input from all groups was compiled and curated by THE rAVe Agency, a creative agency chosen for its extensive experience in the digital signage and audiovisual market as well as in B2B advertising and marketing.
The five trade organizations had previously provided best practices for DOOH independently but recognizing the need for consistency across the DOOH ecosystem. The groups came together to work on the uniform guidance being released today which not only encompasses material from the different organizations' earlier efforts, but also includes recommendations that they developed collectively.
Gary Kayye, founder of THE rAVe Agency and assistant professor at the University of North Carolina School of Media and Journalism, said, "The DOOH market has seen tremendous growth in the last decade, but there's still so much potential for more. It's critical that all the players in the market be using the same language, and have technology that's interoperable, which will make it easier for advertisers and agencies who want to buy ads on a large-scale basis find, buy and utilize available DOOH ad inventory more easily. This project is the result of five organizations in the DOOH and digital signage markets, with thousands of member companies, putting their resources together in an unprecedented way for the good of the entire industry."
The DOOH Best Practices are comprised of modules focusing on six topics:

1. General Overview of DOOH
2. Technology and Infrastructure
3. Buying and Selling
4. Creative and Content
5. Measuring Success
6. Glossary of Terms
The materials are available from all five trade groups and can be downloaded here.
"As DPAA works with global brand and agency leaders to showcase the value of Digital Out of Home, it's important the industry presents a united front with respect to all guidelines and standards. We are happy to work with these associations and promote this progress with clients worldwide." Said Barry Frey, President and CEO of DPAA

According to Brian Gorg, DSF Executive Director, "The DSF is proud to have worked with so many industry organizations and is thankful for those DSF stakeholders who helped contribute information, particularly on technical aspects related to digital signage and DOOH."
"These digital out of home best practices will ensure that there is a strong unified roadmap, as the DOOH arena evolves. IAB has been at the forefront of establishing global standards and guidelines, and this initiative, bringing other organizations into the mix as well, is vital to propelling marketplace growth," said Orchid Richardson, Vice President and Managing Director, IAB Data Center of Excellence.
Geopath President Kym Frank said, "It was an honor to participate with these organizations on this vital document on behalf of the industry. It will provide us a clear path forward as we navigate the rapid changes that are occurring in the DOOH ecosystem."

OAAA Chief Marketing Officer Stephen Freitas said, "Today, the rate of change in our industry is rapid, and the challenges are complex. It is important that all practitioners of DOOH have a consistent understanding of the fundamental guidelines, definitions, and protocols that successful drive business transactions."

###
About DPAA
Founded in 2006, DPAA is a global digital out of home marketing association committed to delivering the promise of "Digital Out of Home Everything." DPAA has created a strong community environment in which members drive and promote their digital capabilities. DPAA is a business accelerator that fosters collaboration between agencies and the DOOH community, providing industry-wide research and best practices in areas such as mobile integration and programmatic; and promotes the effectiveness of DOOH advertising. DPAA has spearheaded programmatic development, standards and adoption for the DOOH industry.
About DSF
The project included the development on new material and synthesizing of existing practices and previously created by the participating organizations. New material in this version of the document includes information on camera vision, point-of-purchase measurement, privacy practices, industry currency and new graphics describing display guidelines. A glossary of DOOH and digital signage terminology was also developed allowing for more common terminology usage across the industry. Visit digitalsignagefederation.org
About IAB
The Interactive Advertising Bureau (IAB) empowers the media and marketing industries to thrive in the digital economy. Its membership is comprised of more than 650 leading media and technology companies that are responsible for selling, delivering, and optimizing digital advertising or marketing campaigns. The trade group fields critical research on interactive advertising, while also educating brands, agencies, and the wider business community on the importance of digital marketing. In affiliation with the IAB Tech Lab, it develops technical standards and best practices. IAB and the IAB Education Foundation are committed to professional development and elevating the knowledge, skills, expertise, and diversity of the workforce across the industry. Through the work of its public policy office in Washington, DC, IAB advocates for its members and promotes the value of the interactive advertising industry to legislators and policymakers. Founded in 1996, the IAB is headquartered in New York City and has a San Francisco office. Visit iab.com
About Geopath
Founded in 1933, Geopath is the industry standard that powers a smarter OOH marketplace through state-of-the-art audience location measurement, deep insights and innovative market research. The organization is headquartered in New York and governed by a tripartite board composed of advertisers, agencies and media companies spanning the entire United States. Visit geopath.org.
About OAAA
The Out of Home Advertising Association of America (OAAA) is the national trade association for the $8 billion US out of home advertising (OOH) industry, which includes digital out of home (DOOH), and is comprised of billboards, street furniture, transit advertising, and place-based media. Comprised of 800+ member media companies, advertisers, agencies, ad-tech providers, and suppliers that represent over 90 percent of the industry. OAAA is a unified voice, an authoritative thought leader, and a passionate advocate that protects, unites, and advances OOH advertising in the United States. OAAA-member media companies donate over $500 million in public service advertising annually. Every year, the industry celebrates and rewards OOH creativity via its renowned OBIE Awards (obieawards.org). Visit oaaa.org.  
About The rAVe Agency
Founded in 1998, THE rAVe Agency, co-owned by Gary Kayye and Sara Abrons, is a creative agency focused on B2B technology markets, particularly the audiovisual and digital signage industries. It offers consulting and creative services such as marketing strategy, market research, speaking, social media marketing and more. Gary Kayye has been an assistant professor at the UNC School of Media and Journalism, focused on advertising and new media, since 2009. Visit theraveagency.com.

Contact:
Nicole Randall, OAAA
[email protected]
(202) 833-5566
#OOH
#DOOH