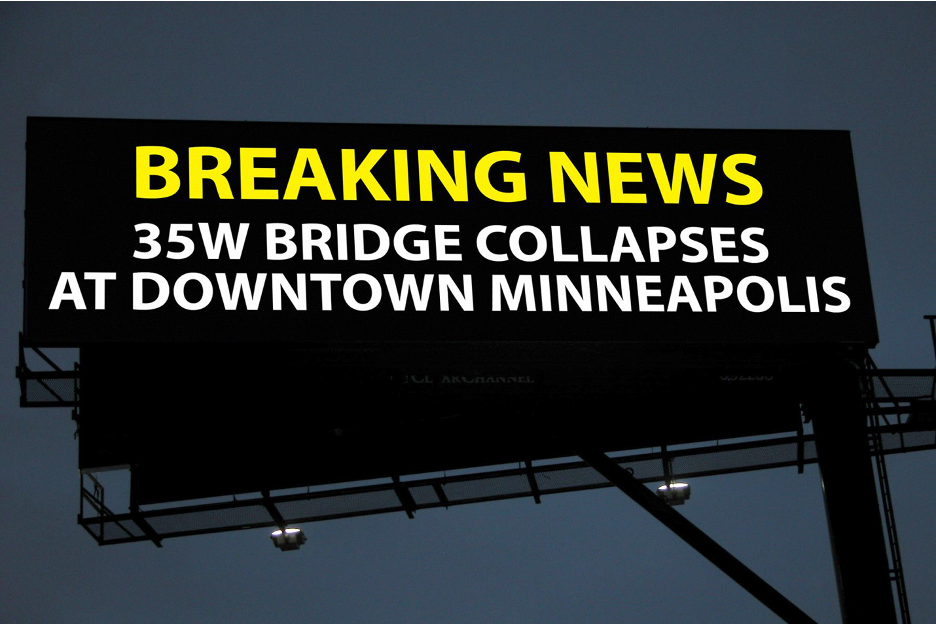 He was at home, doing yard work after business hours. His wife yelled from the house — relaying breaking news — that a nearby bridge had collapsed.
"I hopped on my laptop and started making some designs immediately, in anticipation we would respond," recalls Travis Bonovsky, digital media coordinator at Clear Channel Outdoor in Minneapolis, after an the eight-lane 35W Bridge collapsed shortly after 6 p.m. on an August evening in 2007.
Tom McCarver (then public affairs exec at Clear Channel-Minneapolis), gave the okay to post. Minutes later, Travis' high-contrast creative was displayed on all eight of Clear Channel's (new) digital billboards in the Twin Cities:  BREAKING NEWS. 35W BRIDGE COLLAPSES AT DOWNTOWN MINNEAPOLIS.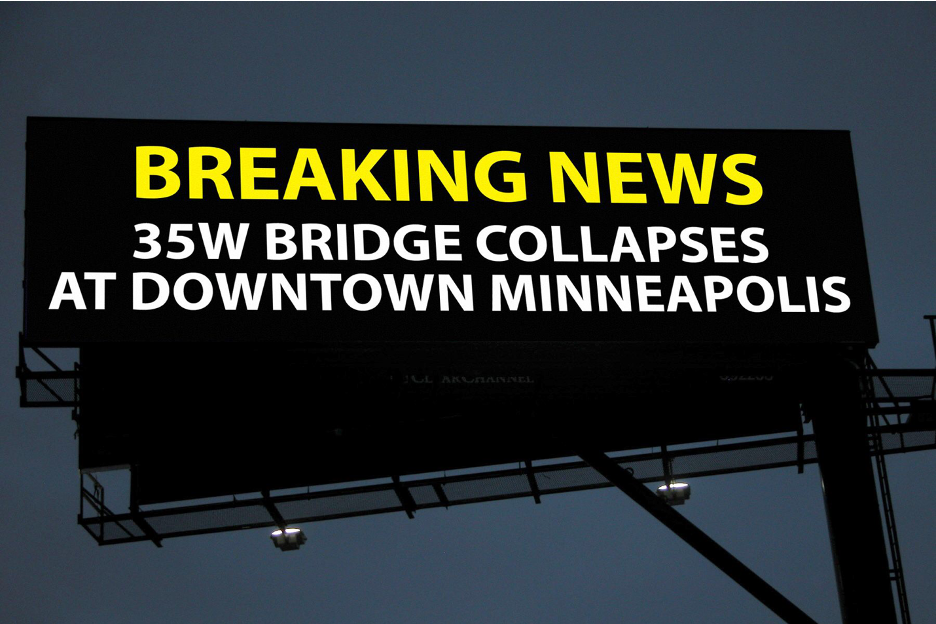 Thank you Travis . . . and all the pioneers who proved the speed, agility, and relevance of digital displays in out of home media.
Later that August evening in 2007, copy was changed on those digital signs near the collapsed 35W Bridge. The revised copy, according to Travis's notes from this crisis, directed motorists to take alternate routes. The updated copy continued to run through the night, into the morning rush hour.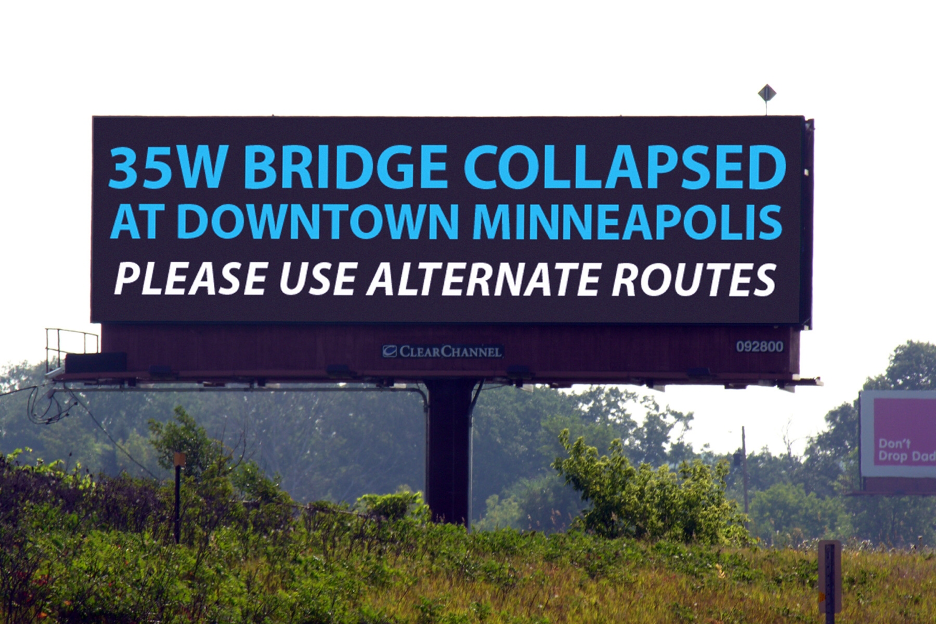 The next day, both US Senators from Minnesota arrived with Secretary of Transportation Mary Peters.
"I remember going there with then-Senator (Norm) Coleman the next morning with the Transportation Secretary," recalls Senator Amy Klobuchar, D-MN. "And there were already literally billboards the morning after . . . That's a community responding."
Bill Ripp, chairman of the out of home industry's digital billboard committee, calls it an "aha moment."
"It made us all realize that we had a new powerful vehicle to provide value to our communities," says Ripp of Lamar Advertising Company.
Travis Bonovsky's fast action years ago reminds us of important attributes about out of home media —  which delivers news and information — and is:
Quick
Connected to the community, and
Part of the solution
Nationwide, Americans now see changing/evolving/updated public-health messages displayed on nimble out of home media.
Since 2008, thousands of AMBER Alerts have been transmitted to digital displays, which also assist law enforcement at all levels.
As we enter hurricane season, out of home inventory is ready to help with preparation and recovery.
Thank you Travis Bonovsky, and all your colleagues who make a difference.