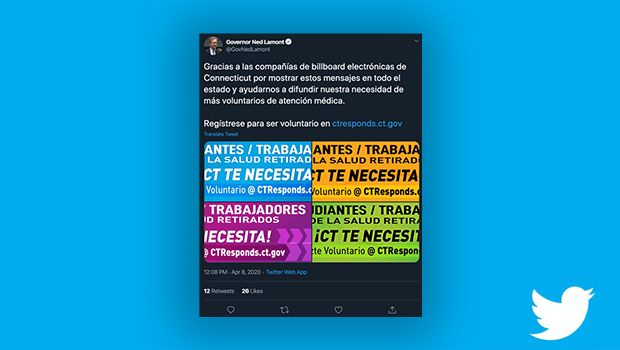 Connecticut Governor Ned Lamont said thank you — again — to out of home media, this time in Spanish.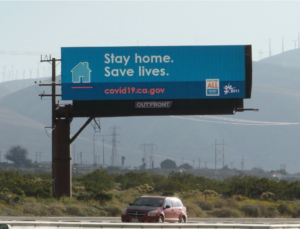 Earlier, Governor Lamont, on his official Twitter account, also thanked out of home advertisers in English including Lamar, OUTFRONT Media, and Barrett Outdoor Communications for displaying public-health messages.
"We have worked seamlessly as a state organization," says Matt Duddy at Lamar, "with the governor's office. "They are reaching directly to us to update, add, and make changes to creative.  The Spanish version was the latest example."
When California Governor Gavin Newsom launched a multi-media public health campaign, his press release noted that "more than 450 digital billboards and outdoor advertisements are visible statewide in both English and Spanish thanks to ClearChannel, OUTFRONT Media, Veale Outdoor Advertising, General Outdoor, VisCom Outdoor, iKahan Media and M Entertainment."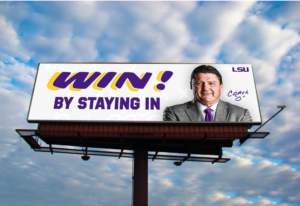 Commentary in Daily Caller reported that LSU Coach Ed Orgeron has a high-visibility role in Louisiana:
"It's truly incredible how big of a part of the coronavirus fight Coach O has become. The national champion is pretty much the face of the battle in Louisiana. He's recorded a PSA, he's briefed the press about the situation and he's now on a billboard."
https://dailycaller.com/2020/03/20/billboard-lsu-ed-orgeron-stay-in-coronavirus/
Coach O's video public-service announcement has been viewed more than three million times.
Via social media, Nashville Mayor John Cooper thanked the Outdoor Advertising Association of Tennessee, Lamar Advertising, OUTFRONT Media, and Blackbird Media for supporting #SaferAtHome messaging.
Post Published April 9, 2020