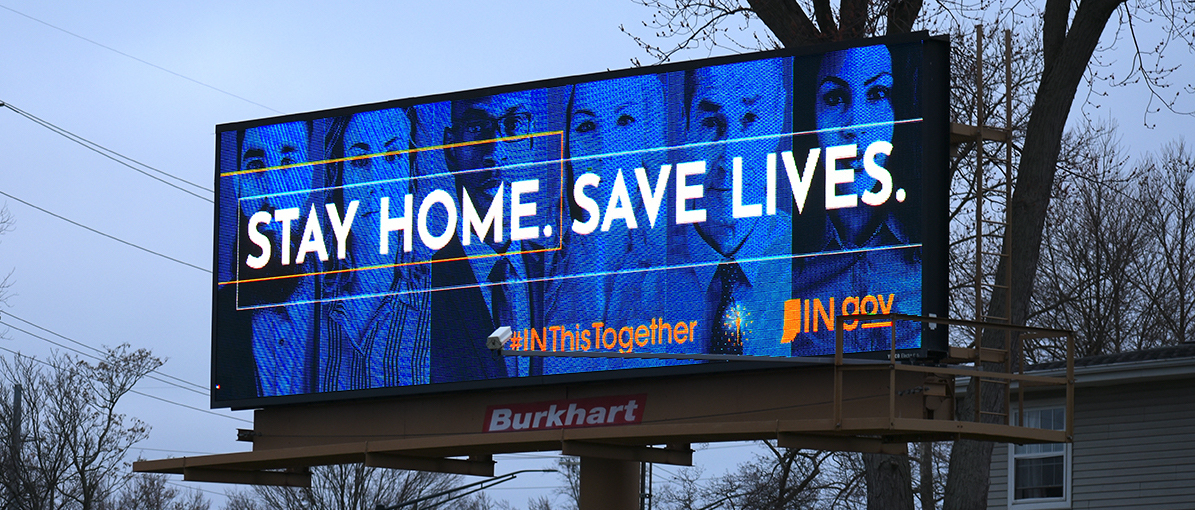 Public-health leaders and elected officials nationwide have thanked you and out of home media colleagues for communicating with the public.
Indiana Governor Eric Holcomb said the out of home media campaign with health messages in 19 markets was "like I've never seen before." Thank you Charlie Miller of Burkhart Advertising for capturing this video.
Here is the latest on public service:
Health messages authorized by CDC (Centers for Disease Control and Prevention) have been updated multiple times to promote social distancing and masks.
"The fast-changing communications needs in this crisis have showcased the ability of our medium to change on a dime, to be nimble," said Anna Bager, president and CEO of the Out of Home Advertising Association of America (OAAA).
OAAA partnered with the federal health agency (CDC) at the beginning of the COVID-19 crisis, delivering prevention messages in Spanish and English. CDC described out of home displays as "amazing."
Governors across the country have touted out of home media.
Connecticut Governor Ned Lamont, on his official Twitter account, thanked Lamar Advertising Company, OUTFRONT Media, and Barrett Outdoor Communications for displaying public-health messages.
"We have worked seamlessly as a state organization," says Matt Duddy at Lamar, "with the governor's office. They are reaching directly to us to update, add, and make changes to creative.  The Spanish version was the latest example."
When California Governor Gavin Newsom launched a multi-media public health campaign, his press release noted that "more than 450 digital billboards and outdoor advertisements are visible statewide in both English and Spanish thanks to Clear Channel, OUTFRONT Media, Veale Outdoor Advertising, General Outdoor, VisCom Outdoor, iKahan Media and M Entertainment."
Localities are using out of home media, like this digital display in Los Angeles County:
Via social media, Nashville Mayor John Cooper thanked the Outdoor Advertising Association of Tennessee, Lamar, OUTFRONT Media, and Blackbird Media for supporting #SaferAtHome messaging.
Longtime PSA partner the Foundation for a Better Life, pivoted away from celebrities to feature real-life heroes as part of a new COVID-19 "Pass it On" campaign. Since 2001, OAAA members have supported the foundation's positive messages about values.
While most of the recent COVID-19 PSA campaigns have provided assets to run on digital OOH units, the foundation's new campaign provides printed materials. So far, members have ordered and placed over 6,800 units, including posters, bus shelters, bus kings, and bulletins.