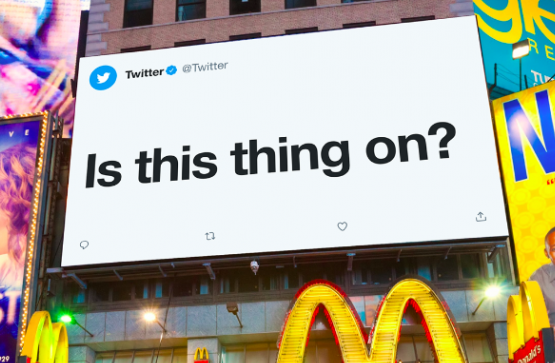 [one_half]
Twitter is using OOH to connect with users in the real world.
Over the summer, the social media channel launched the Me on Twitter campaign. Creative comprised of 31 tweets illustrating how people use Twitter versus other social media platforms appeared in six subway stations in New York and San Francisco, with a total of 128 placements.
To amplify the OOH, Twitter unfollowed everyone and only followed users highlighted in the campaign.
This month Twitter introduced new creative work. Twitter Is aims to further the platform as "the one place where all people can express themselves in a truly authentic way and to erase any line that exists between what happens on Twitter and what happens in the real world," according to Forbes.
Mural placements, digital signs, and station installations feature real Tweets in which users describe what Twitter is to them.
"The most interesting thing we've seen on Twitter is that people love to define what Twitter is in their own words," Twitter's CMO and Head of People Leslie Berland said.
"We wanted to spotlight and amplify their words and their brands. We literally wanted to manifest their tweets into something tangible and real." [/one_half] [one_half_last]
Y'ALL I'M FAMOUS!!! pic.twitter.com/d67KULVz9a

— Sarah Cooper (@sarahcpr) July 29, 2019
[/one_half_last] [one_half]
— Leslie Berland (@leslieberland) September 10, 2019
[/one_half] [one_half_last]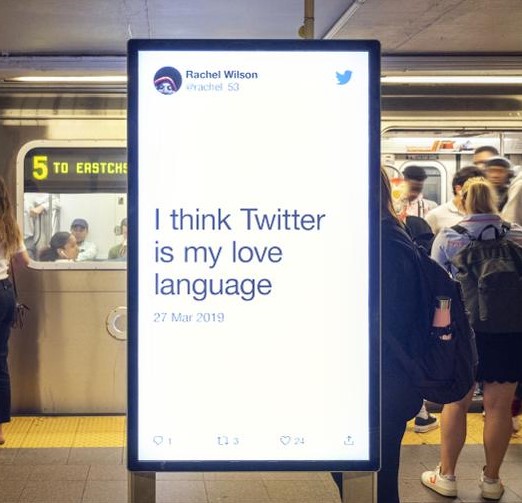 [/one_half_last]
It Started With a Rebrand
A year ago, Twitter changed the way it, as a company via its own @Twitter handle, engaged with people on the platform. To promote its fresh, irreverent tone, Twitter shared actual tweets on Times Square billboards. The new tweets aim to reflect the 'lighter, more conversational nature' of the Twitter brand, according to a press release.
A Twitter spokesperson said, "We liked our tweets, so we made them bigger."
Since then, Twitter has upped its spending in OOH by 50 percent.
"If the past few months are any indication, we have seen a dramatic increase in experiential and out of home," Nola Weinstein, global head of culture, engagement, and experiential marketing for Twitter, told DIGIDAY. "I think you can expect to see more and more of this kind of work."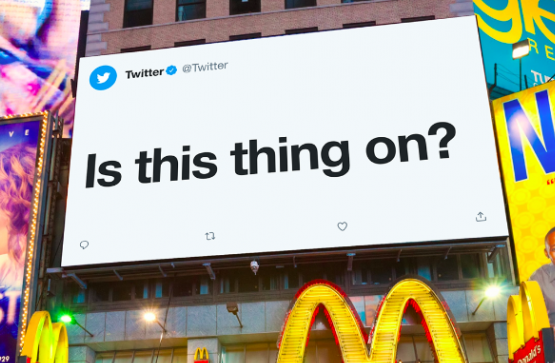 As for experiential, earlier this summer, the company put together its first global activation, #TweetUps, in 40 locations across the globe including cities like New York, London, Tokyo, and Los Angeles.
Earlier this month, Twitter brought a pop-up candy shop to Union Square in New York to highlight its Twitter Is campaign. Around half a ton of candy was handed out, including 500 gummy bear cubes, 1,000 swirl lollipops, 2,500 fortune cookies, 5,700 rock candies, and 128 pounds of kettle corn.
"To win, you have to connect with consumers on an emotional level. Experiential work is a way to organically make human, emotional connections," K.J. Ho, VP and business director at Optimist told Forbes. "This task is especially important for brands like Twitter that are trying to create brand affinity and are aiming to take their presence from the digital world to the physical world."
Twitter isn't promoting its own campaigns. It is letting users do that.
Weinstein commented, "Our users are reflecting what they see in the wild. And over the course of campaigns like this, they're seeing tweets and they're amplifying it on the platform. They're amplifying on other platforms or sharing it with their friends and that further drives conversation."
In 2017, Twitter won the first OBIE Platinum Award for its #What'sHappening OOH campaign. Watch Twitter discuss the award-winning campaign strategy:
https://www.youtube.com/watch?v=CniAbRouzVA&feature=youtu.be