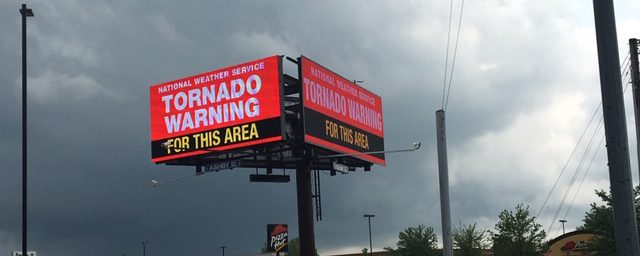 Tornados, hail, and flash flooding spread across the central US last week. At least 25 tornadoes were reported Tuesday across Texas, Oklahoma, Kansas, Missouri, and Arkansas.
More than 30 digital billboards in Northwest Arkansas notified drivers about potential tornados threats in the area following an official warning from the National Weather Service. Billboards within the threatened areas, determined by GPS coordinates for each location, carried Tornado Warning messages.
Jim Matalone, CEO of Ashby St. Outdoor Advertising, which operates the digital billboards, told Billboard Insider, "When a tornado warning is issued from the National Weather Service, if one of our 61 digital billboards is in the affected area, the Tornado Warning message displays until the warning has expired."
Chief Meteorologist Darby Bybee (KHBS/KHOG in Fort Smith-Fayetteville, AR) posted a picture of one of the billboards to his Facebook page. His social media followers praised the effort and shared their billboard sightings.
One user commented, "I saw it too. Was wonderful to see because the radio wasn't saying much."
Another user said, "All digital billboards should do this! Could very well save a life. Very good idea!"
https://www.facebook.com/4029darbybybee/photos/a.590782467702866/2169682336479530/?type=3&theater
Over the last 10 years, the OOH industry has forged relationships with federal, state, and local government agencies to alert the community to potential weather emergencies, including pending hurricanes, monsoons, and winter storms.
Last week, Harris County (TX) launched an OOH campaign in English and Spanish to remind residents about the upcoming hurricane season. The digital billboards display a live countdown to hurricane season and preparedness messages.
"One of the biggest values is these are spread out through different locations in Harris County, and we can put real-time information in the moment that's useful to drivers," Francisco Sanchez, spokesman for Harris County Office of Emergency Management, said when the partnership began last year.