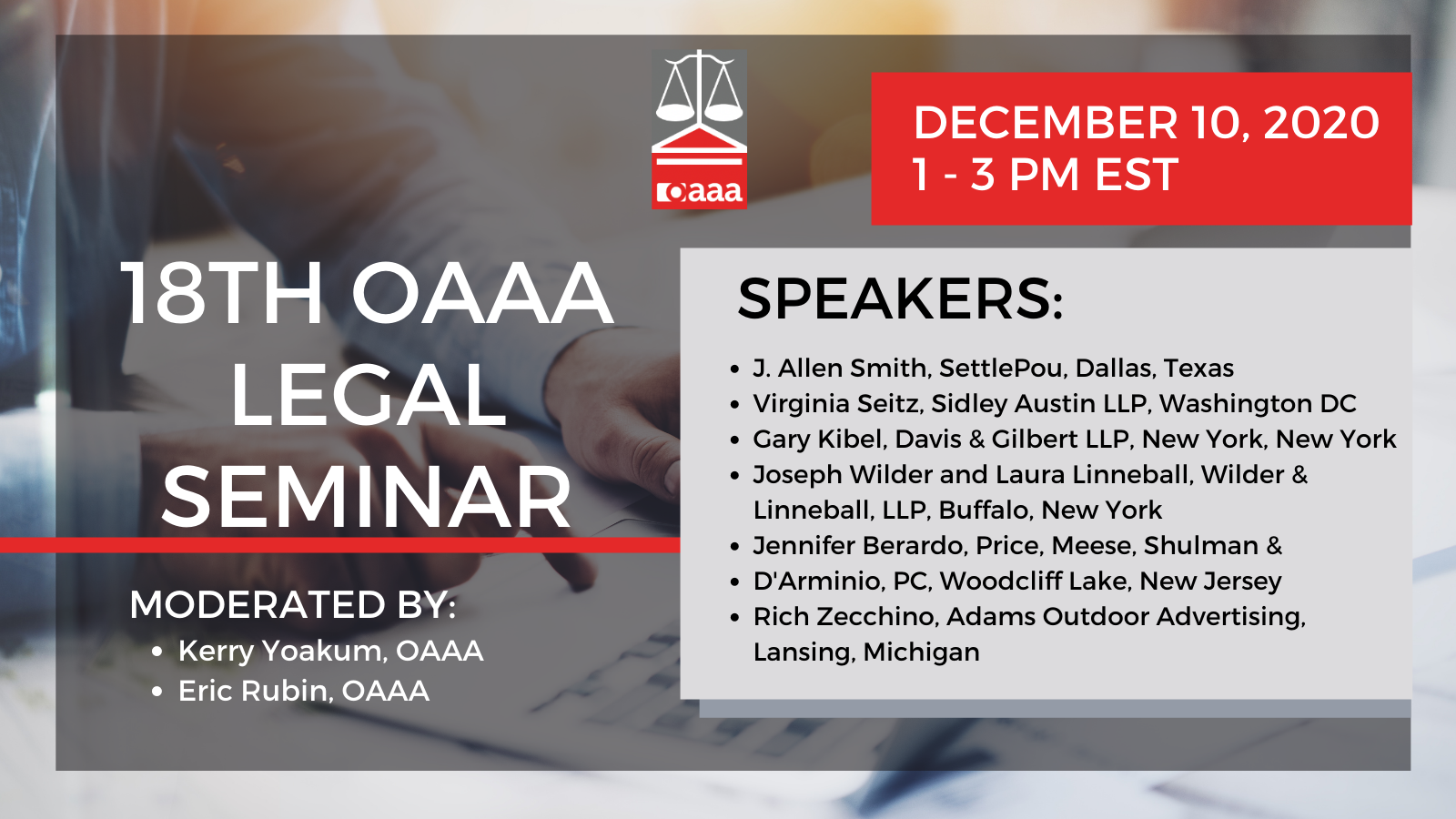 Next year will be pivotal for billboard taxation. The highest court in Maryland will render a decision on the constitutionality of Baltimore's billboard tax, enacted in 2013. The Ohio Supreme Court will hear arguments in the Cincinnati billboard-tax case next year.
The out of home advertising industry argues that targeted taxation of billboards is unconstitutional chilling of free speech. The cities (Baltimore and Cincinnati) argue that billboards are taxable commerce, not media like newspapers.
(Presenter: Virginia Seitz, Sidley Austin-DC, who represents Clear Channel Outdoor in its challenge to the Baltimore billboard tax)
Check your privacy policy
Even if you aren't based in California, you should make sure your privacy policy is up to date.  The California privacy law is driving America's regulatory scheme on privacy, inspiring other states to regulate privacy. Congress may eventually enact a national standard, but not in the early part of the Biden era.
(Presenter: Gary Kibel, Davis & Gilbert-New York)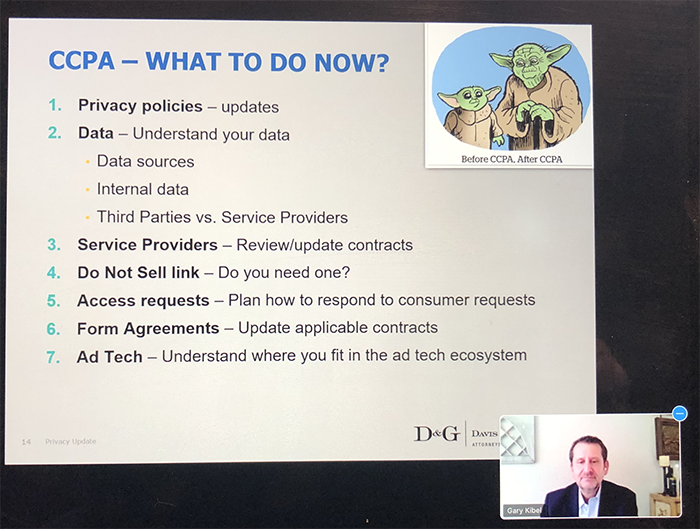 Beware of enticing offers (internet offers of free stuff, videos)
If it seems too good to be true, it's probably a cyber threat.
(Presenters: Jay Wilder and Laura Linneball, Wilder & Linneball-Buffalo)
Follow the money on lease payments
Don't make lease payments (in a vacuum) to landowners who fail to pay taxes and, therefore, expose your lease to challenge.
(Presenter: Jennifer Berardo, Price Meese Schulman & D'Arminio-Woodcliff Lake, NJ)
If Adams Outdoor creates copy, it does not allow use on other media (without compensated release).
(Presenter: Richard Zecchino, Adams Outdoor Advertising)
If you are perplexed by the fallout of the constitutional challenge to billboard law . . .
"Get with Kerry," advised Allen Smith of SettlePou in Texas, noting that OAAA has developed model language to revise state or local regulations to conform with the new legal standard (established by the US Sixth Circuit of Appeals) that invalidated the regulatory distinction between on-premise and off-premise signs.
(Presenter: Richard Zecchino, Adams Outdoor Advertising)
Remembering attorney David Flint (Schreeder Wheeler & Flint)
OAAA Counsel Eric Rubin recalled the long, effective legal advocacy of Atlanta-based attorney David Flint, who won a major victory at the Georgia Supreme Court to protect against the uncompensated removal of billboards.
(Co-moderator: Eric Rubin, Rubin Winston Diercks Harris & Cooke-Washington, DC)