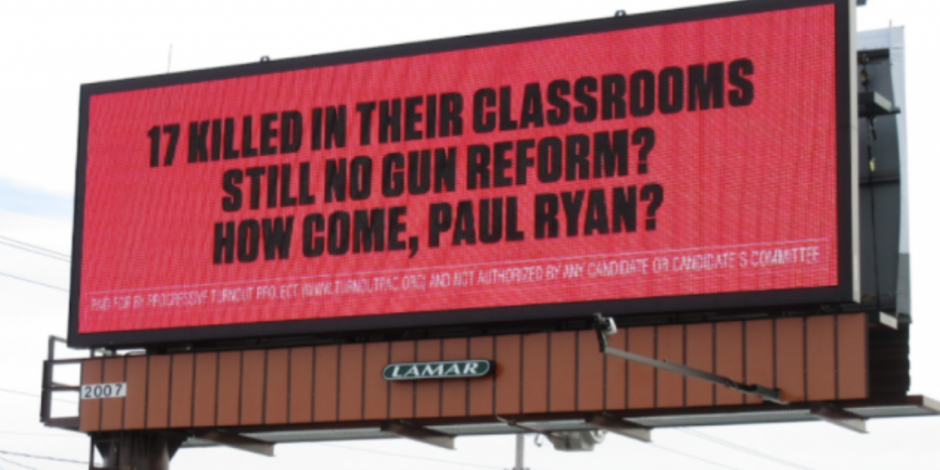 Billboards caught fire — literally — in Martin McDonagh's critically acclaimed 'Three Billboards' movie. Now, the film's distinctive black-on-red all-caps creative has become a fast-spreading visual meme, says a top ad agency veteran.
"How come, Senator Rubio? How come, Paul Ryan? How come . . . fill in the blank. How come now is a meme," says Billups managing partner Rick Robinson, who lives in Los Angeles and frequents the movies.
(Meme, as in: "an idea, behavior, or style that spreads from person to person via cultural symbols or imitable phenomena with a mimicked theme.")
The film is up for seven Academy Awards after sweeping the Golden Globes, Screen Actors Guild awards, and the British Academy on February 18.
In McDonagh's film, the billboard asks, "How Come, Chief Willoughby?"
The chief, played by Woody Harrelson, was pressured to focus more on trying to solve a rape-murder case in small-town fictional Ebbing. The victim's grieving mother, played by Frances McDormand, bought three billboards to make the case unavoidable:
RAPED WHILE DYING
AND STILL NO ARRESTS?
HOW COME, CHIEF WILLOUGHBY?
At the Billups agency, Robinson says the "how come?" meme channels the spirit of the film to match frustrations felt around the globe. The elements of the large-format ad — bold black-on-red lettering, straight-forward clarity, and a prodding question — reflect and also can express public angst.
An early manifestation of three-billboard meme occurred on the streets on New York on January 20, the one-year anniversary of Donald Trump's presidency. Anti-Trump marchers carried three billboards, noted the Los Angeles Times. In a bit of foreshadowing, these marchers' text ended with a question that would appear later: "How Come, Speaker Ryan?"
Three Billboards Outside New York, New York#WomensMarch2018 pic.twitter.com/lqRaD8Sz8y

— Nick Jack Pappas (@Pappiness) January 20, 2018
In London, ad agency BBH Labs used three mobile billboards to shine light on the Grenfell Tower blaze that killed 71 last year.
BBH Labs emulates 'Three Billboards' movie to put spotlight on Grenfell Tower tragedy https://t.co/PE9jicfMi2 via @thedrum @BBHLabs

— Sonoo Singh (@SonooSingh) February 15, 2018
In Miami, activists employed the same high-profile tactic to question US Senator Marco Rubio (R-Florida) after a gunman killed 17 at a high school in Parkland, Florida. Days later, a black-on-red billboard (paid advertising) popped up in the hometown of US House Speaker Paul Ryan (R-Wisconsin), calling for "gun reform.
Activists troll Rubio with "three billboards outside Miami" to demand he act on gun control https://t.co/5haZmqobHl pic.twitter.com/S4ANuSAQJy

— The Hill (@thehill) February 16, 2018
A media lesson from this phenomenon is: "if you want to keep something in the public eye, say it on billboards," said Jodi Senese, chief marketing officer at OUTFRONT Media in New York.
Will the three-billboard tactic last or fade?
The billboard industry itself has worked to cheer the billboard movie during awards season. Out of home media companies have promoted the 'Three Billboards' film in Times Square, Los Angeles, and elsewhere with signs imitating graphics in the film.
The Academy Awards show airs March 4 on ABC. If McDonagh's billboard film wins Oscars, which certainly seems possible, look for a clever, high-tech congrats reveal in Times Square.
As for staying power, Robinson at Billups shrugs that some phenomena last and others do not.
But stuck in the back of Robinson's mind is another question, drawn from advertising lore: "Got Milk?"
"Got Milk? lasted a looonng time," recalls Robinson. "It was rolled out, mainly on billboards, and the question became a visual and language meme," morphing into a multi-purpose query (Got Truth?). Creative ad copywriters at PETA (People for the Ethical Treatment of Animals) flipped the Got Milk? slogan against dairy: "Got Zits?"
For the moment, if you want to want to make a point that breaks through, the question is: Got billboards, three of them?