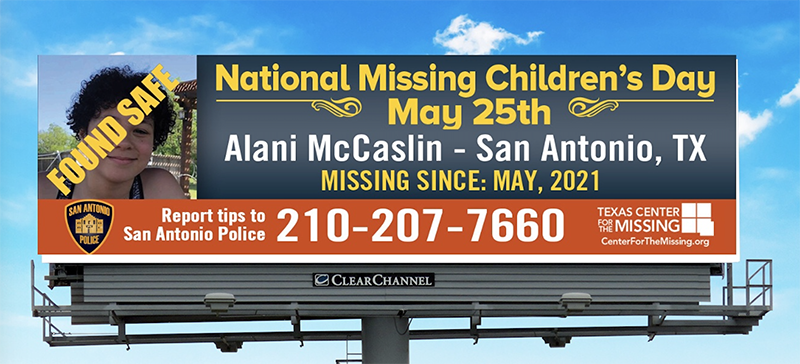 As we approach Father's Day (June 20), I'll share this powerful message from a dad in Texas:
"My daughter was found safe because of the digital billboard messages throughout San Antonio," said Ryan McCaslin.
His daughter Alani was reported missing on May 16. Days later, Clear Channel Outdoor posted images of missing kids in Texas in conjunction with National Missing Children's Day, May 25. Within a week, Alani and another young girl from the Houston area were located and returned home.
"As a former Police Officer," said Alani's father, "I've seen the pain and suffering for those families that were less fortunate and I truly believe that all of us should do whatever it takes to protect and save every kid that's out there lost and scared."
Since 2008, the Out of Home Advertising Association of America (OAAA) has partnered with the National Center for Missing & Exploited Children to help locate missing kids.
In Ohio, a police chief tells a similar story about locating a missing boy (in Police Chief Magazine): "Digital billboards were activated on August 21, 2018, provided for this purpose at no cost by two advertising companies (Norton Outdoor Advertising and Lamar Advertising)," wrote Michael A. Brown, Chief of Police, Sugarcreek Township, OH.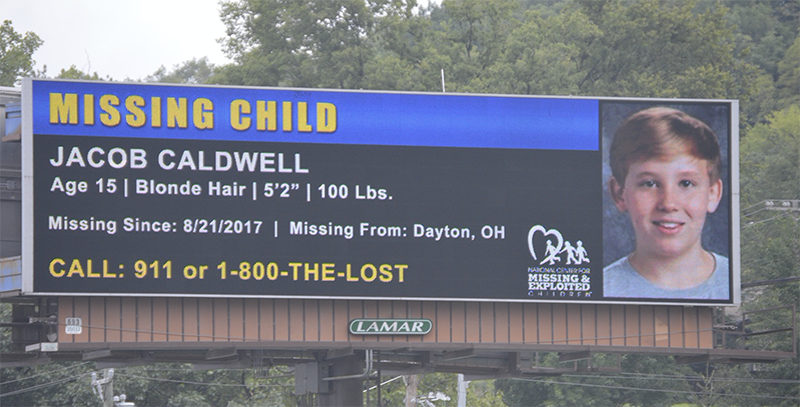 "On August 27, 2018, Detective Stayer received a solid tip from an individual who saw a digital billboard about the case." The tip provided information for a search warrant that led to the safe return of teen-ager Jacob Caldwell, who had been missing for a year.
Police Chief Brown made three points about digital billboards helping law enforcement: "First, digital billboards are fast; messages can be posted immediately. Second, billboards reach broad audiences, complementing other media. Third, this method of communicating with the public does not drain police budgets because media space can be donated for public safety purposes."
In 2008, the out of home ad industry also launched a partnership with the FBI, to help find fugitives.
The FBI's Brian Hale, early this year, explained the connection between out of home media and public safety: "We recognize that information technology is rapidly changing, as are our means for disseminating information. As the FBI has evolved from using magazines and newspapers, to television, the Internet, and now to social media and digital billboards, we welcome your input on how we can more effectively accomplish our communication goals . . ."
This Father's Day, Ryan McCaslin from Texas provides articulate feedback . . . "My daughter was found safe."
(Lee Vela is president of the Outdoor Advertising Association of Texas and VP/Public Affairs at Clear Channel Outdoor-Houston)