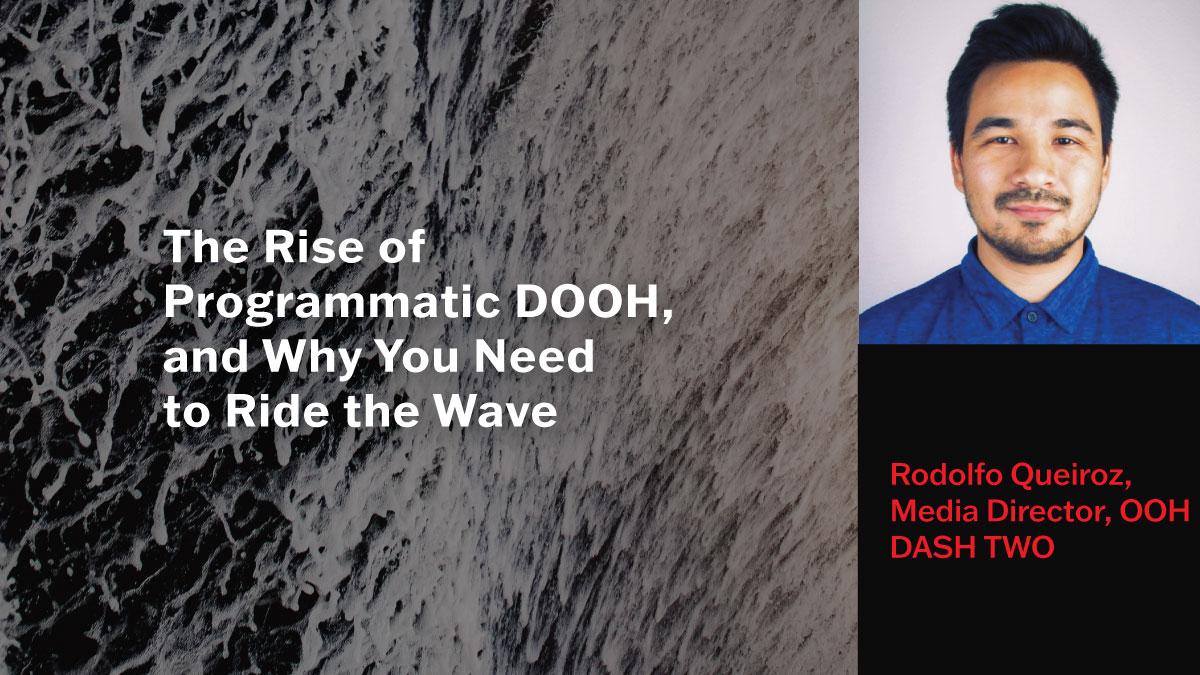 By Rodolfo Queiroz, Media Director, OOH at DASH TWO
Out-of-home (OOH) advertising boomed during the pandemic years, particularly in the programmatic space. But what is programmatic advertising, and how does it apply to OOH? Programmatic advertising essentially uses technology to automate the buying and management of ad placements. It's used in traditional OOH advertising as well as digital out-of-home (DOOH), where it offers exceptional flexibility and enables advertisers to respond rapidly to market and environmental changes. In 2021, programmatic made up 72% of all digital ad spend, up from 61.2% just three years earlier. The tide is rising, and savvy marketers can expect to ride the wave into 2023.
Programmatic DOOH vs. DOOH
Ok, enough with the digital advertising alphabet soup. How does programmatic DOOH differ from DOOH? Programmatic is a different way to buy DOOH inventory, which allows marketers to view real-time advertising results and tweak their campaigns to improve them. When you combine the principles of programmatic advertising with regular DOOH, you take your marketing to the next level.
How Regular DOOH Works
Regular digital out-of-home advertising uses placements such as digital screens, video ads on public transport, rotating signs at sporting and other events, and mini-video screens in taxi cabs and gas stations. The ads change according to a fixed schedule that runs over a day, hour, or week to enable advertisers to reach particular audiences at specific times. For example, a campaign targeting financial services decision-makers could run on properties in a financial district during commuter hours, to reach people traveling to and from their offices.
The Purpose of Programmatic
Applying programmatic principles to a DOOH campaign enables marketers to automate the buying and management of advertising units. These actions are determined by data that identifies the dates and times ads are most likely to reach the target audience. Geolocation data determines the best placement sites according to factors like advanced market segmentation, consumer behavior, and audience movement patterns.
Features and Benefits of Programmatic DOOH
Programmatic advertising comes with a host of features and benefits that regular outdoor advertising doesn't enjoy.
Flexible activation: Automated ad-serving allows advertisers to stop, start, or make changes to a campaign that take effect in real time. A programmatic DOOH platform can trigger changes automatically when certain events occur, or the changes can be pre-programmed and launched manually when the time is right. It's also possible to change ad creatives at the click of a button, based on metrics showing a current advertisement's performance.
Scalable spending: Programmatic advertising is completely scalable in how much is spent on a campaign. Prices are determined in real-time and depend on impressions delivered, instead of pre-set booking rates. Advertisers can cap the daily or overall spend on a campaign, so they don't end up forking out more than expected. Alternatively, they can increase the budget allocation in specific areas—and their ROI—if they see successful results coming in. This ability allows them to use advertising budgets more effectively.
Better targeting: Instead of the traditional method of targeting placement locations or properties, programmatic DOOH takes a data-driven approach to digital advertising and targets audiences and impressions. Targeting tactics used include:
Contextual targeting, which uses data to ensure relevant ad creatives appear in each location.
Behavioral targeting, where ads are shown to consumers who fit a specific behavioral profile.
Geo-targeting, which ensures location-specific creatives are shown to consumers based on data about their region or postal codes.
Device targeting, which reaches consumers across multiple channels. This tactic helps to increase the chances prospects will see an ad on one or more of their devices.
These methods enable programmatic advertisers to create measurable, highly targeted campaigns by using data to activate their ad inventory according to their target audience's behavior and movement patterns in real-time.
Greater transparency: Who can forget some of the advertising faux pas that have made the news in recent times? Programmatic outdoor advertising gives marketers transparency into the sites their ads are shown on, who sees them, and the returns they get on their investment. This information makes it easier to evaluate the success of a campaign and determine how to improve it. For example, advertisers can extend their reach to their target audience by comparing sites and results, and conducting A/B testing to discover whether they're communicating the message to the right consumers.
Data-driven results: The world these days revolves around data, and programmatic DOOH delivers on that front. Data-driven results available to advertisers include information such as impressions served, brand lift, foot traffic, online conversion rates, sales numbers, full-funnel attribution, and even specifics like how cross-screen exposure impacts your KPIs. With real-time metrics and reporting available at the click of a mouse, a programmatic DOOH platform provides the opportunity to react without delay and tailor a digital advertising campaign to optimize its success.
Programmatic technology offers additional benefits of digital out-of-home advertising, such as pre-set parameters to handle automated bidding. This removes the burden of manually selecting and negotiating rates and flights from the ad buyer, and streamlines and simplifies the process.
Looking Ahead
So what can we expect from programmatic DOOH in 2023, and why is it such as exciting time for the medium? Firstly, DOOH is really coming into its own, with DOOH ad spend projected to increase by 15% over 2021's total to reach US$367 million in 2022. Some of the trends we anticipate for 2023 include:
A bigger focus on contextual advertising and the development of new contextual solutions.
Innovative new programmatic tools, such as AI-based predictive marketing platforms.
Better education for ad buyers, to make programmatic DOOH easier to access and buy.
New initiatives to create premium DOOH inventory that can attract premium demand.
Reimagination of audience targeting methods, to prepare for a cookie-less future environment.
Some exciting programmatic DOOH advertising examples we've seen setting the stage for future campaigns include 3D digital billboards and the Big Issue's "I'm Here" campaign, which used beacon technology placed inside vendors' jackets. These linked to the DOOH billboards that displayed ads featuring faces to draw attention to their location.
An Interesting Ride
I believe 2023 will be a rewarding ride for advertisers in the sphere of programmatic DOOH. One thing's for sure – companies who embrace this form of advertising early are likely to benefit from being ahead of their competitors in their choice of inventory.