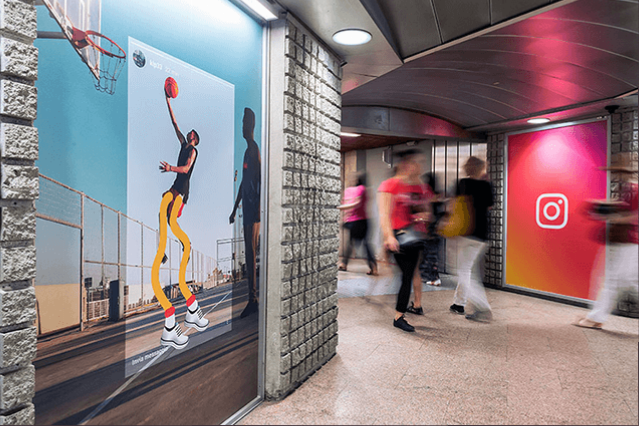 Brands are encouraging social media interaction now more than ever as many advertisers are understanding how well OOH advertising complements the modern media plan.
A billboard or transit ad at one intersection can now be shared around the world in an instant – transforming a local campaign into a viral sensation. Recent research by Nielsen reports that one in four U.S. adults surveyed has posted a photo on Instagram after seeing an OOH ad.
Established retailers and brands are learning the true value of 'social spaces' that are built around advertising. If an advertiser can create something engaging, people are more likely to share their interactions with the world. Brands focus on large metropolitan areas where onlookers tend to be a part of the campaign movement.
Spotify
In April of 2018, Spotify released its #DavidBowieIsHere campaign, a popular transit takeover in the Broadway-Lafayette New York subway station to commemorate the late David Bowie. Channeling his individuality, Spotify dominated the station with subway-wall-sized images of Bowie-inspired art, from fan-made submissions to pieces currently on display at the museum exhibition.
Accompanying each piece of art was a unique Spotify code that brought fans closer to the music and allowed engagement via the Spotify app across all devices. The use of the hashtag #DavidBowieIsHere also encouraged people to share the experience on social media platforms.
The campaign helped Spotify win the first Cannes Lions Media Brand of the Year and is a finalist for the 2019 OBIE Awards.
Burberry
Burberry is using OOH to reveal new products. In anticipation for the release of the Peter Saville x Riccardo Tisci monogram, Burberry has taken the logo to larger canvases.
Burberry's flagship store in Seoul, Korea is already a modern marvel with its design and architecture – situated in Cheongdam-dong, the heart of Seoul's fashion district. The store was completely wrapped in this new monogram.
On Sunset Beach in New York, Burberry took this iconic print and branded umbrellas on the beach with the new pattern. This aerial shot gives you a glimpse of the print from above.
In China, cable cars in Hong Kong were donned with the trademark print, and just near the Xintiandi Taiping Lake in Shanghai, passersby found a larger-than-life monogramed bear.
These OOH examples are only a few Burberry has adopted. The campaign was globally released and was subsequently shared on various social media channels.
RXBAR
RXBAR was founded in 2013 and touts itself as an honest brand. The company profile states "No venture capitalists. No consultants. No office. Just best friends. Eager and broke. Upfront about it." This gave birth to its No B.S. campaign.
Each RXBAR includes a full list of ingredients on the front of the wrapper, with the phrase "No B.S.". This sort of bold, honest advertising is what the brand aims for – RXBAR sticks to the basics and wants consumers to know it doesn't "play around."
The brand incorporates its punchy attitude into an engaging OOH campaign. Witty one-liners sparked conversation and social media posts. Consumers were sharing photos of ads from around the country. According to AdAge, this increased RXBAR's brand awareness from approximately 8 percent to 15.3 percent mid-campaign.