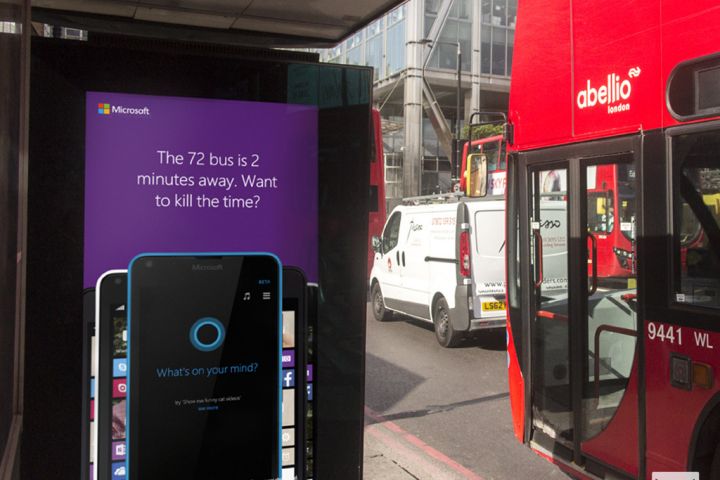 This is a four part series exploring the blurred lines between digital and OOH.
Part Three – Discusses how advertisers can utilize dynamic creative to stand out from the crowd
Dynamic, real-time, digital creative should be the cornerstone of every digital OOH Location-Marketing campaign. Advertisers running digital OOH creative should not simply replicate whatever they did on static vinyl, or god-forbid, their print creative. They should consider how a consumer's mindset may differ by time of day, day of week, or location.
Research on the effects of dynamic content on brand and message recall reveal that dynamic, contextualize content results in a 20 percent increase in content awareness, and a staggering 53 percent increase in message recall.
If you have the opportunity to show a unique message to a consumer based on their location, time of day and attitude, why would you not do this?
Someone walking down Wall Street at 9:00 am on a Wednesday morning will likely be in a different mindset compared to walking around SoHo 9:00 pm on a Saturday evening.
The 9:00 am Wall Street consumer will likely be thinking about caffeine, getting to her meeting on time, and the work day ahead.
The same 9:00 pm Saturday evening SoHo consumer will likely be thinking about cocktails, getting to the bar on time, and the evening's activities ahead.
Technology advances now mean we can use data feeds to optimize creative in real-time. Social feeds, user generated content, traffic, weather, client sales data, CRM, sports scores, train data etc.
A bottled beverage company could showcase a 9:00 am Wall Street messaging saying, "It's 75 and sunny today, stay hydrated on your way to your next meeting." A 9:00 pm SoHo message could focus on a fun, uplifting evening message.
Here are three examples of how OOH advertisers utilized dynamic content in an effective way.
Microsoft Cortana
To promote the new Microsoft Cortana voice-assistant, an ambitious dynamic-content OOH activation built awareness and understanding by showcasing the experience of Cortana in everyday locations.
10,000 hyper-localized pieces of dynamic content via 240 creative templates were shown daily via Posterscope's Liveposter real-time creative platform. Messages were aligned via real-time data sources such as weather, transport data, time, and sports scores to reflect consumers' daily behavior, lifestyle, and interests.
Coca Cola
Coca Cola wanted to find a way to connect with Gen Z's; notoriously social-media addicted, fame-craving, tech-savvy, hard-to-reach…and drinking less soda than ever.
An experiential OOH campaign was developed in Times Square that helped celebrate the meaning, stories and things-you-didn't-know about your name.
Visitors were encouraged to tweet #CokeMyName to view a personalized, dynamic story in real-time about their name, broadcasted on digital screens for the public to see. Based on the insight that Gen Z's are craving their 15 seconds of fame, their personalized story was displayed for exactly 15 seconds; just enough time to snap a selfie and post on social media.
Chevrolet Malibu
Chevrolet Malibu needed to stand out from the hugely competitive mid-sized sedan market to launch its new 2016 model. By utilizing new-to-market vehicle recognition technology to identify oncoming competitor cars, Chevrolet displayed dynamic, real-time competitive messaging on a digital billboard.
An algorithm used machine-learning to hone in and recognize the unique identifier grille of each oncoming vehicle, much like a unique finger-print.
Malibu's target audience values safety and fuel-efficiency. So, the creative messaging revolved around these themes. "The Chevrolet Malibu has more safety features than your Nissan Altima."
By focusing on the opportunities that real-time data driven content can provide, the OOH Location-Marketing industry can elevate its perception to that of dynamic, technology-focused and real-time.
Download the PDF