Travel Michigan, long recognized for creative excellence in out of home media, has posted a message of strength and unity on 55 donated digital billboards statewide.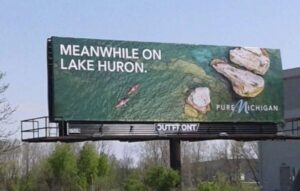 "As we continue to make every effort to flatten the curve in the face of the COVID-19 virus, we want to remind people that no one is in this alone – we are all one Pure Michigan," said Dave Lorenz, vice president of Travel Michigan, part of the Michigan Economic Development Corporation.
"The Pure Michigan campaign has served as a unifying force during other hard times, and through our Two Peninsulas, One Pure Michigan message, we hope to instill the value of staying united at a time when it is needed most."
Travel leaders in Michigan thanked Adams Outdoor Advertising, OUTFRONT Media, and International Outdoor for donating digital billboard space.
Like most states, travel-tourism is a significant component of Michigan's economy. It's tourism promotion campaign — Pure Michigan — relies on out of home media to showcase the state's attributes throughout the year . . .  like this countdown to winter.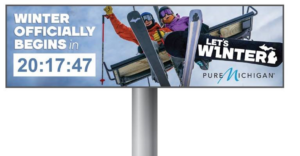 Post Published April 30, 2020