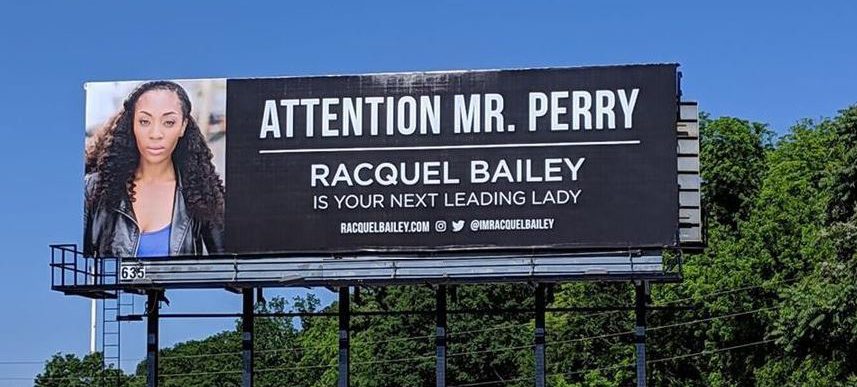 Actress Racquel Bailey paid for two billboard ads in Atlanta near the home of Tyler Perry, famed screenwriter and director, seeking a role in his next production. Days later, she had an audition.
Bailey joins the ranks of many other citizens who are using billboards to search for work, love, or life.
Seeking Work
This wasn't Bailey's first time using billboards. She paid $1,400 seven years ago for a billboard near Perry's first studio. She told the Atlanta Journal-Constitution she got the idea from the HBO film Introducing Dorothy Dandridge, who was told the only way to catch an agent's attention was to put her face on a billboard.
"I didn't get the results I wanted the first time so as they say if you don't succeed, try, try again," Bailey said.
Indeed, she got Perry's attention this time. He shared a photo of the billboard with his 13 million Facebook followers, urging the actress to audition, rather than use a billboard to get his attention.
Despite his somewhat-critical response to her methods, she has earned media coverage around the world, and a casting agent called two days after the billboards posted to invite her to audition for Perry's next project.
Seeking Love
Another billboard to get global attention last month is one posted by a member of Church of Latter-Day Saints (LDS) on Interstate 15 in Salt Lake City. An "LDS Millionaire" is "looking for his wife" with OOH.
Erin Schurtz, who bills herself as the LDS matchmaker, told The Salt Lake Tribune she set up the whole thing and that her client truly is looking for love.
The mystery millionaire emailed a statement to the Tribune calling his ads a "gimmick… designed to create attention and conversation."
"It signals that I have achieved an ability to provide for a family, but is not designed to signal that I'm looking for a gold digger," he wrote. "But if this marketing campaign helps me reach some potential dates who I can get to know better, then it has been a successful campaign."
Yes, those billboards along I-15 advertising for the 'LDS Millionaire' are real, and there are already 1,000 future wife applications in. https://t.co/Ll8Dt7HGpS

— KSL (@KSLcom) May 15, 2019
Seeking Life
Ilya Polyakov raised $5,000 through GoFundMe to buy a billboard in Los Angeles to help find a kidney match for his friend Antonio Calderon. The billboard, in conjunction with a phone number, website, email, posts on Reddit, and the GoFundMe page has resulted in about 200 inquiries, Calderon says.
Polyakov says he had tried to donate a kidney to Calderon two years ago, but he wasn't a match. Wanting to give Calderon the ultimate birthday gift—a kidney—Polyakov started the fundraising campaign.
Polyakov told LA Magazine he just wants to make a difference. "There are moments in life when you have a chance to make a difference," Polyakov writes via email. "After all, that's what we're really offering people with this billboard. So I guess this whole thing comes down to that. Taking those chances."
Billboards have helped find donor matches before. In Canada last year, a man saw a billboard seeking a kidney donor, called the number, was found to be a match, and volunteered one of his to the man in need. In Eugene, OR, Roxanne Loomis found a kidney donor using a billboard, as well.