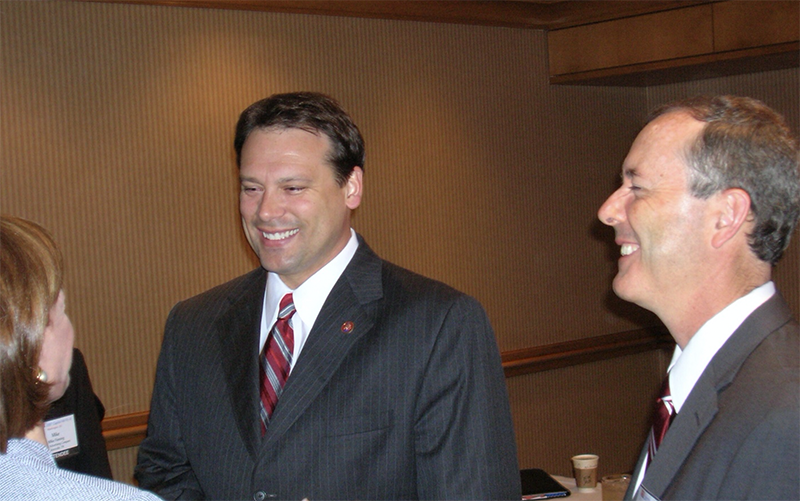 April 6 is National Student Athlete Day, recognizing millions of competitors who will help lead America.
Like me, many athletes have been or will be elected to public office. The photo above was taken in 2007, soon after I was sworn in to Congress. On the right is my friend Gary Ayers of Allison Outdoor Advertising based in Sylva, NC (Gary is now retired from Allison). In North Carolina, I lease land for Allison billboards.
On radio, Gary called my high school football games; we won three state championships from Swain County High School.
On the left is Nancy Fletcher, who led the national trade association for out of home (OOH) advertising (OAAA).
For National Student Athlete Day, OAAA ask me to comment on two things. First, what are dividends of athletic participation? And second, could I identify some of the former athletes now in Congress.
Some people suspect that school sports detract from academics. But student athletes typically do better in school. One of the life lessons is time management.
The science is clear on the upsides of healthy activity versus sedentary lifestyles and risks from obesity. Winning is amazing, and I've tasted plenty of victories. Athletes also learn how to deal with loss, setbacks, and injury.
Many people think most politicians are lawyers. Law school can be a springboard to public service. So is athletics.
The current Congress includes former athletes in both parties.
Congressman Pete Stauber, R-MN, was a standout hockey player at Denfield High School in Duluth, MN. On scholarship at Lake Superior State University, he led the Lakers to a D-1 national championship during is sophomore year.

Congressman Pete Stauber (left) and Matt Harrold, Lamar Advertising Company

Congresswoman Sharice Davids, D-KS was an amateur and pro Mixed Martial Arts athlete; she featured MMA in a video for her 2018 election to Congress.
Senator Cory Booker, D-NJ, was a heavily recruited wide receiver/defensive back from Northern Valley Regional High School in New Jersey; he played at Stanford. Football, says Booker, was a ticket not a destination.

Senator Booker and friend Drew Katz of Interstate Outdoor Advertising

Congresswoman Cheri Bustos, D-IL, is in the Illinois College Hall of Fame (basketball and volleyball); she is proud of not missing classes in college.

Congresswoman Bustos was re-elected in 2020

Congresswoman Nancy Mace, R-SC, is the first woman to graduate from The Citadel, where new cadets must pass a physical test. Mace beat 145 of 150 cadets in the two-mile run.

Senator Mark Kelly, D-AZ, and twin brother Scott — both astronauts — played baseball and Pop Warner football, ran track, and were co-captains of their high school swim team in New Jersey.

Colin Allred, D-TX, was an all-star high school athlete and then played football at Baylor (linebacker) and the NFL. His law degree is from UC-Berkeley.

Photo: Courtesy of Rep. Colin Allred

Anthony Gonzalez, R-OH, was a first-round draft pick (2007) from Ohio State for the Indianapolis Colts.
Kai Kahele, D-HA, played D-1 volleyball for University of Hawaii. In training, every practice was a life lesson, he says.
Conclusion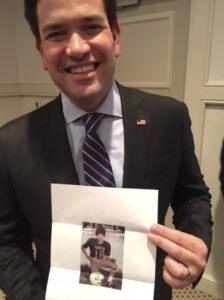 Athletes like Congressman Kahele recall coaches and trainers as formative figures. On National Student Athlete Day we also recognize the legions of men and women who coach and sponsor young athletes.
In Senator Marco Rubio's autobiography ("An American Son"), he focuses on the importance of football in his life, particularly youth football in Las Vegas. Rubio published a photo in that book showing young Marco in uniform. His team's sponsor: Young Electric Sign Company (YESCO).
When YESCO celebrated its 100th year, Senator Rubio published this tribute in the Congressional Record (2020):
"I love football. I played it, coached it, and now watch my sons learn the same valuable lessons I did many years ago. Youth sports teach important life lessons and help build pride and a sense of community within schools, neighborhoods, and even cities. I learned those lifelong lessons growing up in Las Vegas, where I played for a youth football team called the Cavaliers. My dad even volunteered as the team's equipment manager.
Congratulations, YESCO, on 100 years of growth and leadership. Thank you (YESCO) . . . for putting a football jersey on a skinny kid in Las Vegas who someday would be elected to the U.S. Senate."
Rubio is right. Athletics builds people and community. On this special day, we honor those on the field of play . . . and their great potential later in life.
(Heath Shuler is co-founder of Integrated Strategy Group, a business consulting firm. He served three terms in the US House of Representatives. Shuler was a quarterback in high school, at University of Tennessee, and the National Football League. Shuler is a lessor for billboards in western North Carolina.)